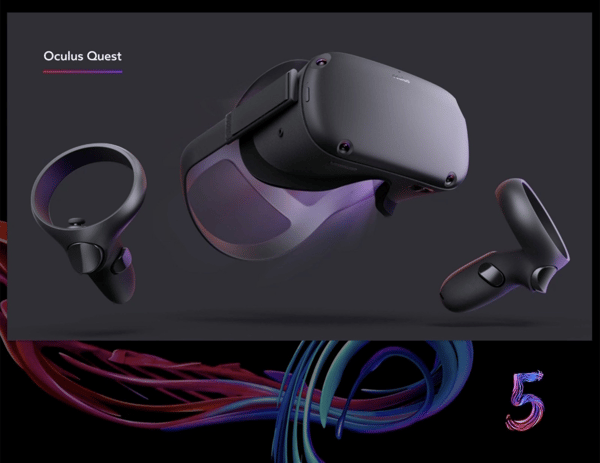 At Oculus Connect 5, Facebook announced Oculus Quest, the company's newest standalone VR headset. Image courtesy of Windows Central.
Each year, Oculus Connect offers the VR community a look at the future of the field. In the conference's 2016 and 2017 iterations, Oculus presented their standalone, untethered VR headset, Project Santa Cruz. This year, at Connect 5, Santa Cruz took center stage, receiving a new name (Oculus Quest), a price ($399), and a release date (spring 2019). For design professionals, Quest should be a game-changer in the continual, well, quest to modernize workflows with VR.
Update as of 2019: Oculus Quest is available now from Facebook - and it was certainly worth the wait! Oculus Link is also in beta, which essentially turns a Quest into an Oculus Rift S (more on that here). Learn more about the headset and Prospect for Oculus Quest here, and VR meetings for Oculus Quest here.
What makes Oculus Quest different from Oculus Rift, Oculus Go, and HTC Vive?
Situated between premium VR products like Oculus Rift and May 2018's wireless, consumer-grade Oculus Go, Oculus Quest boasts an exciting mixture of immersive features and convenient mobility.
With all of the processing capabilities contained within the headset itself, Quest requires no connection to any external hardware. This means that Quest users won't have to purchase a VR-ready gaming computer or plug in any cords. But unlike Go (which offers a similarly easy and fast setup), Quest doesn't sacrifice utility for mobility: it maintains features that are important for powerful VR experiences. Oculus Quest specs include 6 degrees of freedom, hand-tracking controllers, and a high resolution display.
Quest's combination of powerful mobile hardware and simple setup prime it for enterprise use. Though it won't retain the graphical quality of PC-bound products like Rift and Vive, Quest will be able to run professional-grade design programs without setting up a full VR workspace in the office.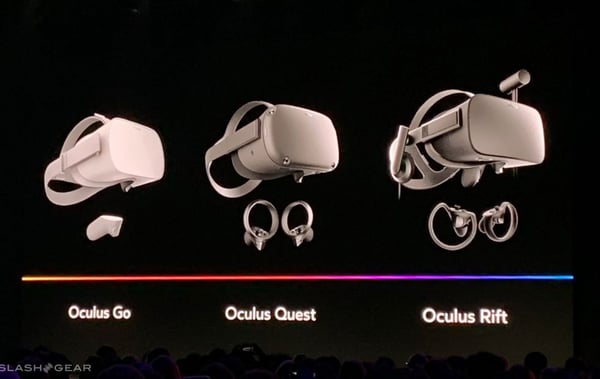 Oculus Quest sits comfortably between Oculus Go (an untethered headset made for mobile use) and Oculus Rift (a powerful, computer-bound headset). Image courtesy of SlashGear.
Should I wait to buy Oculus Quest?
You might be wondering — as a design professional, should I wait for Oculus Quest to release this spring before I set up a VR workspace, or buy another VR headset today?
We imagine a future for professionals in AEC and other industries where untethered VR products like Quest fulfill certain needs, and computer-centric VR products like Rift and HTC Vive fulfill others. The best option is to invest in a powerful, Rift or Vive-based VR setup today while keeping in mind that enterprise VR capabilities will expand even further when Quest releases.
With its low price point and mobile nature, professionals could utilize Quest for out-of-office presentations or quick design review at their desks, while Rift would come in handy for intensive design review sessions that require more significant processing power and a dedicated VR space. The difference between Quest and Rift can be seen as analogous to the difference between a laptop and a desktop — tech-savvy offices employ desktops to run programs that require high processing power, but professionals also use laptops.
Essentially, your firm could have a Rift or Vive for graphically complex tasks, as well as an Oculus Quest for mobile use. With both headsets, you'd have access to your most visually immersive content in-office, but also to more mobile versions optimized to wow clients and colleagues on the go. Quest should not be thought of as a replacement for tethered VR in enterprise workspaces, but rather as one key part of a VR-optimized firm.
Future AEC workflows with Oculus Quest
In terms of the future, the possibilities of untethered headsets like Quest are limitless. At Connect 5, attendees participated in a 6-player, 4,000-square foot "arena-scale" version of VR favorite Dead & Buried, pushing beyond the "room-scale" capabilities that have made inside-out tracking headsets like Vive so attractive. For the AEC industry, this could mean multiple professionals in one room interacting in real and virtual space simultaneously, empowered by a new level of speed and convenience.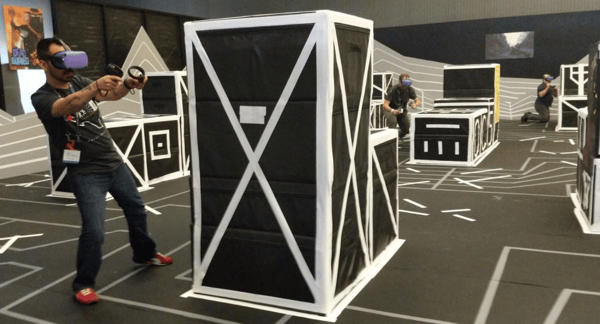 Oculus Connect 5 attendees enjoy an "arena-scale" VR game using Oculus Quest headsets. Image courtesy of UploadVR.
Ultimately, the goal of using VR in an enterprise setting is to bring communication and collaboration to a new level. With the release of Oculus Quest — and, in its wake, the right combination of mobile and tethered VR — AEC professionals will be closer to this goal than ever.
For more about Quest and the future of VR in general, check out the day one keynote speech from Oculus Connect 5 (and keep your eye out for an IrisVR shout-out at the 40:25 mark!).
UPDATE: Standalone VR is on the way! As of November 11th, Chinese company Shadow Creator has released Shadow VR, a standalone HMD for the Vive Wave platform. Shadow Creator announced the headset at HTC's Vive event on the 8th. Like Quest, Shadow VR offers 6 degrees of freedom without any computer tethering for just $399. While the company did claim that Shadow VR would receive an international release, its availability in the West is currently unclear. More details to come.