Several users have written us asking if Prospect supports the use of room-scale with the Oculus Rift system.
The short answer is yes; the original Oculus Rift officially enables room-scale VR through the use of a third sensor. The Oculus Rift S has full room-scale tracking built right into the headset, no sensors needed!
If you have the original Oculus Rift, there are a few steps you'll need to take to get room-scale VR up and running. In this blog post, we'll touch on some of the considerations, necessary equipment, and advantages of using this type of setup.
We also touch on these topics in our latest eBook, all about setting up VR in 2020. It's got all the most up-to-date information about setups.
What is Room-Scale VR?
Taking a step back: what is room-scale VR, and why is it important?
Room-scale VR refers to the concept of having an open, designated tracking area where a user can walk around and their real-life motions are tracked and reflected within their virtual environment. This can make a big difference in making virtual space feel more real and immersive, and adds to the user's sense of space.
Internally, we've long favored the HTC Vive for full room-scale demos and the Oculus Rift for use in a stationary or seated position (like at a desk workstation). The development of room-scale support for the Rift has the potential to tip the scales and level the playing field between Rift and Vive for all use cases.
Getting Started
Because we already had the necessary equipment, we tested room scale with both three and four Oculus Rift sensors and were quite impressed with the results of each.
We also wanted to test room-scale with a range of systems and graphics cards. We recommend getting something with a GTX1080 whenever possible, but with this setup, we utilized a MSI GT72S laptop that has a GTX 980 and a total of 6 USB 3.0 ports and 1 HDMI port. Of those 6 ports, 3 - 4 were utilized for sensors.
When setting up these additional sensor(s), it's important to not overload the ports on your PC. Using a USB splitter in order to achieve the desired number of USB ports is not recommended. We'd also recommend using the Oculus Touch controllers with your Rift (as opposed to an Xbox controller).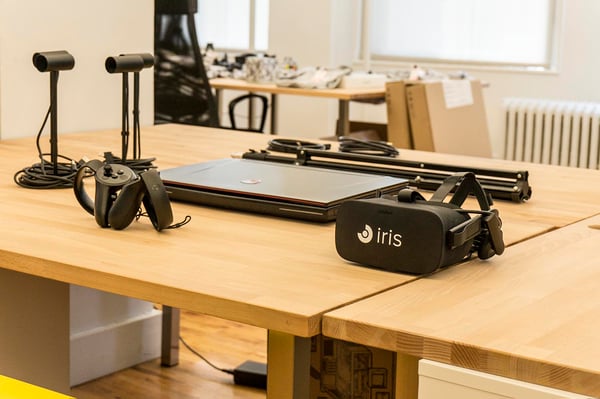 You will need:
Oculus Rift with Touch Controllers: bundled sets including both the Oculus Rift and Touch controllers are available for purchase.

USB 3.0 Extension Cables: We recommend the 15'+ cables, as they should have a little extra slack left over for optimum cable management.

3rd Oculus Sensor: If your setup allows for it, you can also add an optional 4th sensor.

Tripod/Light Stand: Recommended for adding height to the additional sensor(s) and improved coverage to the tracking area.

Powerful PC: If you're not already up and running with a VR system, this article outlines recommended computer specs.
Set Up Steps
Setting up is easy if you follow these simple instructions: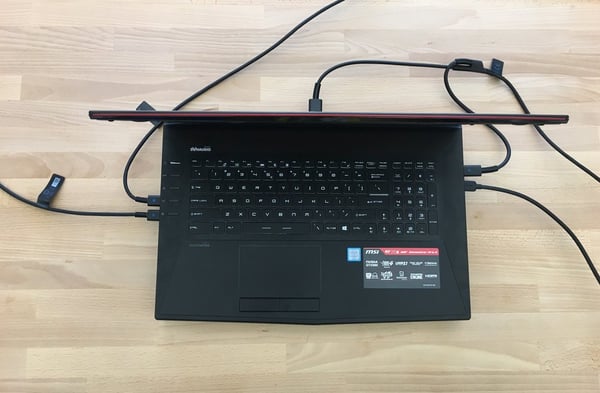 Establish and clear a space for room-scale VR. Your space should be no smaller than 3' x 3' and no larger than approximately 14' x 14' (our setup was approximately 13' x 10').
Make sure your primary sensors for your HMD and Touch controllers are at the front of your designated VR area and being tracked.
Plug the additional Oculus Rift sensor(s) into the USB 3.0 extension cables and place at the back of the area you've cleared. We've found that lightweight light stands are the easiest way to set this up. The sensors detach from their bases, and the thread size (a standard 1/4-20 thread that works with most photography equipment) also matches this type of mount.
Follow the Oculus Rift setup guide for optimum sensor positioning and establishing your boundaries (additional documentation is available here).
Enjoy room-scale VR with your Rift!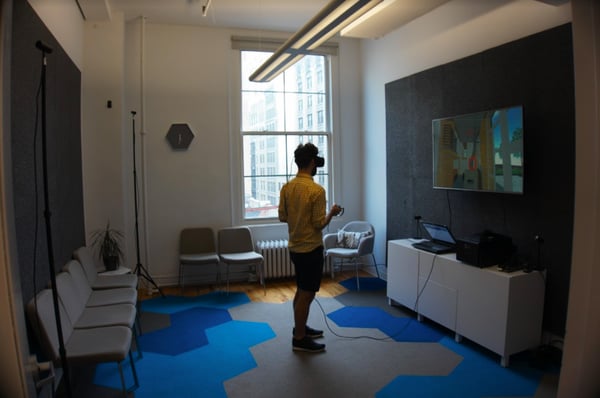 When to Use Room-Scale VR
Though room-scale VR allows for a more dynamic experience, there are also situations where Oculus Rift users may want to use the seated configuration with two trackers.
The first consideration is space. Not all offices have a designated area that could accommodate a room-scale VR setup, in which case a seated configuration is necessary. Let's also not lose sight of the numerous cases where the Rift shines when being used in a stationary, seated position. The Rift lends itself well to iterative design work from your desk, which is a strong suit of this system. Internally, this is one of the main appeals of this system.
Both room-scale and seated experiences have their advantages, and the fact that the Oculus Rift now officially supports both setups adds breadth to the capabilities and experiences it can provide. There is a time, place, and space for each of these types of setups. Our final opinion? So long as you're not overloading your PC, room-scale VR can add to the overall experience, particularly when walking clients through spaces in Prospect.
If you're curious to learn more about setting up VR at work, our Ultimate Guide to Getting Started with VR has a whole section on it.