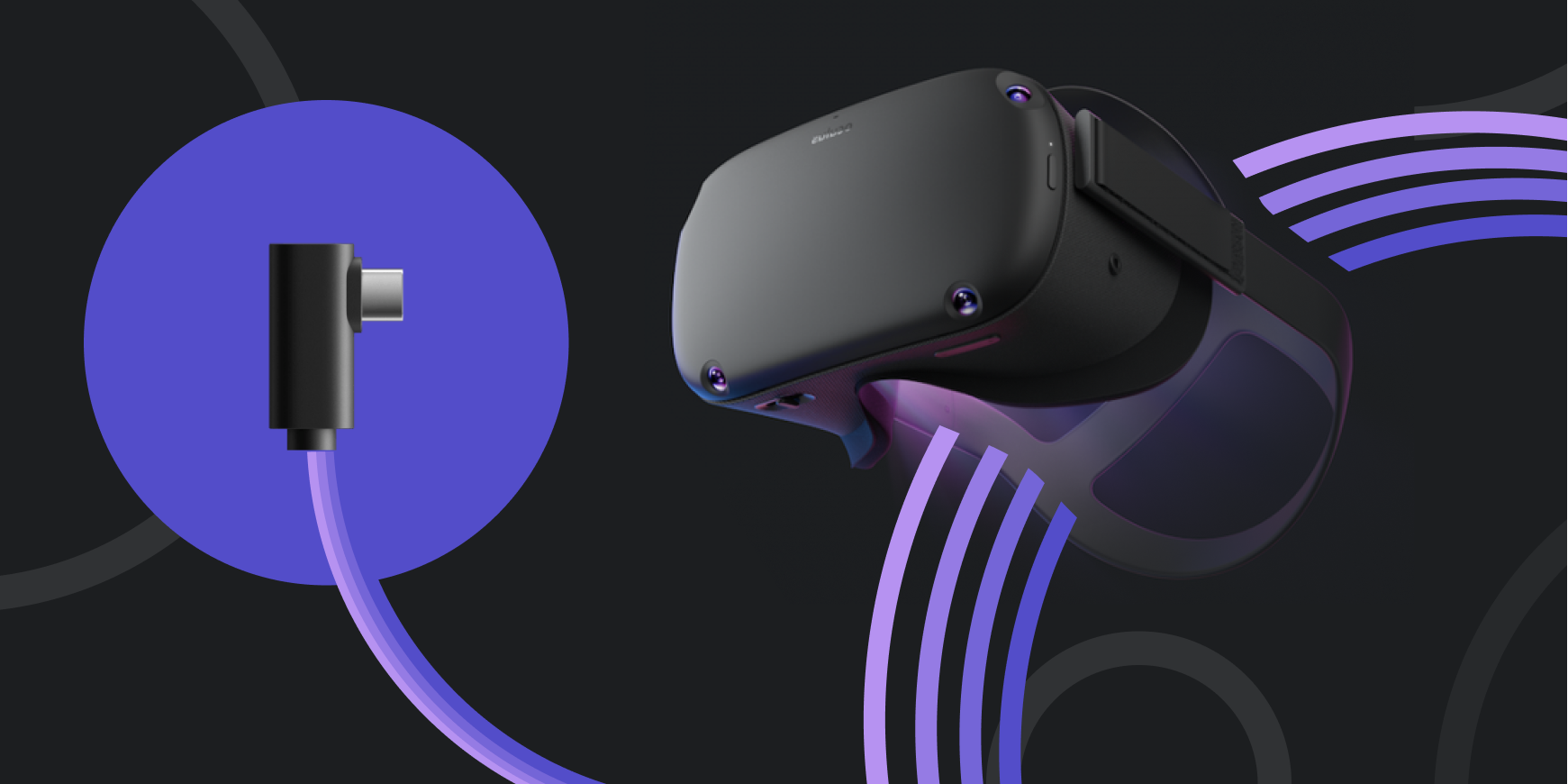 2019 was a banner year for VR. The release of the Oculus Quest made portable, standalone VR a reality, several new tethered headsets hit the market, and VR headsets made their way onto construction sites, surgical training programs, and more.
In our opinion, though, the biggest development of the year was the debut of Oculus Link at Oculus Connect 6.
But why is Oculus Link such a big deal? And why is everyone talking about it right now?
In this post, we're going to outline everything you need to know about Oculus Link, including what it is, how it works, and what it means for the Rift S.
What is Oculus Link?
Oculus Link lets you plug your Oculus Quest into a PC, giving you the power to run desktop-grade VR experiences on your Quest. Essentially, it gives your Quest all the power and function of a Rift S.
The name - Oculus Link - refers to the software that enables this process to happen and the cable that's used to connect your Quest and PC.
As Oculus says: "Oculus Link is truly the best of both worlds: the high-end gaming of Rift when connected to a PC, with the ease and portability of Quest on-the-go."
The technology is currently in beta, which began a few weeks ago. It's unclear when the beta period will end, but our bet is the full release will be timed around an Oculus Connect event.
How does Oculus Link work?
To get started with Oculus Link, you'll need a few things: your Oculus Quest, a compatible PC, the latest version of the Oculus App, access to the Oculus home beta, and a cable to connect your Quest to the computer.
Compatible PCs:
In order to use Oculus Link, you'll need to adhere to the following specs:
| | |
| --- | --- |
| Component: | Recommended Specs: |
| Processor | Intel i5-4590 / AMD Ryzen 5 1500X or greater |
| Memory | 8 GB+ RAM |
| Operating System | Windows 10 |
| USB Ports | 1 USB 3.0 port |
Graphics Cards currently supported include the GTX 1070, GTX 1080, GTX 1080ti, RTX 2070, RTX 2080, RTX 2080ti. As updates to the beta are released, this list expands and is updated here.
Compatible cables:
Oculus will be releasing their own branded Link cables later in the year, but until then, they've released guidelines on what will and will not work during the beta.
In general, Oculus recommends using a cable that is at least 10 feet long for comfort and mobility. Their team notes that the Anker cables like this one have worked during testing, and several members of the IrisVR team are using this one from Amazon.
Pro tip: once you've plugged in your cable, use a velcro cable tie to attach the cable to the headset. It'll help distribute the weight of the cable evenly and create a more comfortable VR experience.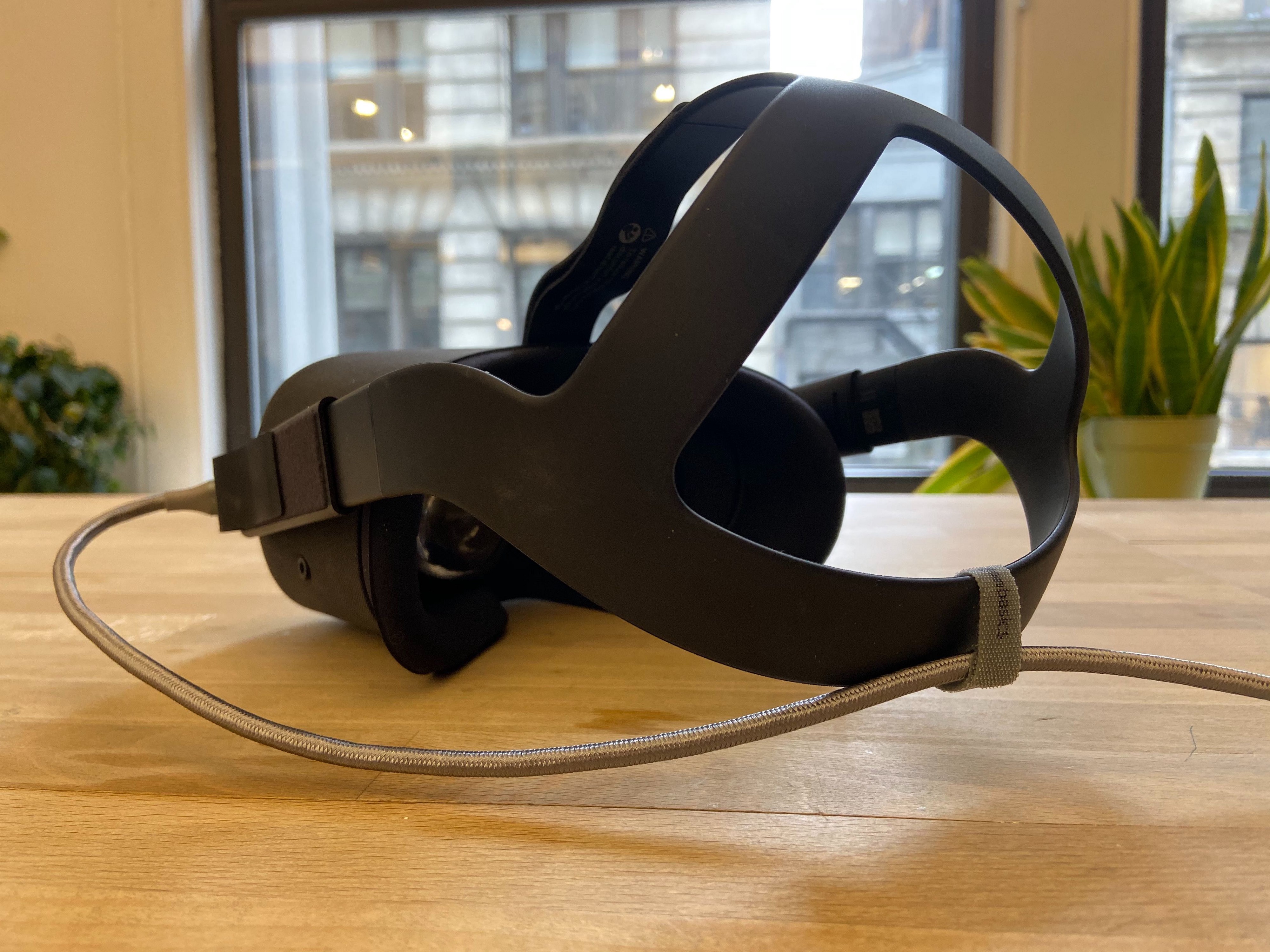 Velcro cable ties can help distribute the weight of the cable.
What have the reviews been so far? Is Oculus Link good?
Preliminary reviews of the Oculus Link beta have been positive, but setup can be a bit finicky.
Our team had the most success by making sure their version of the Oculus App was updated prior to kicking off the process. Once the update completes, keep the Oculus app open, calibrate your Quest, and then connect using your Link USB cable.
Once in VR, it provided a great experience, and there weren't noticeable differences in performance between a Rift S and a Quest + Oculus Link (a slight dip of 8 FPS, but nothing more).
We even tested out Oculus Link with Prospect. When connected to our PC with a GTX 2080, it worked seamlessly!
In our preliminary tests, Oculus Link let us view massive Navisworks files in Prospect on our Oculus Quests.
What does Oculus Link mean for the Rift S?
As we hinted at earlier, the Oculus Link marks the beginning of the end for the Rift S.
Our CEO, Shane Scranton, takes it one step further. He predicts that Rift S will be the last headset in the Rift product line, but not necessarily the end of desktop VR for Oculus - we just might need to wait a few years before we see another desktop VR product from Facebook.
For now, it seems as though Oculus is leaning into Quest development, which is all but confirmed by announced improvements to hand tracking.
If you already own a Rift S, the good news is nothing changes right now. While we think that the Rift S is the end of the line for Rift, that future will be likely be realized in a couple of years. For now, you're already set with one of the highest quality VR headsets on the market.
If you don't have a headset yet and are looking to buy within the Oculus ecosystem, we still recommend either the Rift S or Oculus Quest. If you'll be traveling with your headset - or want to bring it to meetings - the Quest is super portable and lightweight. The Rift S is great for a more stationary VR setup. This blog post/quiz can help you decide which headset you should buy.
Have you tried Oculus Link yet? Let us know in the comments!