Part I: How to Use VR in Architecture for Visual Validation, Collaboration, and Model Coordination
Earlier this month, we hosted a webinar with Justin Benjamin of Perkins+Will to find out how they're operationalizing VR and increasing design efficiency. This is the first post in a two-part blog series that will recap and share insights on use cases for VR and implementing it within an Architecture firm.
AEC professionals can use immersive design review across all stages of the design process - but knowing when and how to best use VR is just as important as launching the experience in the first place. Below, we outline parts of the design process that can best benefit from immersive review, and also highlight Justin's tips for making the most of the experience.

Early Visual Validation of Your Design
The realistic nature of VR allows architects and designers to evaluate visual elements in a way that simply is not possible with 2D models or even 3D renderings. Immersive environments provide accurate scale and material applications that you can view and discuss at any stage of the design process. The true-to-scale, full depth environment lends itself to extremely accurate review of design fixtures, layout options, material palettes, and more. Tools in Prospect even allow you to turn these materials on and off or toggle layers to compare your visual features during a walkthrough.
A tip from Justin: Don't hesitate to go into VR if your model isn't perfect. So many people are reluctant to launch into VR because they're afraid an unfinished model is useless, but going into a model in an early design phase is just as important as launching VR at the end. Think of specific design elements you want to evaluate before entering the virtual world, and don't be distracted by unfinished imperfections.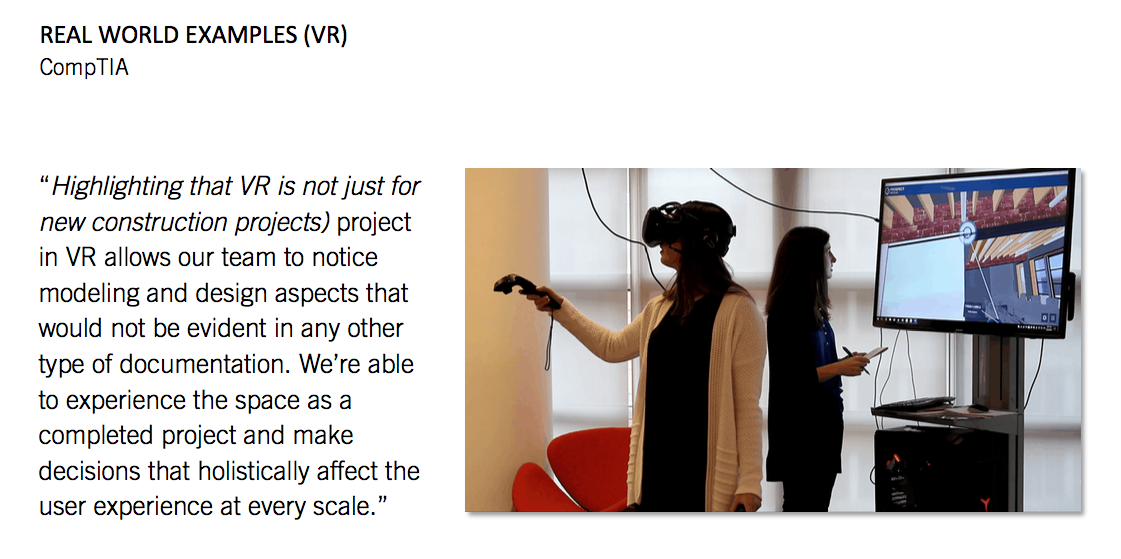 Collaboration & Client Design Review Meetings
Immersive design review meetings can be a great way to communicate your vision to clients and stakeholders with clarity. Because Prospect VR meetings take place in 1:1 scale, anyone in VR immediately understands how the space in question will look and feel. Users are also enabled with tools built specifically for reviewing architecture - including the ability to measure, flag elements for further review, make annotations, take screenshots, and more.
UPDATE: With the release of Prospect 2.4, you can automatically create a Report during your design review meeting and download it as a PDF. Reports contain screenshots, flagged elements, notes, and action items. Read more about Reports here.
One of the best parts of virtual reality is the ability to customize your model based on your intended audience or use case. You can prepare in advance for meetings by isolating certain features or design options you want to highlight, and then use in-VR tools to help evaluate. For instance, if you want to showcase different layout options, you can use the Layers tool to toggle between the two.
A tip from Justin: make use of Prospect's quick launch time. Most VR experiences in Prospect take around 30 seconds - 1 minute to launch, so you can easily switch between models and views if you need to. And, since it only takes a minute to launch, you're able to edit your model until your meeting starts. Custom VR experiences built from scratch don't afford you this type of flexibility.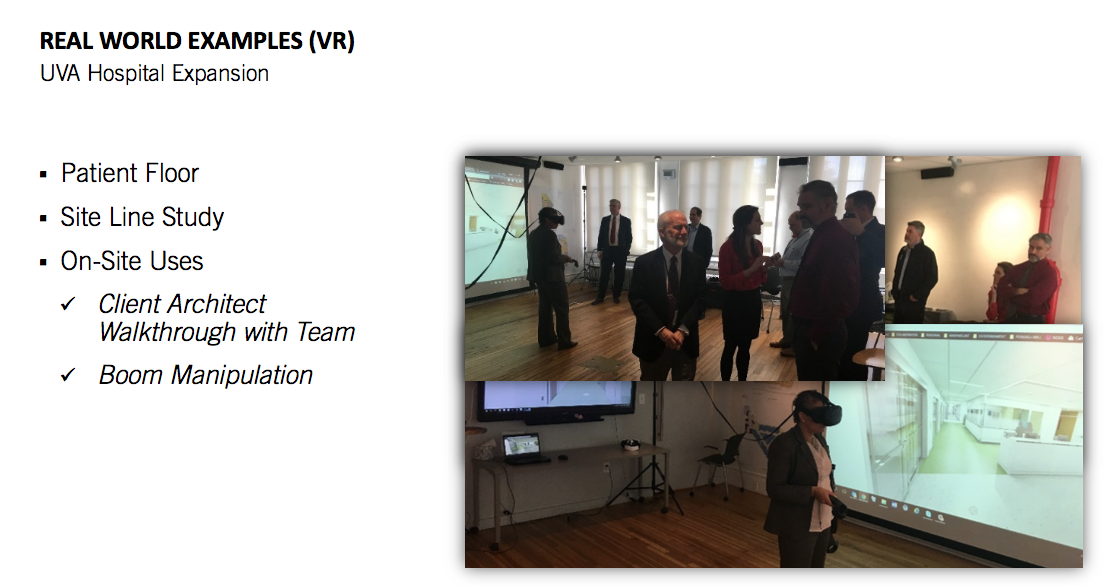 3D Model Coordination
Do your fixtures line up? Is your building plan functional - or even possible? What do you have left to build? Virtual reality can help uncover easy answers to these very difficult questions. VR walkthroughs in 1:1 scale allow you to easily make judgement calls about your design. Clashes that might have been difficult to detect become immediately obvious when they're right in front of you.
One of Justin's favorite tips? Don't worry about the unnecessary bells and whistles that have little to do with the design itself. Being able to open a cabinet or door, for example, has little impact on your immersive experience. You should try your best to maximize the relationship between time spent preparing your model, time in VR, and added benefits. At the end of the day, communicating scale is what's most important.
No matter how you use immersive design review, it's sure to improve design comprehension and spark informed, decisive conversations about spaces. The next post in this series will focus on how to implement VR at your architecture firm.
Prefer to watch the webinar and get all the info now? Download the webinar recording here.