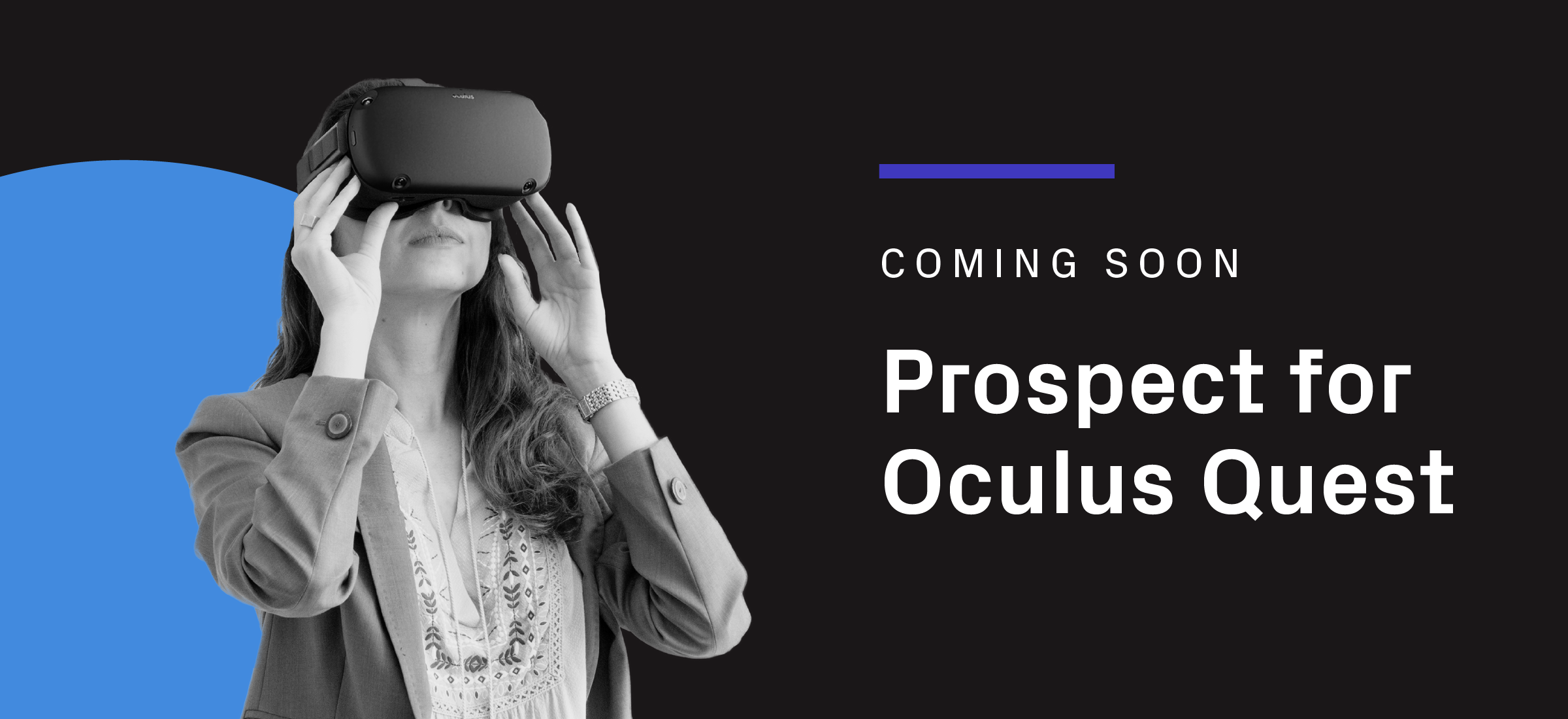 We're excited to announce that our award-winning 3D-to-VR software, Prospect, will be compatible with Facebook's newest VR headset, the Oculus Quest! Pre-orders for the Quest and Facebook's new desktop VR headset, the Rift S, are live now; the headsets will begin shipping on May 21.
Update: Prospect for Quest is available now! Learn more about the headset and our integration with it here. In addition, we now support VR meetings for Oculus Quest.
Oculus Quest is Facebook's first-ever standalone, 6 DOF (six degrees of freedom of movement) VR headset. That means it's capable of delivering premium VR experiences without a computer or any external sensors. Just put on the headset, pick up your controllers, and you're ready to go.
With Prospect for Quest, you'll be able to walk through your 3D models from Revit, Navisworks, SketchUp, Rhino, and more in VR - all without connecting your headset to a PC or smartphone.
In this post, we'll tell you why we're excited about Quest for AEC, run through a few industry use cases, and talk through next steps.
Why We're Excited About Oculus Quest

Photo courtesy of Oculus.
Here at IrisVR, we see the release of Quest as the beginning of a new era for virtual reality.
The headset is great for travel and requires minimal set up to start using. In addition, it costs just $399 - and you don't have to worry about assembling an expensive, VR-ready computer to power the experience.
The increased mobility and ease of use it brings will be invaluable for AEC professionals.
Leverage VDC on the Job Site with Quest
Without VR, VDC efforts often don't make it to the field office, resulting in rework costs and project delays.
But with Prospect for Quest, you can step into your model in immersive, 1:1 scale any time, anywhere. This means putting subcontractors into the model early and often - so installation gets done right the first time.
Improving trade comprehension has never been easier.
More VR = Less Errors
Design intent is easiest to understand in 1:1 scale. That's why VDC and BIM teams are already using Prospect to:
Spot clashes that would have remained hidden using only traditional 2D and 3D QA/QC methods
Host model coordination meetings
Train subcontractors
With the upcoming release of Prospect for Quest, it's easier than ever to get your whole team into VR to try out these workflows.
Prospect for Oculus Quest
To get started with Prospect for Oculus Quest, someone at your firm will need a Windows PC with Prospect installed to generate an IrisVR experience - so that you can sync the file to access on your Quest.
For most firms, it will also still make sense to have a desktop VR headset in the conference room or demo space in the office.
That's because Quest runs on a mobile processor, so it supports smaller files than what you can run on a fully equipped desktop PC. Update: the recently announced Oculus Link beta essentially turns a Quest into a Rift S. Learn more about it here.
Quest and Security
Security is incredibly important to our team, so we follow industry best practices to ensure your data is always secure.
Your files are stored locally on your own computer - in our proprietary file format - until you select "Sync," at which point they are hosted on the Cloud.
Networking and data transfer processes are fully encrypted, ensuring that your files will only be visible to your trusted colleagues and partners.
How to Get Started with Quest
Oculus Quests are available for purchase via the Oculus website.
Once you've ordered your Quest and it's arrived to your office, start a free trial of Prospect and sign up on this page so that our team can give you access to Prospect for Oculus Quest.