2019 was a huge year for VR. Industry leaders - including Facebook and HTC - announced a range of new headset options (like the Oculus Quest and Vive Cosmos) for consumers and enterprise customers to choose from.
At the same time, newer players are emerging to try and carve out their own space within the market. Notably, Valve - who co-designed the Vive with HTC - released their first in-house headset.
But why should you care? Because these new headsets are leveraging powerful new technologies to help VR reach its full potential.
Thanks to these new technologies, you'll be able to:
Check out this infographic for information on 7 of the most important new VR headsets - and what makes each of them special:

Keep reading to learn more about each of these new VR headsets - and comment below to let us know which one you're most excited about.
Oculus Quest: Specs, price, and release date
Photo courtesy of Oculus/Facebook.
Oculus Quest ($399) is Facebook's first-ever standalone, 6 DOF (six degrees of freedom of movement) VR headset - and it's available now.
As a standalone headset, it's capable of delivering fully immersive VR experiences without a computer or any external sensors.
Just put on the headset, pick up your controllers, and you're ready to go.
It's portable, easy to set up, and cheaper than just about any other immersive VR headset.
Here at IrisVR, we're really excited about the Oculus Quest - and now offer support for it - because it will make it easier than ever for AEC (architecture, engineering, and construction) professionals to supplement their 3D modeling workflows with VR. Prospect for Quest is here: sign up here to get your hands on it. In addition, we now support VR meetings for Oculus Quest.
It's worth noting that the Oculus Quest isn't capable of delivering quite the same level of immersion as PC VR headsets - like the Oculus Rift or HTC Vive. However, it's a notable improvement over previous generations of standalone VR hardware.
Oculus Rift S: Specs, price, and release date
Photo courtesy of Oculus/Facebook.
Facebook's other new VR headset for Spring 2019 is the Oculus Rift S ($399), which is also available now.
This headset is an iterative upgrade to the Rift you've come to know and love, featuring a new, comfort-focused design by Lenovo and a higher-res display (1280x1440 pixels per eye, up from 1080x1200 on the original Rift).
Most importantly, the Rift S features inside-out tracking - so you won't have to set up any external sensors to experience fully immersive PC VR.
In the AEC industry, the Rift S should be a great choice for walking through top-tier VR experiences drawn from large 3D models.
The headset will require connection to a VR-ready computer to run - check out Puget Systems' IrisVR-approved VR computers if you're looking to get started with PC VR.
HTC Vive Focus Plus: Specs, price, and release date
Photo courtesy of HTC.
The Vive Focus Plus (available now for $799) is HTC's first-ever truly standalone VR headset.
What differentiates the Focus Plus from last year's Vive Focus is its controllers - which are built to allow for 6 DOF.
This means the Focus Plus will allow you to experience immersive VR without a PC or smartphone.
Unlike the Oculus Quest, the headset is - as of now - intended exclusively for enterprise customers. Its 2880x1600 AMOLED display should be well-suited to this market.
HTC Vive Cosmos: What we know so far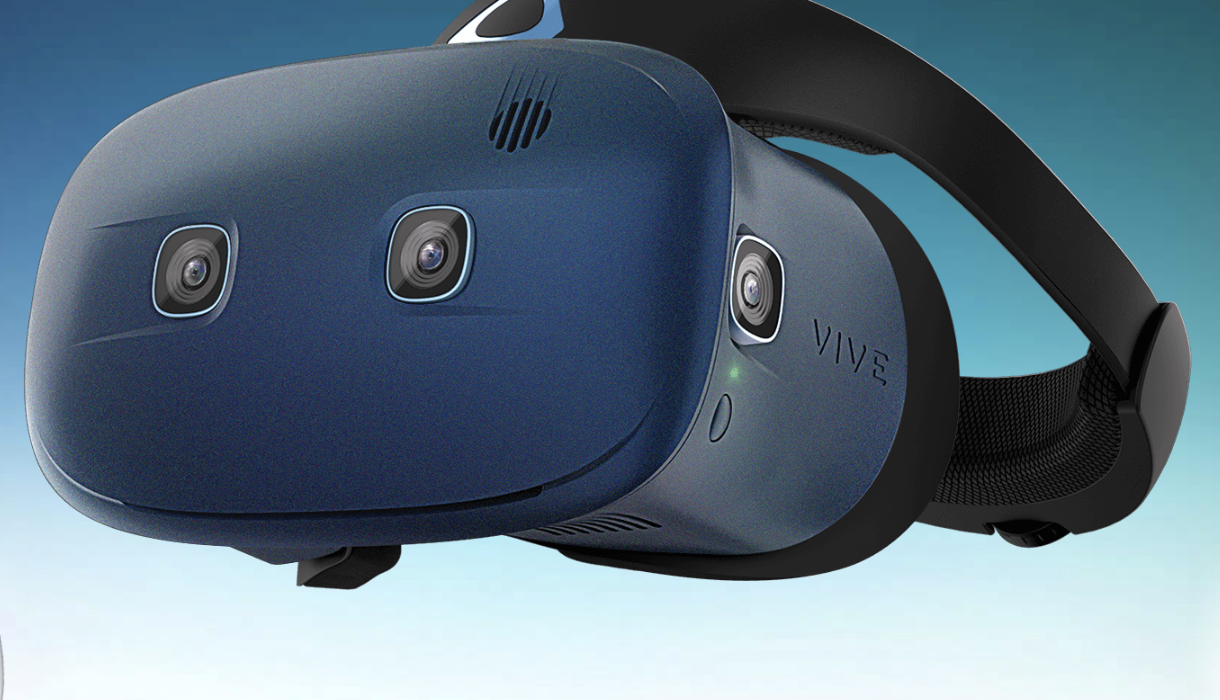 Photo courtesy of HTC.
HTC's next headset for the consumer market is the Vive Cosmos. Priced at $700, it releases October 3rd and is available for pre-order now.
The Vive Cosmos is mainly a PC VR headset, but it's predicted to also tether to other devices - such as smartphones. That's why it's considered HTC's first modular VR headset.
The Cosmos features inside-out tracking with 6 DOF (meaning you won't have to set up any external sensors to use it).
In addition, it has a new flip-up design that allows you to see the real world without removing the headset.
Vive Pro Eye: Specs and release date rumors
Photo courtesy of HTC.
The HTC Vive Pro Eye takes the premium visuals, audio, and motion-sensing that the Vive Pro headset has become known for and adds a powerful new feature to the equation: eye-tracking.
LED sensors around the lenses allow the headset to track the exact location of your eyes.
This creates the possibility for foveated rendering - a technology that uses eye-tracking to focus graphical rendering on the specific part of a VR experience that your eyes are currently directed at.
For instance, if you're looking at an object in the foreground of your VR experience, objects in your peripheral will be rendered with less detail. According to Oculus chief scientist Michael Abrash, this could reduce the number of pixels needed to be rendered in VR by around 20 times - freeing up graphical power for the parts of the experience you're actually focusing on.
The enterprise-grade headset is available now.
Valve Index: Release date, price, and more
Photo courtesy of Valve.
The Valve Index is the first VR headset built in-house by Valve - codesigners of the HTC Vive and creators of SteamVR. Several pricing tiers are available:
Valve is focused on creating extra high fidelity VR experiences with the Index, meaning it features a pair of 1440x1600 resolution LCD lenses and will require tethering to powerful, VR-ready computer.
With a wide field of view, off-ear integrated headphones, and a 120 Hz refresh rate (up from 90 Hz on the Vive and Vive Pro), the headset is perfect for those looking to experience VR at the highest level.
In addition, its controllers take finger- and hand-tracking to the next level.
Formerly known as the Knuckles controllers, the Valve Index Controllers are able to track the location of all four of your long fingers, and feature a unique strap design that keeps you from accidentally dropping the controllers while in VR.
HP Reverb: Specs, price, and release date
Photo courtesy of HP.
**Update as of 5/15: The HP Reverb's previously announced release date of May 6th has come and gone, but the headset still isn't technically available, with several vendors listing it as out of stock. More information to come as we learn it.**
The HP Reverb represents the next generation of Windows VR headsets.
It will be priced at $599 - or $649 for the commercial edition, which includes a longer warranty, a leather face cushion for quick wipe downs, and an optional short cable for use with backpack PCs.
The headset will offer 4K visuals, with 2160x2160 pixels per eye. This puts it well above the highest resolution headsets of the previous generation, like the Samsung Odyssey+ and HTC Vive Pro.
The HP Reverb will run on the Windows MR operating system. Designed for a high level of user comfort, it features a similar silhouette to the Oculus Rift.
---
Wondering which VR headset is best for you or your team? Take our VR headset quiz to find out in less than 2 minutes.