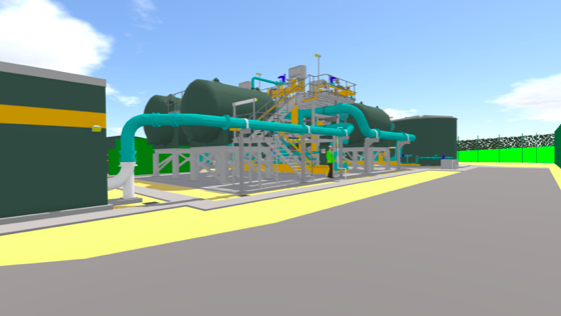 Anglian Water performing VR design review with Prospect.
Anglian Water's @One Alliance is a collaborative organization of consultants and contractors working together to deliver more than half of Anglian Water's capital investment program. Together they design and construct water and water recycling (waste water) treatment centers that serve more than six million people in the East of England (and Hartlepool Water) and maintain and improve the water mains and the sewerage network in the region.
In a heavily regulated industry to ensure the best value, the Anglian Water @One Alliance is always looking to outperform against commercial targets. Often this means searching for the latest development in technology to deliver more efficient and cost-effective workflows. They were looking for a solution to improve their early stages of visualization to reduce the likelihood of changes while on site.
We spoke with Tony Palmer at the Anglian Water @One Alliance to learn how they've come to incorporate VR in their workflows, how it's helping them design smarter, and why it's become a vital tool in collaborating within their team.
Case Study Highlights:
Anglian Water's @One Alliance were looking to improve their early stages of visualization and efficiency in Design and Delivery.
Previously, models were sent to programmers to create VR experiences using Unity or Unreal gaming engines. This would take 2-3 weeks and could cost up to £5000. Now, they can create a more dynamic VR experience with

Prospect

in one click, able to update and change it throughout the design process and eliminate spending on external consultants.
They used Multiuser Meetings to eliminate excessive travel from their office to on-site meetings.
VR helped them notice a number of design inconsistencies that appeared fine when looking at a 3D model using other means. These early corrections ended up adding significant value to project delivery.
The use of VR has also helped contribute towards design changes which have directly impacted the @One Alliances Carbon and sustainability targets.
Choosing a VR solution
What were you looking for in a VR software solution?
The primary concern for us was ease of use and quick conversion of our existing 3D CAD models to a VR format, to allow us to bring VR to as many projects and users as possible, maximizing the return on our investment in equipment and software. The amount of information available from the IrisVR website allowed us to get a real understanding of the Prospect software before downloading the trial version. We were already using Navisworks to review models, so the ability to take files from there and quickly view in VR created a natural extension to our existing workflows. The possibilities created by Multiuser sessions to reduce the need for travel (our sites can be up to a 3 hour drive from the office) and provide instant feedback on issues seemed like a real bonus.
The ease of importing 3D CAD models into Prospect for viewing in VR has made a massive difference to our use of the technology. Previously, we were sending models to programmers to create VR experiences using Unity or Unreal gaming engines which would take 2-3 weeks and could cost up to £5000. This required a commitment from the project to implement VR and resulted in a VR experience that only allowed us to view the version of the model converted. Being able to create a VR experience in-house, often in less than 10-15 minutes, has removed the obstacles that we were facing and allows us to make VR available to all projects where we have a 3D model.
What were the goals you set out to achieve by using virtual reality?
Our aims with VR were to improve design development and the communication of design intent to construction and operations staff. This would help facilitate clear design feedback at an early enough stage to be able to act on it efficiently.
Implementing VR across the organization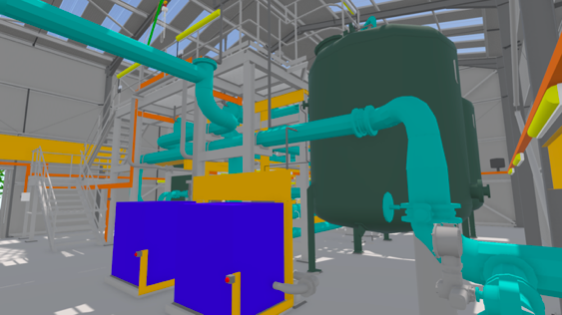 The Anglian Water team instantly jumps into VR for fast, iterative design review sessions.
How did you introduce Prospect across the organization?
From the first few models we imported it was clear that Prospect could make our use of VR much more accessible to projects. Importing more models and getting more people from design teams, construction teams and site operations to try the software meant that by the time the trial expired we had a wide range of people championing its use.
How did you use virtual reality?
VR is primarily a design review tool for us although we are beginning to look at ways to use it for planning and to simulate construction. Having access to models in VR at an early stage and being able to update them as the design progresses has allowed us to get a better understanding of how everything fits together and the effects of changes. Taking the model to our construction and operations staff, who are in effect our customers, provides further feedback on the design at a stage where it's early enough to implement changes in the most cost effective manner. Using VR has enabled us to undertake key procedures such as Safe to Operate reviews much earlier in the project lifecycle, reducing waste and rework as a result.
We are trialing using VR to conduct site safety training, in particular improving awareness around plant and equipment like excavators for staff who only visit site occasionally and are not fully aware of the restricted view that machine operators often have of their surroundings.
What steps did you take to produce the virtual reality content?
Most of our 3D content is created using AutoCAD with Plant3D, Civil3D and Revit. Some of our content is provided by vendors or sub-contractors using a variety of other software. We use Navisworks to pull everything together and view the overall model. An FBX export from Navisworks is then taken to Prospect for import. The direct link from Navisworks to Prospect in the latest update should simplify the process even further.
How do you have your VR station setup?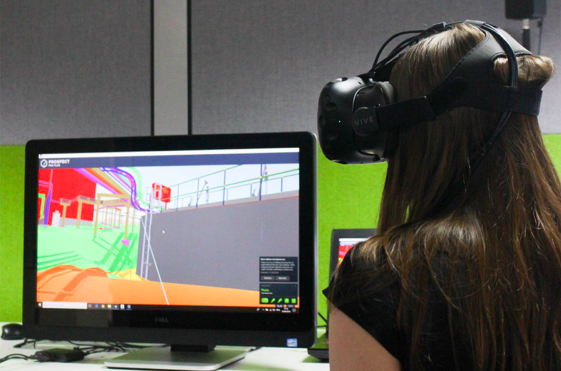 The engineering firm has 2 VR kits. Pictured is an HTC Vive with a MSI laptop.
We currently have 2 VR kits. The first is based in our design office situated in the middle of one of our main design hubs. The equipment often travels around the building or to other offices as required. The second is based on a project site and is used by the site team on one of our more complex projects to understand the model during construction. Both consist of HTC Vive headsets linked to a dedicated MSI GT62VR laptop.
We have plans to improve the usability of our office space by permanently mounting base stations and installing a second display screen. As our use of VR increases, we plan to install VR equipment into our collaborative meeting rooms where we already have large interactive display screens. We also have an older Oculus headset which is rarely used now but can be deployed if needed.
How long does your team spend in VR?
We get the operations staff to move around the model as much as possible, checking maintenance access, escape routes, and the ability to reach valves or instrumentation around the works. We try to get them to put aside any embarrassment and reach out using the Vive handsets to equipment they need to operate.
The ROI of Bringing VR in-house
How has Prospect helped your team since implementation?

The biggest difference that Prospect has made for us is the ability to get models into VR quickly using in-house resources. Not having to rely on external resources to create VR experiences means we can now use the technology on many more projects. Instead of seeking project approval to implement VR on a case by case basis we can now just get on with using it.

Viewing models in VR gives us a sense of scale and proportion that we simply couldn't get with any other method of viewing CAD models.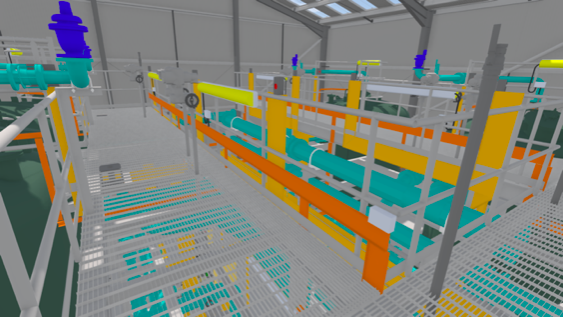 The team uses VR on a wide variety of projects to catch errors and understand the scale of a space.
What have been clients' reactions to using VR?

We often find people are hesitant to put the headset on due to past experience with VR making them feel unwell. Once we have offered some reassurance the reaction is usually very positive. After a few minutes they stop being in awe at the technology, begin looking at the detail and provide the feedback and comments we are looking for.

When we first started showing 3D models at design review meetings the requests for them on future projects just kept coming. There has been a similar reaction with the initial adoption of VR on projects.
Has Prospect saved money or increased productivity?
There have been a number of instances when things have been noticed during a design review with VR that had appeared fine when looking at the 3D model using other means. Capturing these issues at such an early stage means that we can implement changes to the design, had these issues not been noticed until the works had been built this could have had considerable cost and time associated with rework prior to handover of the project to operations.
The sense of size and scale when reviewing models in VR has allowed both designers and construction staff to understand what we are planning to build and how we can build it. During a pre-construction review it was noticed that an area along the edge of a concrete slab about 1m wide wasn't doing anything and that a footpath was running parallel to the slab. It was suggested that either the slab area was used as an access way and the footpath removed or that the slab area was reduced. The latter option was chosen as it resulted in the greater reduction in concrete saving around £2000 of materials and embedded carbon.
Did it improve coordination within your team?
With the Multiuser features offered by Prospect, we can investigate issues that occur on site and review solutions with the construction teams more easily than we could previously. It's as close as we can get to being there without leaving the office.
Was it instrumental in identifying areas needing change or additional refinement?

Some of the potential issues we have spotted in models using VR looked absolutely fine when viewed by other means. We likely wouldn't have spotted them any other way until the works had been built when they would have been much more expensive to fix.

During a review with a plant operator, they asked to see a chemical dosing arrangement. As they approached the chemical injection cabinet and looked inside, they instinctively ducked as if to avoid hitting their head and commented that the cabinet needed to be taller. If we had installed this it would have been a constant risk to operators when accessing the kiosk or would have needed to be replaced at a cost of around £15000. We modified the design to increase the height of the cabinet.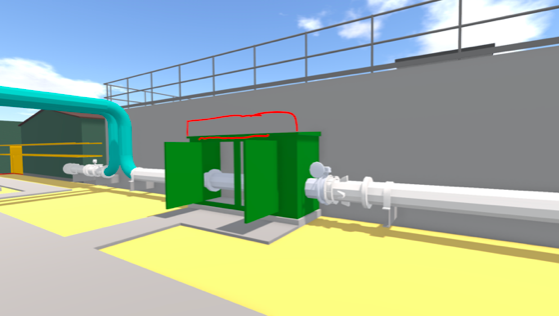 The team saved £23,000 in construction and rework costs.

While reviewing another chemical dosing point with the design team, one of them pretended to withdraw the dosing lance from the pipe, as they did so they stepped back and found they were no longer on the access paving. We modified the design to increase the paved area removing the trip hazard. Had this been spotted after construction, we would have needed to recall the civil contractor to cast extra paving costing around £5000.

During detailed design of a plant building the design team were challenged with optimizing the building size to reduce cost and installation time, whilst not compromising access for the Operations. After a period of optioneering the width of the building was reduced from 36m to 30.5m. Although the 3D model gave the Operations Team a great platform for reviewing the smaller building it didn't give them confidence that there was enough space. Within moments of entering the model in VR, they commented that 'there is plenty of room in here' and after a detailed VR review there have been no further challenges. The reduction in building size saved around £25000 and reduced the construction time by 4 weeks.