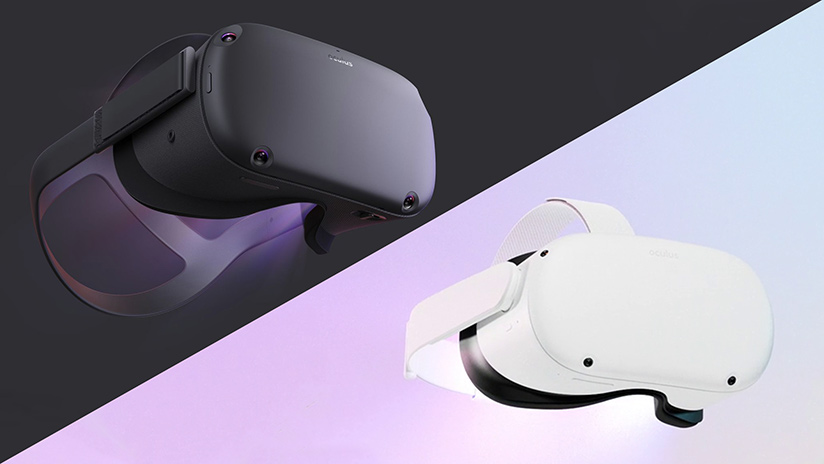 Image credit: Realite Virtuelle
The first wave of Oculus Quest 2 headsets ships out today and the self-proclaimed "most advanced all-in-one VR headset" will be released to the public, leaving many wondering how the new and the old stackup. So, let's talk about the Quest 2 vs Quest and what these hardware developments mean for enterprise VR.
Launched a little over a year after the original Oculus Quest, the Quest 2 boasts a lower price alongside significant improvements, which makes the world of VR more accessible and useful than ever before. From processing power to display resolution to comfort to price, the Quest 2 is better than the Quest. But, this is also the beginning of a more marked divide between consumer and business VR use, funneling these respective users into different products with a single requirement: Facebook login. The Quest 2 requires users to login with Facebook. The good news is that Oculus for Business is built with the enterprise in mind, making it the appealing option for enterprise VR collaboration. For VR-curious businesses, the time couldn't be better to invest in enterprise VR. Here's a rundown of the technology and recommendations for businesses looking for innovative ways to drive productivity.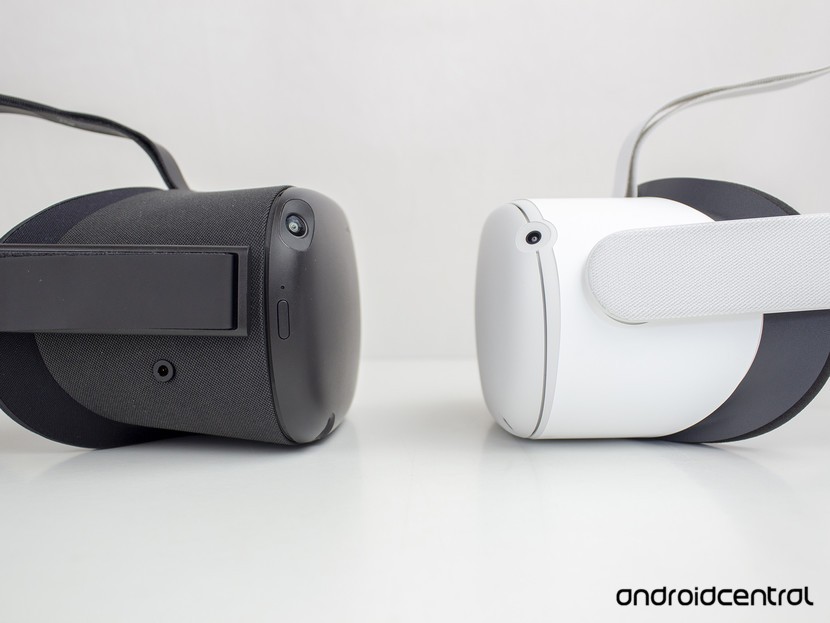 Image credit: Android Central
Oculus Quest 2 vs Quest: And, what is Oculus for Business?
The Quest 2 has the spotlight, so let's clear the air around the more mysterious Oculus for Business option. The hardware is the same. Oculus for Business is the Quest 2 headset, but with a more business-friendly agreement including better data security, different terms and conditions, licenses, and enterprise-grade support.
So, what can we expect from the new hardware? The Quest 2 improves upon just about every Quest feature, although there are few new features to speak of. But, we appreciate focusing on a feature set done well, instead of a long list of half-baked features. It's worth saying that at IrisVR, we also prioritize quality over quantity, building our VR collaboration solutions by focusing on the best and most-needed productivity-driving features.
How the Quest 2 is better (mostly)
The price is right starting at $299 for 64GB of storage - $100 less than the Quest when it launched - and $399 to upgrade to 256GB of storage. Oculus for Business is starting at $799 (now $200 cheaper).
More power with an upgraded Snapdragon XR2 processor chip, meaning it can support better and more sophisticated games, apps, and software. This is a significant improvement from the Qualcomm Snapdragon 835 in the Quest.
Better graphics from a higher resolution display with 50% more pixels (now 1832 x 1920 pixels per eye) and a higher refresh rate (soon to support a 90Hz) that make sharper images that feel more real.
Greater comfort with a less bulky, 12% lighter headset (decreased from 571g to 503g) and more ergonomic hand controllers with better haptics and 4x longer battery life.
Quest 2 accessories are now available for the first time. The

Elite strap

comes highly recommended (only $49 extra), over the softer band the Quest 2 now comes with. Other add-ons include an

elite battery strap

for longer battery life and a handy

carrying case

.
Hands-free use is improving with the new "Voice Commands" feature that allows you to search and launch apps, ask for the time and battery life, or search Google. Plus, the Quest 2 VR headset still has the best "inside-out tracking" out there.
And, finally:
FACEBOOK LOGIN. It's now required with the Quest 2. Oculus for Business does not require Facebook login. Instead, you can use a

Facebook Workplace

account.
Plus, this:
The Oculus Quest 2 announcement undoubtedly represents a new era of accessibility and affordability for VR. The Quest 2 is the "best standalone headset you can buy" and will continue unlocking its potential over time. It's clear that enterprise AEC teams will experience some serious upgrades with the Quest 2 with crisper images, faster file load times, and longer, more comfortable work sessions in VR. The more time AEC teams can spend in VR, the higher ROI they'll see. In VR, teams can catch more costly errors earlier, collaborate more effectively, and speed up decision-making processes by driving better spatial comprehension across teams and stakeholders.
"Oculus Quest 2 launches files up to 2 times faster and frame rates improved 20-30%...allowing us to load larger models and experience improved performance in Prospect by IrisVR."
- Shane Scranton, CEO & Co-Founder, IrisVR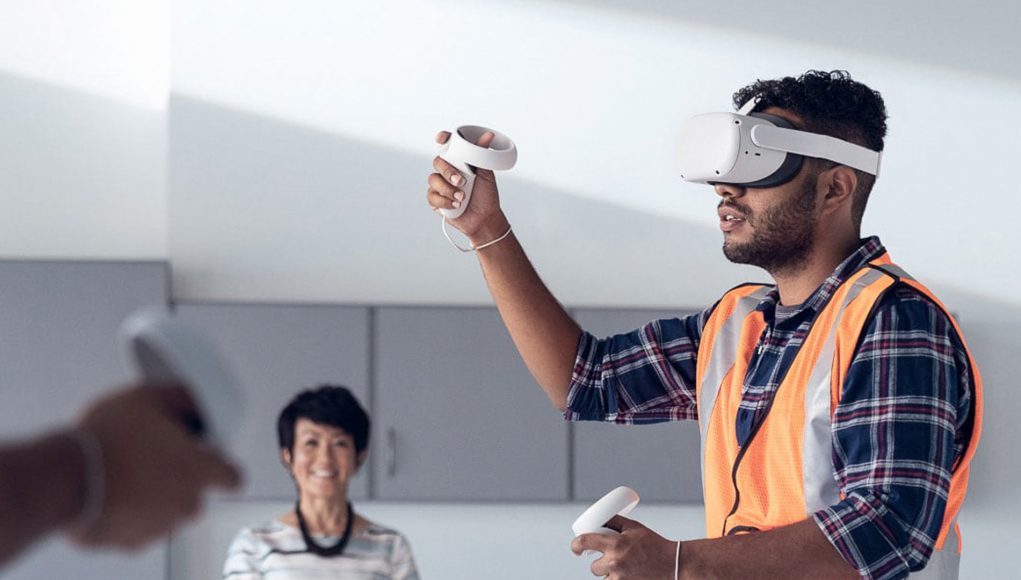 Image credit: Facebook
The best standalone VR headset for enterprise VR collaboration
The release of the Quest 2 marks significant strides forward in VR hardware technology, making the possibility of commonplace VR, especially in the AEC industry, today's reality - and IrisVR is proud to partner with the innovative AEC companies leading the charge by implementing enterprise VR into their workflows. With its Oculus line, Facebook has sprinted ahead as the frontrunner in standalone VR headsets, making the enterprise choice clear and simple with Oculus for Business. Among other benefits, freedom from Facebook login makes it more business-friendly. (Note: if you're trying to find a way around the Quest 2 Facebook login requirement, just don't - you will be penalized). The new lower price of $799 means the initial investment in VR for business has never been better. Essentially, you're paying to keep your data safe, secure, and entirely to yourself, among other things. Worth it.
The Quest 2 is one of many indications of Facebook's dedication to making VR accessible to all - consumers and businesses alike. For businesses, the software for VR headsets is arguably even more important than the hardware. Of course, one cannot come without the other. The Oculus Business ISV directory (independent software vendors) is already quite impressive and growing. For the AEC industry, VR hardware and software makes it possible for architects, engineers, and construction professionals to work better - for the first time, they can step away from flat surfaces and, instead, experience immersive building models.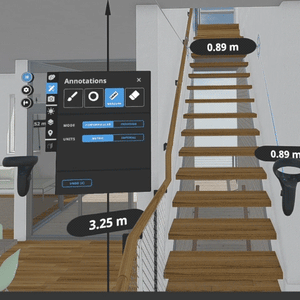 Remember: VR for AEC is not just looking at models in VR, it's interacting with them at 1:1 scale by using digital tools - like measuring, annotating, issue tracking, viewing BIM data, and more - designed to drive productivity.
With Prospect by IrisVR, AEC teams collaborate from anywhere and leverage interactive tools to work better in immersive VR.
Considerations for implementing enterprise VR
If your organization is already experimenting with consumer VR headsets, like the Quest, it's only a matter of time before the shift to enterprise-grade hardware is necessary. The smart move is to realize that time for transition is now. If you haven't invested in hardware yet but are VR-curious, more affordable consumer headsets can be a good way to test the waters, but any large-scale rollout should leverage enterprise-grade hardware and software to ensure long-term stability.
Overall, the biggest takeaway is that now is the time for enterprise businesses to strategically implement VR to stay ahead of the curve. If you are on or leading an architecture, engineering, or construction team and looking to leverage VR for business, learn more about how our enterprise VR collaboration software - Prospect by IrisVR - makes VR simple and brings complex 3D models to life in VR at 1:1 scale.
Want to avoid getting caught up in the rush to implement this productivity-driving toolset just to keep up with the competition? Let us help you learn more about enterprise VR.