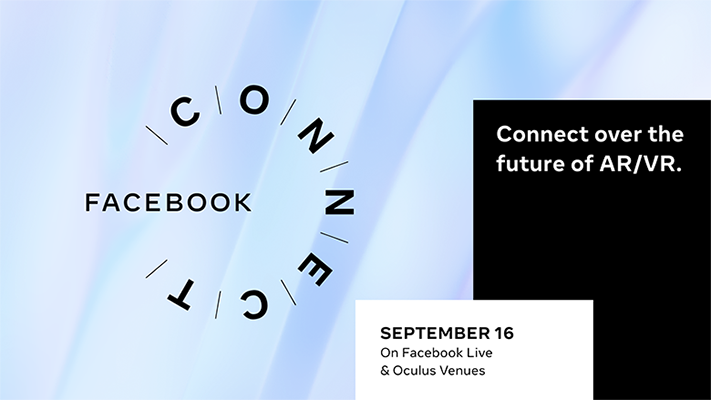 Facebook Connect, Facebook's annual VR conference, delivered its message loud and clear: VR is the future and Facebook's dedication to making VR more accessible to the masses is stronger than ever. The Oculus Quest 2 is coming in October - starting at only $299! While gamers rejoice, the implications of this extend far beyond the consumer world. The new Oculus for Business headset paves the way for true enterprise-grade VR. The initial investment in VR for business is now even lower with headsets starting at $799 (reduced from $999), making it easier than ever to add VR to your technology stack. VR for AEC has significant benefits - with innovative, early adopters already seeing results from virtual collaboration like faster decision-making, fewer costly errors, and a stronger spatial understanding of projects across various teams. The expanding ecosystem of immersive technology companies, like IrisVR, introduces cutting-edge VR software solutions to the AEC industry that empower teams to build better and faster than ever. So, what Oculus VR hardware changes should forward-thinking AEC companies know about? What can Facebook's 'Infinite Office' and 'Project Aria' show us about the future of VR for business?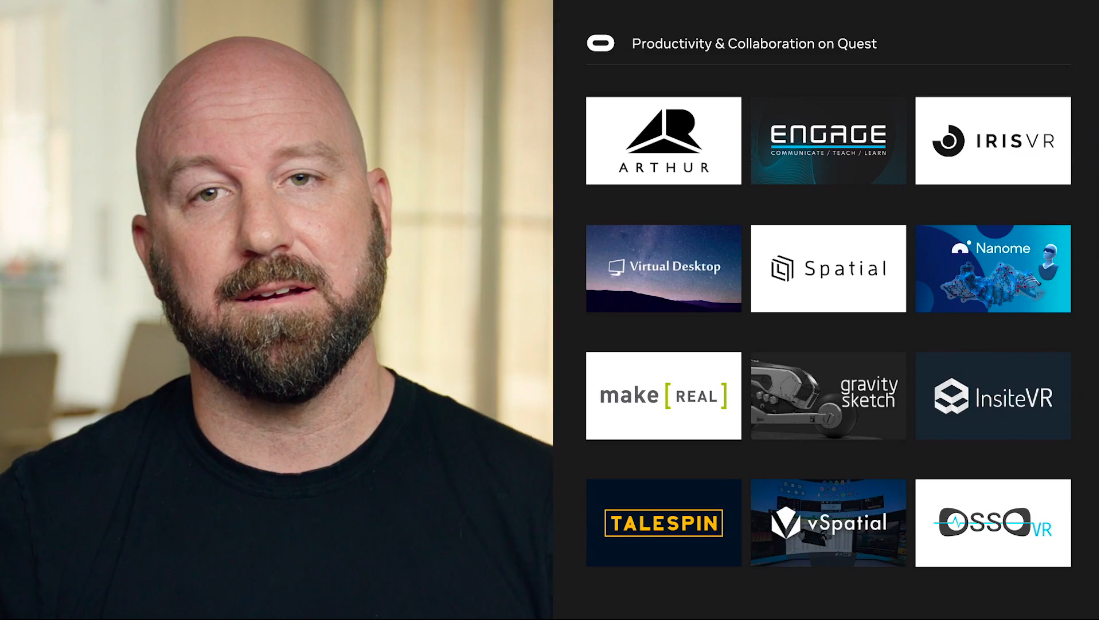 IrisVR featured among "third-party pioneers," as Andrew Bosworth, Facebook's VP of AR/VR, praises the progress of remote collaboration in VR for business.
Facebook Connect takeaways that matter for AEC
After the livestream of Facebook Connect, the replays and ripple effects echoed online. But, there's a lot of information to sift through, which is why we've devoted this post to what VR-curious AEC companies should know.
"Building a step outside the limits of physical"

- Mark Zuckerberg, Facebook Connect keynote
Introducing the Oculus Quest 2
Over the years, there have been a number of headsets on the scene, but 2021 will be the year of the Quest 2. The Oculus Quest 2 announcement represents a new era of accessibility and affordability for VR. AEC teams can experience some serious upgrades with Quest 2, enjoying crisper images, faster file load times, and more comfortable, longer sessions in VR. It offers:
More power. Greater processing power allows larger models to load faster and run smoother. This is exactly what engineering and construction teams working on huge and complex projects need.
Better graphics. With 50 percent more pixels, better screen resolution means crisper graphics (read: fewer headaches from blurry text). This is a huge jump forward in presentation abilities for architecture and design firms, or any AEC team working to gain client approvals.
Greater comfort. 10 percent lighter? More form fitting on the face? Better peripheral vision? Yes, please. All of that. This allows AEC teams to spend more time in VR, catching more issues early and driving greater ROI.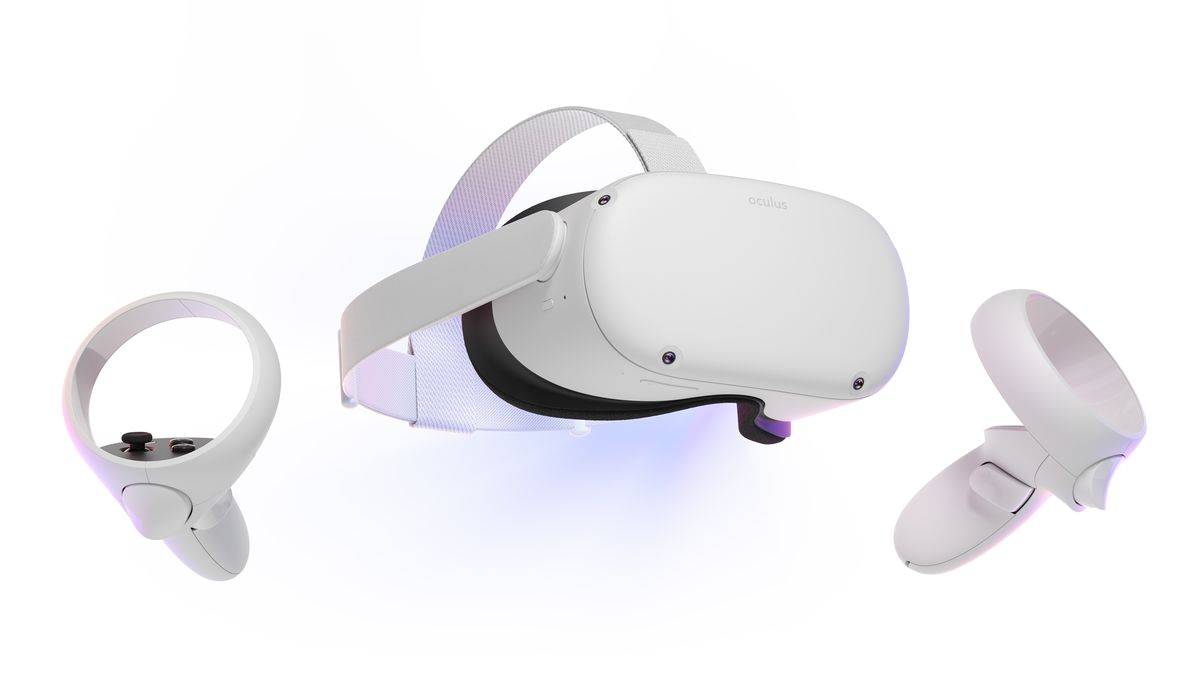 These great strides in consumer technology mean improvements for the enterprise-grade hardware, too. Now, enterprise AEC teams also get more for less with Oculus for Business (OFB) and will enjoy the same hardware improvements as seen on the Quest 2. Better hardware also means more powerful software. As more businesses look to VR for productivity gains, enterprise organizations choose Prospect by IrisVR for a simple, secure, and well-supported VR collaboration solution. VR technology is easier to implement than ever. No more wires or headphones to connect, no more dedicated VR rooms, and no more headaches from bad VR quality. Turn on the headset, download the app, and start exploring the world of VR.
What you need to know about Oculus VR hardware: Quest 2, Oculus for Business, Rift, Link
The big question for enterprise AEC companies undoubtedly is what VR hardware to invest in. The good news is, Facebook is making this decision much simpler. With the release of the Oculus Quest 2 and new Oculus for Business at a lower price point, not only are headsets far more affordable, but Facebook will no longer offer the Oculus Rift, their dedicated desktop-grade headset, in 2021. This means that Facebook will only be selling one headset (the Quest) with the option to work on a PC using Oculus Link. It makes a lot of sense - in fact, our CEO predicted the death of Oculus Rift last year.
"The Link bridges the gap between standalone, lightweight VR and premium VR perfectly. [This] simplifies our buying choices and makes Quest a powerful solution for everyone interested in starting their journey into immersive tech."

- Shane Scranton, CEO, IrisVR in a 2019 Medium post
Check out his post for a deeper dive on what the Oculus Link is and how it works. The retirement of the Rift and the rise of Oculus Link is a great way to simplify product offerings, while still offering portability and the power of a desktop.
Beyond headsets: Infinite Office & Project Aria
Imagine for a moment, joining a virtual meeting, diving into immersive, interactive building models, updating documents, checking your email and calendar, all within the world of VR. VR headsets are now more comfortable than ever, and constantly improving.
"We believe VR will be your next computer"

- Maria Fernandez Guajardo, Facebook Reality Labs
Facebook is making a bold statement, essentially calling VR the final computing device - and, they're doubling down on this concept with Infinite Office. While still in its infancy, this technology brings daily business workflows into an immersive, VR environment. Adding a solution like Prospect by IrisVR to the mix means AEC professionals will be working, collaborating, and making decisions in an immersive environment on a daily basis - even many times throughout the day.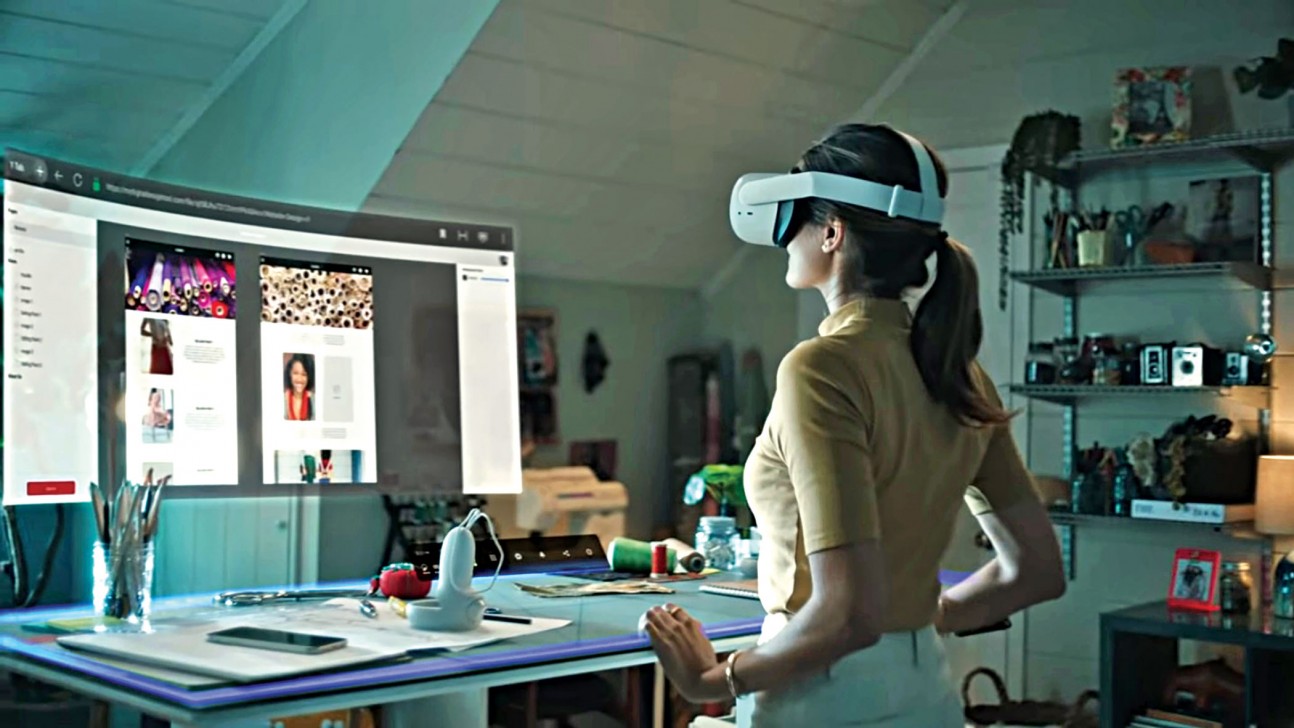 This technology doesn't stop at virtual reality. Facebook Reality Labs' announcement of Project Aria shows that their vision is bigger than VR. With Project Aria, Facebook is working towards true mixed reality - a system that has a deep understanding of its surroundings, while also driving greater understanding of and connectivity in the built environment. For the AEC industry, this means that we could see Facebook Reality Labs building VR / AR hardware for the office and the connected jobsite. VR collaboration across departments enables teams to catch critical errors early and share the most up-to-date assets and plans with anyone, anywhere, at the click of a button.
Implementing VR for AEC
The impact of implementing a VR tech stack for AEC is far-reaching - from better collaboration and faster decisions to fewer errors and cost savings, we've seen it all. With Prospect from IrisVR, for example, enterprise teams bring complex BIM into virtual reality. The results? Streamlined processes, efficiency gains, and fewer errors - all by collaborating on complex building projects in immersive VR environments. See how this UK-based public utility company saved nearly $32,000 (£25,000) in the pre-construction phase of a building project, with additional time and cost savings in countless other projects.
"Viewing models in VR gives us a sense of scale and proportion that we simply couldn't get with any other method of viewing CAD models. … Some of the potential issues we have spotted in models using VR looked absolutely fine when viewed by other means."

- Anglian Water @One Alliance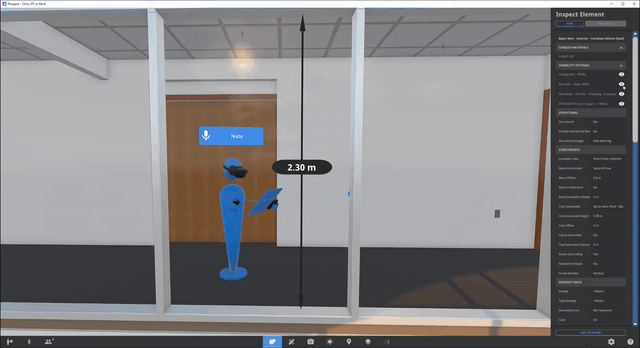 With Prospect by IrisVR, AEC teams make faster decisions, catch costly errors, and collaborate anywhere.
With better headsets like the Quest 2, we're confident that companies will see even greater results. In fact, performance in Prospect by IrisVR improved at least 25 percent with the Quest 2, while also rendering at a higher resolution. Better hardware accommodates greater possibilities with VR software.
A new era of AEC technology
As we enter a new era of technology for the AEC industry, it's no question that innovators leveraging VR for AEC will lead the way with productivity gains by enabling teams to collaborate virtually all over the world - during the pandemic and beyond. All eyes are on VR as the future technology for AEC.
We're proud to partner with innovative, forward-thinking engineering and construction companies to build a connected AEC workforce in the world of VR. With Prospect by IrisVR, AEC companies import BIM files (yes, even the massive ones) into VR headsets to visualize and experience building models better than ever. Leveraging immersive VR for complex building projects makes collaboration, design review, and presentations more efficient and productive. And, teams win big by catching costly errors before anything is, quite literally, set in stone.
The AEC industry is on the cusp of significant boosts in productivity. In a single generation, we've moved from 2D to 3D to immersive experiences in virtual reality. Cutting edge technology is disrupting the status quo and creating an opportunity to make a giant leap forward into the future of the built world. Let's move forward together.