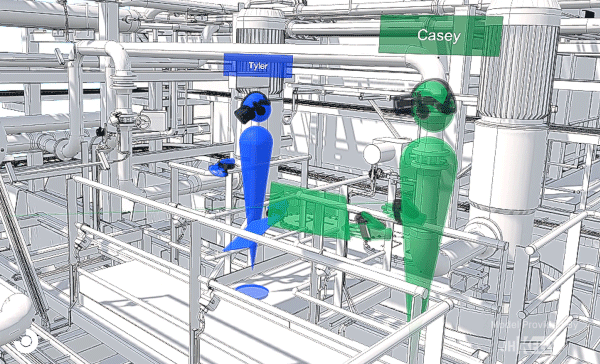 In the AEC industry, where miscommunication has caused a whole lot of headaches, tools for streamlining design review and model review workflows are growing in popularity. In fact, data shows that the AEC industry is using VR 10-25X more than gamers. This is because VR helps firms catch more errors, reduce change orders, and cut down on RFIs. At IrisVR, we provide the industry with the collaborative VR tools necessary to succeed.
With VR, professionals can meet, share content, and work together from any distance — all while achieving a degree of immersion that's just not possible with basic audio or video conference calls.
AEC professionals are feeling the benefits of collaborating with VR Meetings. For one, time and money spent on travel can be cut down enormously.
In addition, VR Meetings allow everyone involved in a project to communicate in one language. Design assets like BIM and 2D drawings are often difficult to interpret for non-technical individuals, and people across AEC possess a wide variety of different specialties and skill levels. This has led to serious financial and productivity losses — in fact, at least $280 billion is spent globally each year on construction reworks caused by poor data and miscommunication.
But space is a language we can all understand.
With VR Meetings, professionals and clients with any degree of expertise can stay on the same page and avoid unnecessary communication errors.
In this post, we outline 5 ways you can host a collaborative design review or model review session in VR with Prospect, and why these features are must-haves for the AEC industry.
Important! If you already have Prospect installed, make sure you've updated to Prospect 2.4. Otherwise, sign up for a free trial here (you can use that for 14 days), and download the most recent version.
1. Multiuser VR Meetings
With Multiuser VR Meetings, you and eleven other stakeholders can collaborate in one immersive, virtual setting. Whether you're reviewing designs with colleagues, performing QA/QC with the pre-construction team, or presenting your vision to a client, Multiuser Meetings allow for an unprecedented level of collaboration — from any distance.
VR Meetings in Prospect update dynamically, so changes and markups made to the environment (like Sun Settings, Display Settings, Layers, and Flagged Elements) can be seen by all users.
Rather than trying to explain how your design's light and shadow landscape might thrive at a specific time of day to a client with a static model, you can just have them walk through it and experience it for themselves.
VR Meetings allow for real-time collaboration between you and up to 11 other stakeholders.
*Pro-Tip*: In larger Multiuser VR Meetings, retaining a degree of control over what everyone is experiencing can be key; otherwise, participants might not stay on the same page.
With Host Meeting Controls you can make sure everyone involved is focused on relevant content. This can be accomplished by gathering all the participants together with the click of a button, muting a participant, or by adjusting Display Settings to toggle a space's textures and materials on or off.
UPDATE: VR meetings are now available for Oculus Quest! With our new collaborative workflows, it's easier than ever to get everyone on the same page with VR, no matter where they're joining the meeting from or what kind of headset they're using. Learn more here.
2. Prospect Guest Viewer (Free)
With the Prospect Guest Viewer, you can collaborate with clients and colleagues who don't have Prospect — ensuring that your VR meetings always include everyone in the conversation. Using the Prospect Guest Viewer tool, available for free download here, anyone can navigate through the same 3D model in virtual reality.
Free Prospect Guest Viewer, which gives guests access to your VR environment, is a powerful collaborative tool.
The Viewer lets you send designs to others in a quick, no-hassle fashion. You can even bring guests who don't have VR headsets into VR Meetings using Viewer, bringing your collaborative capabilities to the next level.
3. No Headset Mode
While VR has become a central part of design review workflows all over the world, there are still many people who don't have access to a headset. That's why we offer No Headset Mode, which allows users to join Meetings with just a computer.
Your model can be accessed by any collaborator — even if they don't have a VR headset.
In No Headset Mode, users can move around the virtual environment with their keyboard and mouse. No Headset Mode users even get the same access to certain popular features, like Layers and Viewpoints. This assures that your collaborative design review sessions can continue uninterrupted, even in situations where not every user has their own headset.
4. Desktop Presenter Controls
A VR Meeting can be a productive setting for collaboration with anyone — whether they've gone into VR before or not. However, it's not unusual for users unfamiliar with VR to get distracted by the experience itself, or to wander off towards parts of the immersive environment they may be drawn to.
To keep your VR meetings cohesive and organized, we developed Desktop Presenter Controls. Desktop Presenter Controls allow you to curate a powerful VR experience for anyone.
With just your keyboard and mouse, you can:
Disable your client or colleague's controllers, allowing you to keep them on track.

Direct the flow and narrative of the model walkthrough by setting Viewpoints.

Change in-VR attributes, like Layers, to show viewers different design options.
This way, you can make sure everyone is focused on tackling the same issues in the model.
Desktop Presenter Controls help you keep your VR meetings organized and productive.
5. Reports (New)
With the release of Prospect 2.4, we've added another feature that's perfect for collaboration-heavy workflows: Reports. You can now automatically generate a PDF Report that includes Flagged Elements and Screenshots from a Prospect session, as well as action items and other notes.
With Reports, the collaboration can continue long after your VR Meeting ends.
Reports make it easier than ever to walk away from a collaborative meeting with concrete next steps for attendees to reference as they move forward. In addition, Reports allow you to collaborate with stakeholders who may not have been involved in the VR Meeting itself — now, you can get them on the same page about what was discussed, noted, or decided upon in the Meeting without wasting any time making a document to update them.
Before you kick off your next VR meeting, check out these 7 best practices for a successful and productive multiuser session.