Gilbane Building Company is headquartered in Providence, Rhode Island, and has more than 45 office locations around the world. Gilbane provides a full slate of construction and facilities-related services for clients across various markets—from pre-construction planning and integrated consulting to construction management, general contracting, and facility management. The company was founded in 1873, and is, to this day, a private, family-owned business.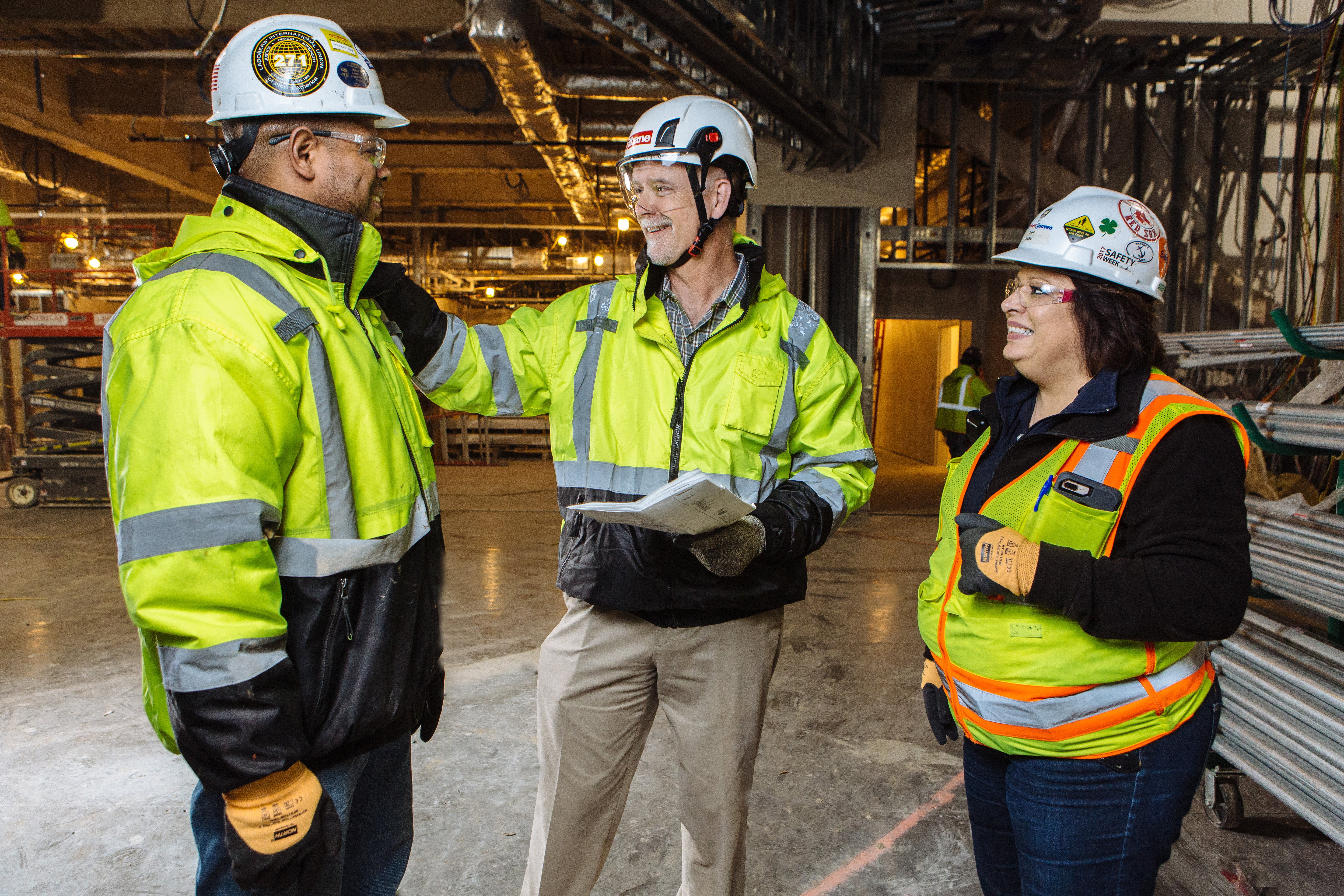 Gilbane's initial goal was to find a VR solution that would empower better communication and understanding during coordination meetings. The team found that Prospect was the right choice for their use case, thanks to its fast learning curve, built-out integrations, and collaborative features.
Today, they're using this technology to help trade partners visualize models, resolve clashes, make faster decisions, build trust with clients, and more.
Rawle Sawh, Director of Virtual Design and Construction (VDC) at Gilbane, spoke to us about how the company has integrated VR into their everyday workflows.
Case Study Highlights:
Gilbane's Multimedia Group was focused on creating work for Sales & Business Development. Meanwhile, the VDC team was looking for a way to bring VR to the operations side of the business.
Gilbane found that Prospect was the only VR software on the market that was optimized for their needs.
They implemented the solution by first incorporating VR into model coordination meetings with trade partners and designers—and later brought it to client reviews as well.
With VR, Gilbane has increased productivity, gained the trust of clients, produced construction documentation with greater speed, and more.
The Challenge
Gilbane already had an internal team that developed custom VR content from scratch. But this unit's work was aimed primarily at the sales side of the business, and Sawh was looking for an opportunity to bring this technology to Gilbane's construction operations.
"We wanted a solution we could use on the Operations side without having to lose productivity," he noted.
The Gilbane team needed a VR software that could import their trades' 3D models into VR with speed and reliability, and without saddling the existing VR team with new requests. And so the search began.
Choosing a VR Solution
Gilbane quickly discovered that Prospect was the only solution optimized for their needs.
"IrisVR was the only developer working with construction managers to develop a viable VR solution," Sawh recalled. According to Sawh, other VR solutions at the time only had features built out for architects and designers.
Gilbane developed a close relationship with the IrisVR team to ensure that Prospect was a great fit for the company. "Brian and Shane [of IrisVR] brought us in for a number of meetings where we were able to 'kick the tires' on Prospect," said Sawh.
In addition, Sawh saw that Prospect was easier and more intuitive to use than other VR software solutions he'd previously tried. Unlike other programs, Prospect didn't require a great deal of model optimization before hopping into virtual reality. Gilbane's workflows are heavily iterative, so they were hoping to find a solution that wouldn't slow them down every time they wanted to view a model in VR.
"We wanted a solution where we wouldn't have to spend 2-3 days 'fixing' a model, just to have changes made and have to go through that process all over again," Sawh explained.
Prospect's integrations with the 3D modeling programs Gilbane was already using—like Navisworks—also appealed to the team.
"Working with construction managers involves a different model workflow than architects and designers, and IrisVR listened and was able to provide a solution that worked," Sawh noted. "Since most of our workflows go through Navisworks, we wanted a solution where we'd be able to utilize the CAD models we receive from our trade contractors and not just the Revit models we receive from design teams."
The speed, ease, and accessibility of Prospect's multiuser VR meetings were also huge for Gilbane in choosing a software solution.
"The multiuser VR meetings capability is a gamechanger," said Sawh. "When you have multiple users who have headsets, you all can be in [a VR] meeting at the same time, experiencing the space simultaneously… Even if users don't have VR headsets, they can still join in and experience the space on their own or alongside you."
In tandem with Prospect's fast file launch time, these VR meetings were invaluable for Sawh and the Gilbane team.
"One of the best things about Prospect is the amount of time it takes to go from Navisworks to VR," he said. "Within a matter of minutes, you can go from running a Navisworks model to running a Multiuser VR meeting. I've been able to export to Prospect from Navisworks in the middle of meetings without any issue. Prior to Prospect, that was unheard of."
Implementing Prospect
Once Gilbane decided to go with Prospect, they started out by bringing the software into their existing weekly model coordination meetings.
"Our goal was to slowly integrate [VR] into our workflows to get our subcontractors and design teams bought into the process," Sawh explained. "We didn't want to completely change how our coordination meetings were run, but rather facilitate them for better decision-making."
First, they brought trades into VR. "We were able to get [our trade contractors] to visualize and experience congested or tight areas in the model," Sawh said.
Next, Gilbane introduced the software to some of their design teams—especially those who were still drawing in 2D.
"Strategically speaking, we pitched [VR] as a way of understanding the space rather than seeing the correct materials or lighting," Sawh noted. "Once we introduced it to our designers, they started requesting we meet with them and clients [in VR] so they could get sign-off on outstanding design items."
Transforming Design Review and Coordination Processes
Now that a variety of users at Gilbane were familiar with Prospect, the team began to utilize VR more consistently. They established workflows based on Prospect's Navisworks integration.
"Working with our subcontractors, we typically receive CAD models and use Navisworks to aggregate them all together," said Sawh. "Once we compile everything, we export it directly to Prospect. In working with our design teams, they may give us Revit or SketchUp models to utilize, but the general workflow is pretty much the same."
Gilbane has found that Prospect's built-in collaboration features have been great for getting the whole team engaged. "In VR meetings, the Go To feature is great. It allows individuals to explore the model on their own, and when you want to discuss something, everyone can Go To someone else," Sawh noted. "I've [also] found the Viewpoints feature is extremely important. It allows us to use the same Viewpoints we have in Navisworks in VR, so that we can quickly hit on numerous locations in a multiuser meeting."
To make these VR experiences fast, immersive, and portable, Sawh and his entire team are all using gaming laptops.
"Most of us are currently running the MSI GS65," he explained. "It's a great, mobile solution since we travel quite a bit."
But they're not stopping there—ultimately, Gilbane intends to devote an entire portion of their office to VR. "We're currently working on setting up a VR room, similar to how IrisVR has it in their office," Sawh reported.
Results and Learnings
For Gilbane, Prospect has upped the amount of collaboration between different stakeholders involved in projects.
"By working with our design teams and clients to facilitate meetings and design decisions, we're able to get to solutions quicker," Sawh pointed out. "That allows our designers to produce documentation sooner allowing everyone to adhere more closely to deadlines."
Specifically, VR meetings have had notable benefits. "The Multiuser Meetings allow us to have all stakeholders in a meeting experiencing the content … It has definitely increased productivity."
Gilbane's clients have also appreciated the integration of Prospect into their workflow—especially because some of them were initially cautious about VR. IrisVR's commitment to providing premium VR experiences has come in handy here.
"From a decision-making perspective, [our clients have] all loved and appreciated it," Sawh said of Prospect. "One thing that should be mentioned is oftentimes people have 'heard' that VR makes you nauseous, so they're a bit hesitant to try it. Once they do, they realize the difference between the bad VR content and the great VR content, and are surprised that they aren't nauseous."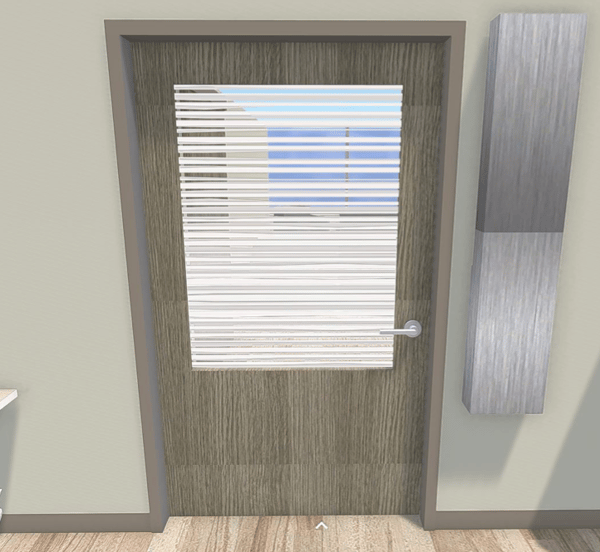 VR helped Gilbane's client and a team of nurses decide on door materials.
Gilbane has helped clients make big decisions using VR—decisions that would have taken much longer and been significantly more expensive without the technology.
"In a recent VR meeting, I walked the client and a team of nurses through a series of patient room doors with varying sizes of glass and opacity. They were able to go up to each door option, see what it looked like, and make a decision that offered the patient the most privacy," Sawh recalled. "Without VR, that decision would've been made from a series of print-outs, without the opportunity to experience it first-hand."
Situations like this, in which VR greatly aids in decision-making, have helped Gilbane improve client trust. "[Clients have] seen first-hand our level of sophistication, and how we've been able to work collaboratively with architects and designers to enhance decision-making," Sawh noted.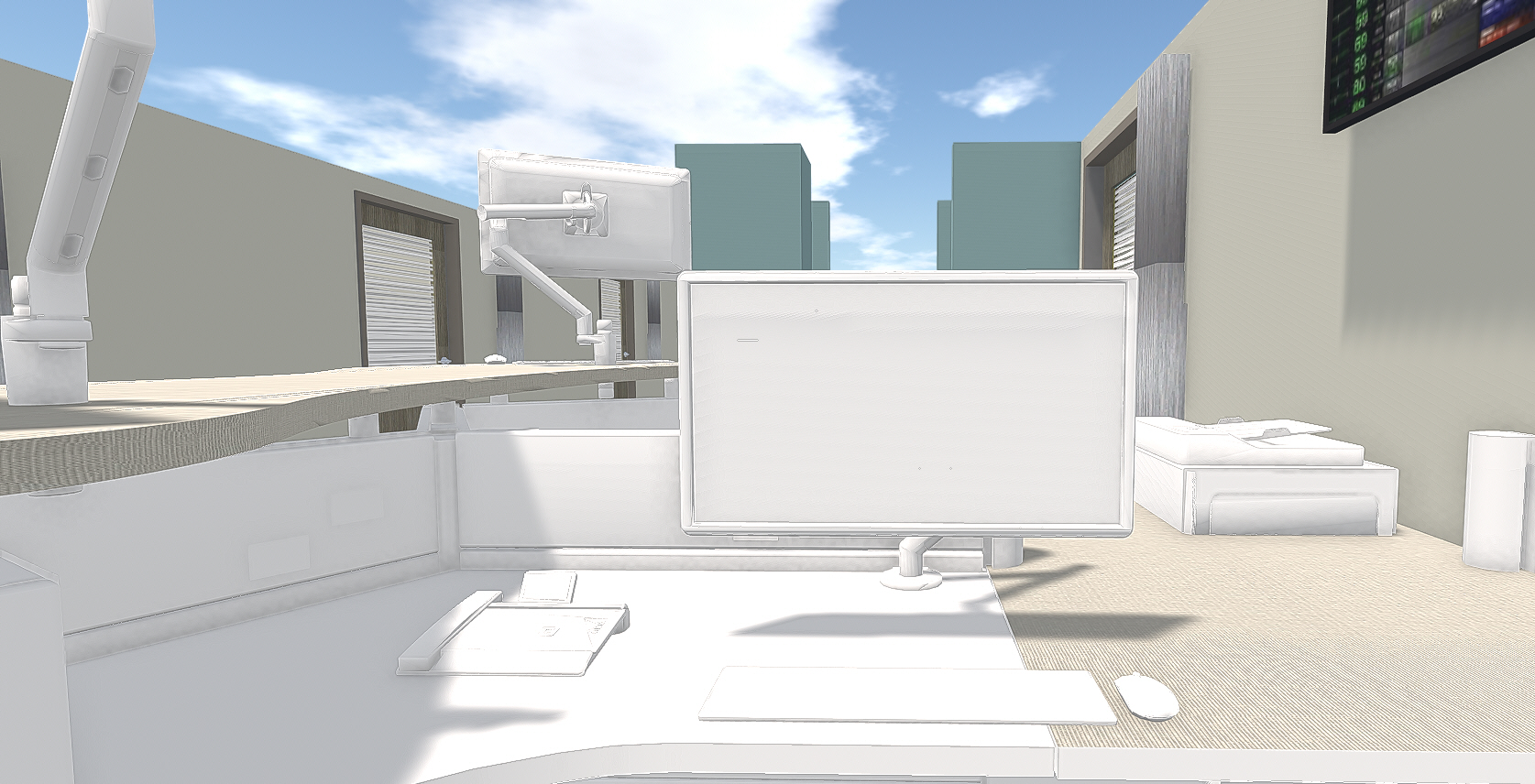 With VR, Gilbane and their client ensured maximum privacy for patients while retaining a clear line of visibility for the nurses.
In general, implementing VR into workflows has been hugely valuable for Gilbane. Prospect has helped the team produce construction documentation more quickly, increase productivity in model coordination meetings, work with trade contractors more efficiently, gain client trust, and more. In situations like choosing door material in a hospital, performing a VR walkthrough was, for Gilbane, the only way to make a confident decision.
You can learn more about IrisVR's work with Gilbane in their Spotlight on VDC Innovation article.