This month, we're putting the spotlight on Fallon Carroll, our Executive Assistant & Operations Manager. Fallon talks about her what drew her to IrisVR, where in the Harry Potter universe she'd love to go in VR, and why autumn is her absolute favorite time of year.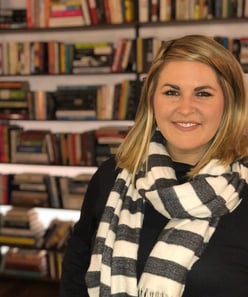 What initially drew you to IrisVR, and how has the company changed since then?
I was looking for a small, innovative company where I could make a big impact and have a diverse role. When I found IrisVR I was immediately inspired by the vision and impressed by the founders. During my first interview I got to demo the product and I had never seen anything quite like it. I knew right away it was something I wanted to be a part of.
There have been lots of changes since then. Most importantly, the product was great when I started, but it is even better now, with features like Multiuser Meetings, the Navisworks integration, and host controls (to name a few of my favorites). It's so impressive how much our team can accomplish in a small period of time.
What does a typical day look like?
I don't know if there is really a typical day at IrisVR. Some days I am working collaboratively, sometimes working alone on projects. Some days I'm in a ton of meetings, sometimes I get to be creative by writing our internal newsletter or planning our next team event. What is always typical of our office is someone always has a VR or AR headset on and is walking around their desk area waving their hands at things and testing features. It cracks me up, but I have (almost) gotten used to it. There's never a dull moment!
What is your favorite part of your job?
My favorite part of the job is getting to know our culture and continuing to find new ways to make it flourish and thrive. A culture is built by every person in the office so I love getting to know our employees. From what snacks we have in the kitchen, to company events, to evolving our benefits package, to building the interview process, to how we welcome new employees - it all matters. I get to influence all of that, but it starts with getting to know our people and figuring out what they think makes IrisVR a great place to work.
What excites you the most about IrisVR?
The growth is the most exciting, and there are many different forms of it. The company is growing, our culture is growing, immersive technology in the industry is growing, hardware options are growing, the competition is growing, and the product is also growing. The best part of working at a small company is watching it all grow. And the coolest thing is that this industry is in the very beginning stages so I am excited to watch it all unfold - and maybe even be a small part of that growth.
If you could enter any environment in VR, where would you go?
I'd go to Hogwarts during the Quidditch World Cup. I'd also probably never leave and live the rest of my life in VR as a Hogwarts student.
What's your favorite building/space?
If the library in Disney's Beauty and the Beast was a real place that would likely win. But since it is not, my favorite building is La Sagrada Família in Barcelona.
What time of the year do you like the best?
I am all about Autumn. When it is time to break out the flannels, Uggs and scarves, and sip on hot cider around a bonfire... that is true happiness in my world. The issue with Autumn is that it comes and goes in a flash - one day it's summer, and the next day it's winter. But those few special days in the year when you can go outside in just a comfy sweater, see the colors of the leaves changing, smell a little chill in the air, cheer at a football game without freezing your butt off... those days are for the books.