About ZEBRADOG
ZEBRADOG is an internationally-recognized Experiential Design firm in Madison, Wisconsin that specializes in creating immersive branded experiences for a wide-range of national and international clients. Their diverse range of projects extend from Museum design, to Corporate Office Experiences, and Sports/Entertainment venues through community-branding and public placemaking.
ZEBRADOG recently donated their services to develop the visual brand package for the Nolen Waterfront and used Prospect in the process. Named after famed city planner John Nolen, the Nolen Waterfront is a transformative vision for creating a park that connects downtown Madison to the shores of Lake Monona, on a section of land many believe has been a missed opportunity for decades. ZEBRADOG's brand package included the project's identity, website, and full 3D visualization of the project. We spoke with Eric Holmer, User Experience Lead at ZEBRADOG, about VR's impact on the project.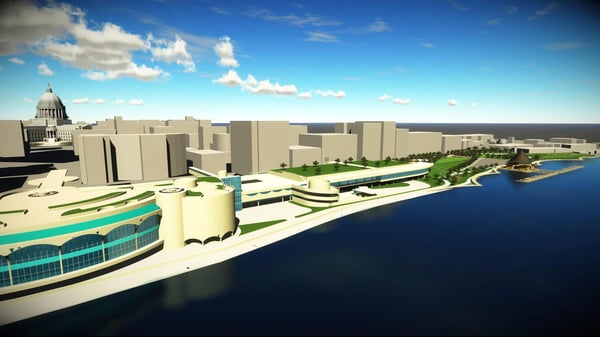 Why and How ZEBRADOG Uses VR
What prompted you consider using virtual reality for the Nolen Waterfront?
The Nolen Waterfront project is all about sharing a vision for what the future of Madison's lakeshore could look like. For many years there have been conversations and controversies about plans for the lakeshore, but the Nolen Waterfront and the ability to actually "see" the possibilities has been transformative. The members of the Madison Design Professionals Workgroup developed many schematic drawings, sketches and renderings of what that vision could be, but we felt that if people could actually "experience" the space in 3D virtual reality, we could garner greater support through delivering an emotional story.
How did you use virtual reality?
Our team first received an older SketchUp model of downtown Madison. We then overlaid some of the new plans from the Workgroup that were in PDF format into the SketchUp file. Following that, we began to develop the new vision within SketchUp and as changes/additions were made, we would review them in Prospect. Viewing the model within Prospect proved invaluable for gaining a sense of scale, place and overall feel of the new environment we were designing. To look up and down the lakeshore and "be" in a place that doesn't yet exist has been incredibly valuable to this project.
When stakeholders and other key parties have come to the office to learn more about the Nolen Waterfront, we first share the vision deck and other collateral - but then to have them step across the room and put on the headset - it gives them an experience that makes a deep impression. Some are comfortable using the Oculus Touch handsets and navigating on their own, while others simply prefer the headset while our staff handles the navigation.
How do you have your VR station setup?
We built our own Windows PC workstation to serve as our VR PC. It's a Windows 10 Machine with an Intel i7-7700 with 32 GB of RAM and an EVGA GeForce GTX 1070 to handle the graphics. The PC is plugged into a 46" touchscreen display which we have set up in an open space so that larger groups can also watch what the user is experiencing on a larger screen.
On the VR side of things, we have an Oculus Rift headset with Oculus Touch controllers. The controls within Prospect using Touch have been seamless and very easy for first-time users to pick up and run with.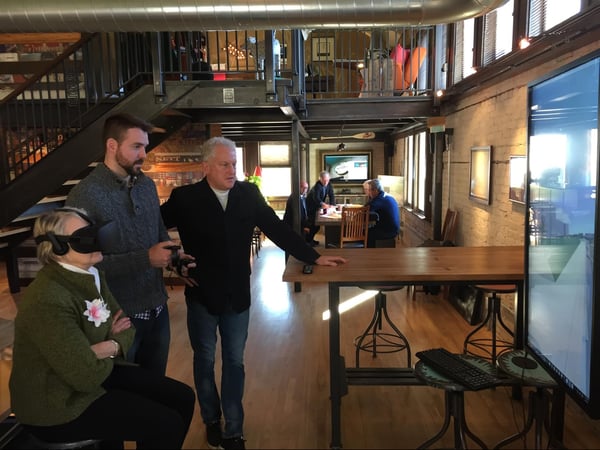 Results and Reactions
What was the goal you set out to achieve using VR, and how did it go?
We had used Prospect before this project for more technical purposes. And while it had been effective for those goals in the past, this was the first time in which both our team and the clients actually had an emotional response to the experience of using VR. It provided the "wow" moment - to help everyone see that this vision was worth getting excited about. For many, this was their first experience using VR and while some had apprehensions at first, after a few moments they were immediately comfortable and providing feedback and reactions. When users put on the headset to "walk" around this new lakeshore and explore it in VR, the reactions have been immediate - "this has to happen." People who have seen it have remarked that now that they have experienced the new vision they can't "un-see" it - which is very exciting.
How does it compare to not using virtual reality?
For a project like this, actually being in the space makes all the difference. People familiar with the lakeshore know what it is like to walk there currently, so to experience a vision of what could be by virtually walking around it has helped build excitement and enthusiasm for the vision.
Our team also appreciated the ability to quickly view an update or change in the model within Prospect, gather feedback, and then quickly review an updated model.
Want to highlight your firm's innovative usage of VR? Reach out to marketing@irisvr.com today!