About Friis & Moltke
European architecture firm Friis & Moltke has incorporated virtual reality into their last eight projects, and they've become experts in immersive design and review. We spoke with their team to see how they use virtual reality to engage clients and improve upon previous workflows.
Why and How Friis & Moltke Uses VR
What prompted you to consider using VR?
We usually use VR in cases where we feel our client would benefit and it helps move the project and decision making along faster. In the case of Gødstrup kirke, a church project (and our first use of VR), our client wasn't sure of the scale and overall feel of the main room. We then decided to use Scope and it really made a difference in the way our client perceived the whole project. Everything went smoothly from there and our client had complete confidence in our vision.
Note: you can view the Gødstrup kirke project in VR using Scope and the code 7HWD7H or at this link.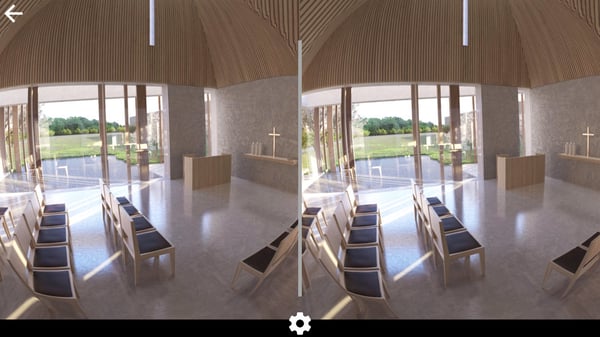 How do you use virtual reality?
Right now we are using the stereoscopic images and the Scope app. With the images, clients can access them wherever and whenever, and we can put in all the details we want to give a more complete sense of the project.
Depending on what stage of a project we are at, we gather all information about structures, detailing, materials and colors to get the most realistic feedback. We then discuss it internally to see if we have missed something or if there is something that needs rethinking or tweaking - and there is always something when you're in a creative process!
On the technical side, we use either SketchUp or Revit as our modeling platform. We then transfer the model into 3Ds Max to do the texturing and render out the VR image using V-Ray's 6x1 Cubemap format.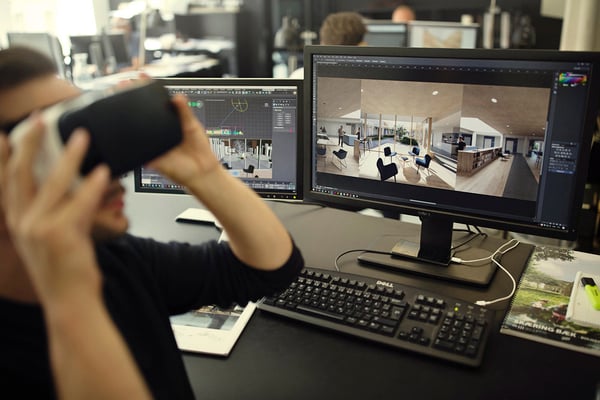 Results and Reactions
What were the goals you set out to achieve by using virtual reality?
Our main goal is always to satisfy our clients and make them a part of the project and decision making. By using VR instead of technical drawings, small material samples, and sketches, we can gather all the information we have on their project and create 1:1 communication in a language our clients can understand and comment on. So for us, VR is a tool for communicating with our clients in a way technical drawings can't.
Did using virtual reality meet or exceed your expectations?
VR has certainly exceeded our expectations as our clients now have the opportunity to experience their project before it's even built. They get a better understanding and sense of the project, its scale, materials, colors and so on, and they can make critical decisions at a much earlier stage because VR translates into a language they can easily understand.
How does it compare to not using virtual reality?
You can get far with ordinary renderings but they will never give you that sense of 1:1 scale that VR can. It shows clients that we are determined to go that extra mile to make them take part in the project.
Was VR instrumental to identifying areas needing change or additional refinement?
Always! Because VR translates into a language everybody can understand, then suddenly everybody has an opinion. It's actually a good thing, because it can help the project along and make it even better.
Did you experience any quantifiable gains from introducing VR to the project, such as saved time, money or travel?
It has certainly helped us get in touch with new clients through word of mouth of how we use VR. We've also saved time and money, as we don't have to build mockups. By using VR, our clients (and others committed to the project) can more easily understand, comment and make critical changes to the project at a much earlier stage. And with the stereoscopic images, our clients and others involved can access them whenever they want from their phone or laptop. So there is a lot of time - and therefore money - saved using Scope because of easy accessibility and communication.
Want to start incorporating VR into your design review workflow? Start a free IrisVR trial today.