Miele is a globally recognized company founded in 1899 focusing on the manufacturing of multi-award winning, high-end home appliances as well as world renowned cleaning and clinical sterilization machines. Last year, Miele's Australian branch began using IrisVR Prospect to visualize their event and trade show designs for upcoming installations.
Large trade show events are highly coordinated behind the scenes choreographies of booth assemblies occurring within compressed timelines. Typically exhibitors are given 24-48 hours prior to the commencement of the show to have their exhibit constructed. All aspects of the design must be thoroughly examined and prepared to precision to avoid costly last minute revisions or an unsuccessful booth.
Leveraging Virtual Reality for Trade Show Design
To tackle the many challenges of trade show design in the most effective way, the Miele design team created a virtual reality walkthrough of the installation by first modeling all the components in Sketchup, then dragging and dropping their files into IrisVR Prospect. Prospect is IrisVR's Windows-based standalone platform which allows for native SketchUp, Revit, OBJ and Rhino files to be imported and quickly converted into virtual reality experiences, using the HTC Vive or Oculus Rift.
Creating virtual reality walkthroughs allows the team to engage all the team members and facilitate conversations around the built space. Establishing a way for the executive team members to provide constructive feedback without the need to understand how to read 2D architectural drawings.
It also helped the team cut down on costs by eliminating the need to build physical mock-ups that quickly become outdated. As designers made changes to the 3D model, they could quickly recreate the virtual reality experience in just one click.
With every VR walkthrough, the team was able to evaluate product and brand placement, and marketing hotspots from the view of an attendee prior to its construction. Adding a clear sense of the space and trust in the final product.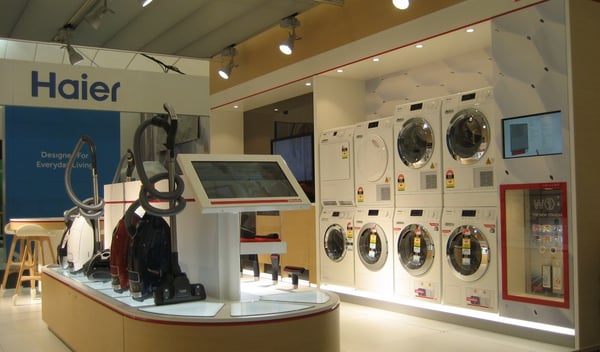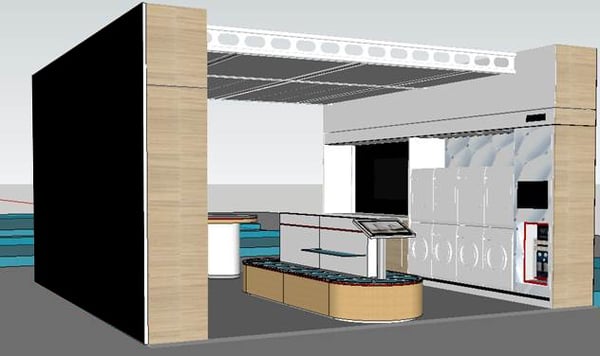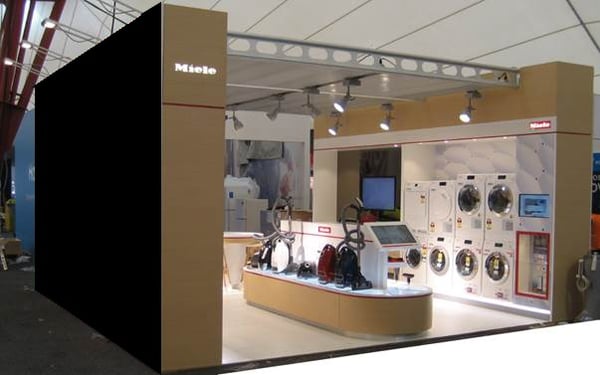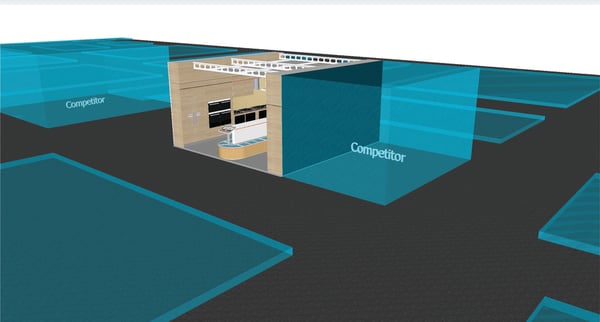 Images Above: (1) Interior of Finished Built Trade show (2) SketchUp Model of booth design (3) Interior of Finished Built Tradeshow (4) SketchUp Model of Trade show Floor Layout
Design Workflow
The Miele design team created a virtual reality experience of their project by modeling all the components in SketchUp, then dragging and dropping their file into IrisVR Prospect. Here are the steps they took:
1. SketchUp 3D Model
2. IrisVR Prospect with Oculus Rift
3. Done! Ready for Virtual Reality Walkthrough
Adding Virtual Reality to Your Designs
Virtual reality is not a tool of the future, but a tool available to designers today. Incorporating VR as an asset to your project really is just as simple as seen in Miele's workflow above. All that you need to get started are four components:
1. 3D Model of your design
2. VR Headset (HTC Vive or Oculus Rift)
3. Computer that meets hardware requirements for VR
4. IrisVR Prospect installed on your machine