StudioMB had the opportunity to design a new space for the Potomac Distilling Co., a Tiki bar and rum distillery headed by renowned bartender and restauranteur Todd Thrasher. The bar is part of The Washington Fish Market at The Wharf in Washington DC.
The team at IrisVR spoke with Kelsey Kish, Staff Designer at StudioMB, to learn more about the role that virtual reality played in the design process.
Why and How StudioMB Uses Virtual Reality
What prompted you consider using virtual reality for this project?
As the architects for multiple buildings at The Washington Fish Market, we chose to combine all our BIM project files into a central model to better understand the scale relationships between each structure. Having the ability to see how the development will actually come together in VR has aided us in making important design decisions on a number of the structures.
The Potomac Distilling Co. model is one of the most developed interior projects in this group of our design because of the real-time coordination we are able to achieve using virtual reality. We initially imported the model into VR to show the client the interior materials in early design meetings, but once we discovered the ease with which this could be achieved, it led to multiple design iterations and Scope-based renderings that we were able to provide the client to send to investors who were excited by the technology and the ability to view on their iPads or computer screens.
How did you use virtual reality?
In general, VR has quickly become an essential asset for our office. We have used it to advance design, assess spatial quality, and demonstrate projects to clients. For Potomac Distilling Co. in particular, VR has been a great tool in the development of the material palette. Tasked with creating a tiki-inspired rum bar meant that the interior couldn't be underwhelming. Being able to show the client the application of our color choices and finish patterns got him (and us!) even more excited about the possibilities.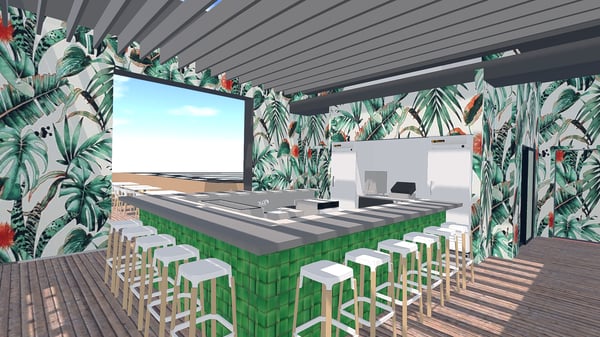 How does your firm create 3D models?
Within the office we work almost exclusively in Revit with early design in Rhino. For Potomac Distilling Co., the BIM model was already built by the time we started using IrisVR. Once we got everything set up and realized how easy it was to use, we were able to use the plug-in to export the BIM model quickly to VR and get right into the model.
How is VR set up in your office?
We purchased the recommended MSI GT73VR laptop and use an Oculus Rift CV1. Initially, we had this set up at one of the desks in our studio. It was great to have easy access to VR directly within our work environment because everyone was able to peek over the user's shoulder (and fight for a chance to get into the model!).
We also found that clients are less excited about being in the middle of the studio while using the headset and tend to be a bit reluctant to utilize the tool while others are watching. We have since moved the set up onto a rolling cart that sits in our lobby. This places the technology at front and center. It is one of the first things clients see when they enter the studio, and the mobility allows us to wheel it into the conference room for client meetings if needed.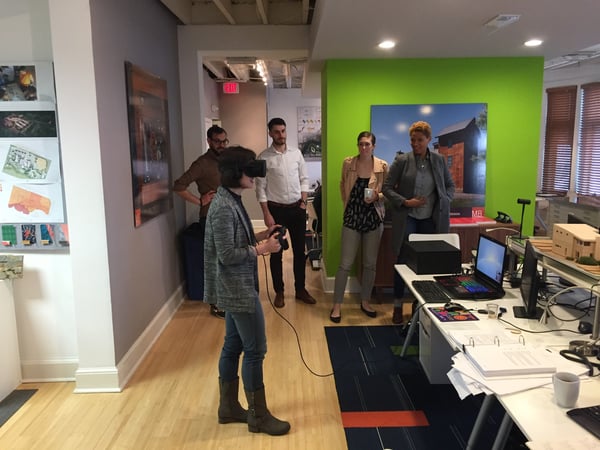 Reactions and Results
What were the goals you set out to achieve by using VR?
As a progressive design firm, we purchased Prospect for the studio to share our work with clients in an exciting way. Printed floor plans and sections work fine for architects and engineers, but may be unclear to many clients. Being able to show a client their new space in a virtual reality setting ensures that we are meeting their expectations and clarifies what may not be legible to them in a drawing.
Did using VR meet or exceed your expectations?
The feedback from clients has been tremendous. They are quite excited about the design once they get to put on the headset, often expressing that the design is "much more spacious than it looks in plan!"
VR has also allowed them to make slight changes that they may not have otherwise caught, such as extending a bar area, adjusting the wallpaper patterns, or increasing a space's height. The excitement of virtual reality has also aided the client in presenting the designs to investors and most definitely assists us in conveying our ideas.
How has VR affected your workflow?
Perhaps one of the unexpected outcomes of virtual reality is its effect on our design process. Because it is so easy to export our BIM model and view it in VR, we have found ourselves frequently checking things like head heights and hallway clearances. It's a great way for us to have the principals walk through the designs quickly to understand the feel of the spaces and make adjustments accordingly. Moving between drawing and virtual reality is so simple that we often jump into one another's projects to see designs throughout the studio that we may not normally get a chance to see.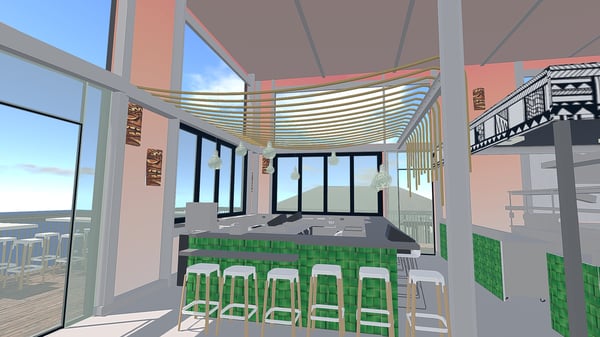 Just getting started with VR or curious to learn more? Learn about the tools used by StudioMB here.
Want to highlight your firm's innovative usage of VR? Reach out to marketing@irisvr.com today!