Oral Roberts University (ORU) started using SketchUp and Prospect in a Facilities Management course to help students build and present their design concepts. We spoke with Stephen Guzman, Project Lead, about what it was like to bring VR into the classroom.
Why and How ORU Uses VR in the Classroom
What prompted you consider using virtual reality for this project?
I was the Project Manager on the University's Global Learning Center (GLC), which was being built in 2015. I was responsible for the AV layout of the facility and was using Prospect to visualize the models I was making in SketchUp. I was showing guests the GLC via Prospect, in addition to some new dorms we would be building in the future. This news spread quickly that we could walk through buildings in VR, and one of my associates, Dr. Terry Shannon, wanted to bring this experience into the classroom.
How is VR set up at your institution?
Our set up is a standing room VR HTC VIVE setup. We use an MSI stealth Gaming Laptop with an NVIDIA GTX 1060, i7 Processor. Dr. Shannon's students built their stadiums or fitness centers in Sketchup and then used Prospect to walk through their spaces.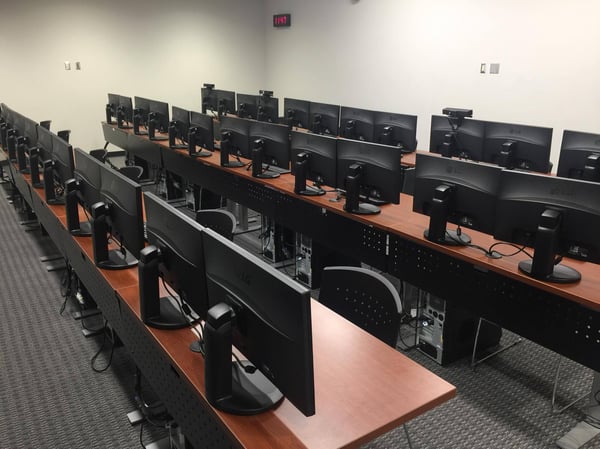 How did you teach students to use SketchUp and Prospect?
We scheduled Sketchup training sessions with Dr. Shannon's classes. Due to class size (60 students) and the size of our lab, that ended up being three one-hour classes.
Once students were familiar with SketchUp, we then quickly walked them through Prospect and showed them how to use its' many tools. We also shared the computer screen onto a projector, so that everyone could see the experience. Ultimately, the students presented to their peers in Prospect inside of our large VR showroom.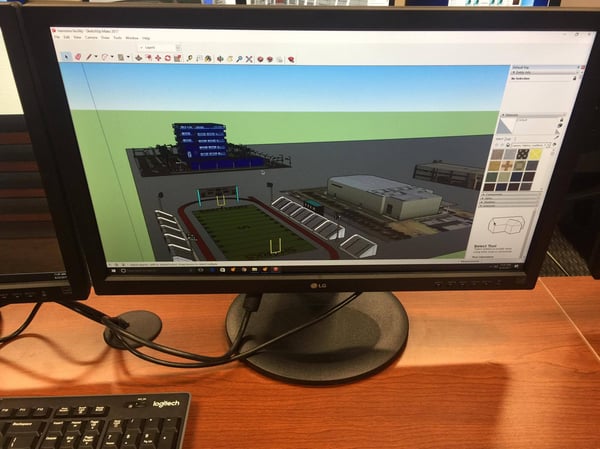 Reactions and Results
What were the goals you set out to achieve by using virtual reality? Did VR help achieve them?
With VR, we wanted to:
Pilot a new style of learning and teaching for the Facilities Management course
Teach the students how to create their own models/scenes/stadiums and facilities
Show them how they can view their models with Prospect
Teach them why VR matters and how it can help them succeed after college
The experience of using VR exceeded Dr. Shannon's expectations by a long shot, and the students absolutely loved engaging with it. We encouraged them to do their own research with Youtube, and they did! Many of them downloaded SketchUp onto their own laptops and made their own experiences, so we certainly saw an increase in engagement.
How did VR compare to traditional teaching methods?
Traditionally, this course would be taught with pictures and drawing the facility would be a prerequisite. This course houses many of our D1 Athletes and that can be intimidating for them, since they have such a commitment to their other studies (in addition to practice and games). SketchUp and Prospect provided an intuitive and impactful way for them to understand the space, and led to some incredible presentations. Dr. Shannon has said that he will teach this class this way and only this way from now on.
What did other faculty members think?
Other faculty have become very excited by the possibilities of using VR in their classrooms, given the student engagement and projects presented - many have started applying for grants to fund VR research!
Want to give Prospect a try? Start a free trial today.