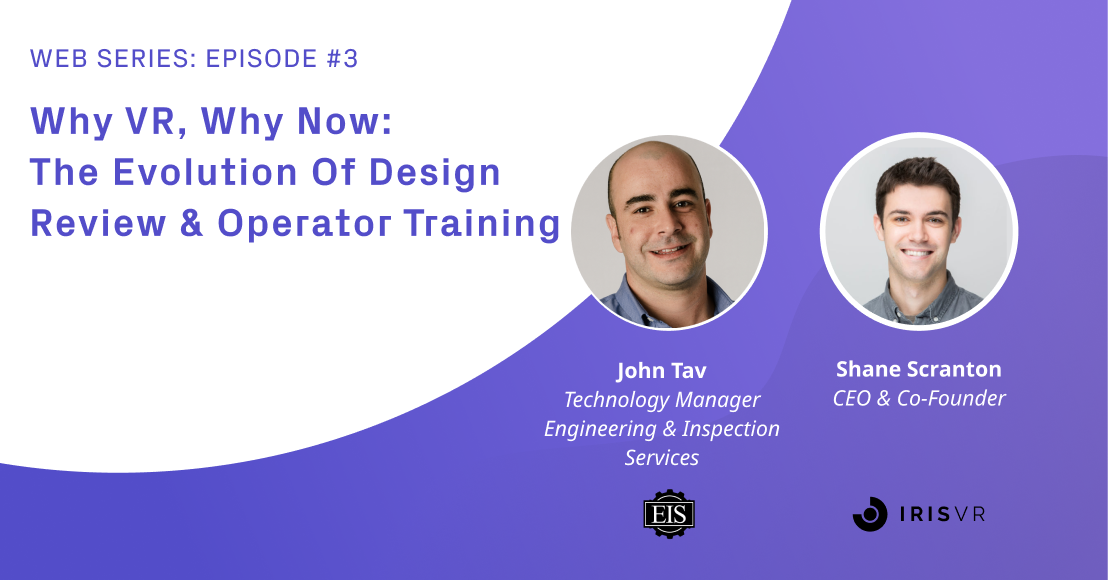 In our Why VR, Why Now series, we host AEC professionals to discuss and showcase how they are utilizing VR to meet their business needs, from coordination and construction design review to manufacturing and training use cases.

Our most recent conversation covers a range of applications for VR, and how it has helped EIS evolve their business, and deliver even more value to new and long standing customers.
For our third webinar in the series, John Tav from EIS joined our CEO, Shane Scranton for a conversation on numerous applications and benefits that Engineering and Inspection Services (EIS) is tapping into with VR. The bulk of the conversation focused on custom and turnkey uses for VR, and how it has expanded opportunities and understanding for all parties. Agenda for the full conversation was as follows:
Engineering & Inspection Services Overview
IrisVR Overview & What's New
How John & EIS found VR
VR for Operator Training
VR for Design Review
Covid-19 Adjustments & The Future of Work
Q&A
The webinar recording is packed with valuable insight, and we'd definitely encourage you to check it out at your convenience. Click here to watch the full episode!

In the meantime, here are some key takeaways from their conversation about how VR is helping EIS expand their business offerings, and deliver high quality work efficiently.
Starting with Laser Scans increases efficiency
One fact that John zeroed in on is that regardless of whether it's for operator training or design review, their process starts with a laser scan. This allows for a large amount of data to be captured with a high degree of precision, doing more work in less time, while eliminating the need for multiple revisits to a site.

Reducing man hours while improving the quality of work being done is a goal now more than ever. Many teams are still doing things in 2D, so it can be a significant leap to move into 3D and VR - but the increasing complexity of projects makes these workflows the clear winner for the project teams.
There are several ways to approach the ROI conversation
While specifics for how you quantify ROI of VR will come from your knowledge of your organization and the project, a handful of ways were touched on during the conversation.
One way to track ROI during an evaluation is to look at the rate of issue detection and resolution (are you able to resolve more issues sooner in a headset). Extrapolate this into savings on man hours leading to issue resolution, or the cost of a change order or having to rebuild to correct the mistake on site.

Reduced travel is often some of the easiest ROI to calculate. Cutting back on travel to sites can quickly come to a dollar amount saved. Think of the costs associated with travel, and how meeting in VR eliminates or shrinks those costs.
When thinking of the training use case - John mentioned they're looking at the amount of retraining needed for retention as a metric. Being able to easily revisit the training module, with some information provided by clients (people hours/salary) are some of the factors that can be used to quantify ROI of VR.
Particularly on large, complex, or high stakes projects - implementing VR on the project can be like a drop in the bucket when compared to the value it offers through all phases of a project, both to your team, as well as your clients.
VR technology will become as important as Zoom meetings
"The first time the technology is introduced in a room, you can feel light bulbs going off for all the applications and uses for VR" John said. These ideas often open up new business opportunities and improve the overall experience - even when you've been working with a customer successfully for years.

Typically, EIS would perform design reviews live in front of clients, with as large of an audience as possible to get as much feedback at once. In the COVID era, clients are encouraged to get their own headset or are shipped an Oculus Quest for collaborative design review in VR with Prospect.


John referenced an idea from an Immersive Technology Leader he heard speak at a conference that went something like - 'A video is worth 1000 pictures, and VR is worth 1000 videos' - this statement really resonated with John when speaking to the value and experience VR delivers.
Additional Takeaways
Here are a few noteworthy points that came up during the webinar:
Weather conditions and plant restrictions and access can all hamper training, none of which exist in VR.
VR bridges the gap between what a company like EIS is capable of with their dedication to technology and working in 3D, and gives them a way to better pass that value along to the client.
Catching and correcting mistakes before something is finalized, helps a project be successful.
Tech savvy users can get up and running with a VR solution like Prospect within minutes, but with users less familiar with controllers and technology, there is an educational component to ensuring success.
Price point, availability, usability, and portability were factors EIS considered when shopping for headsets. Ultimately leading them to land on the Oculus Quest and Rift-S.
Haptic feedback gives VR an advantage in operator training.
Let us know your thoughts in the comments! How can your team drive more value and ROI from the many applications and benefits of VR?