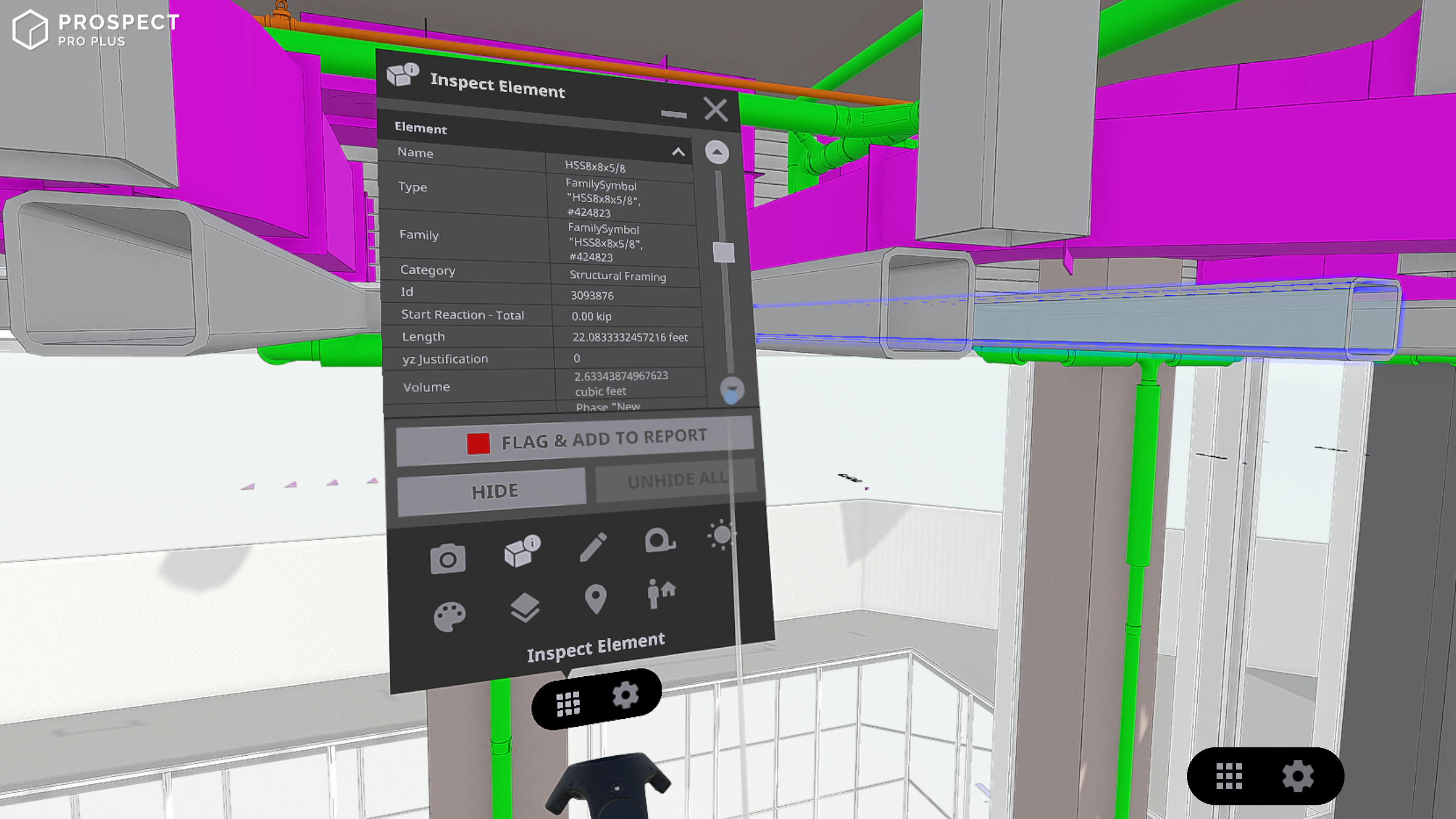 We're excited to announce the release of Prospect 2.5 today! With this update, we've taken our Navisworks integration to the next level.
In Prospect 2.5, Navisworks users can:
Access element-level BIM properties from Navisworks models while in VR
Review specific parts of Navisworks models in VR with section boxes
These new features mean VR model coordination and clash detection will be more immersive and intuitive than ever before.
Read on to find out about a number of other improvements - like in-VR performance upgrades, revamped account management tools, and updated file type support for 2019.
Automatically Bring All Navisworks BIM Data to VR Coordination Meetings

Select any element with the Inspect Element tool to view the Navisworks BIM properties while in VR. The metadata will be visible in your left-hand menu.
With Prospect 2.5, we now automatically import the BIM properties associated with each element in your Navisworks model into VR.
For the first time, you won't need to reference your Navisworks source file to bring important BIM info into your collaborative design review - whether you're coordinating trades across a project or communicating size and scale prior to breaking ground.
This gives you access to all the information you need (like materials, manufacturer data, budget or construction phasing information) to make confident decisions during clash evaluation or model coordination VR Meetings.
Easily Manage Team Members & Workstation Access with The New Account Portal
We've also added several features aimed at upgrading the IrisVR experience for Team users, both in and out of VR.
For one, we've released an all-new Account Portal with Prospect 2.5. Every IrisVR user has access to the Account Portal, but it's particularly helpful if you're managing multiple licenses or lots of users.
This new portal allows Team admins to streamline VR throughout their organization by assigning roles within the Team, managing subscriptions, creating workstation keys, inviting colleagues to use Prospect, and more.

But our new Account Portal isn't the only feature that's meant to help you implement VR across your entire firm or organization. In addition, Prospect 2.5 comes with a brand new Installer.
As more employees at your firm start using VR, the new Installer - which automatically detects what modeling program you're using, and offers you nuanced control over plugin installation - will make the transition process as easy as possible.
With these improvements, you and your Team can, in the words of SHoP Architects, give VR "a place in the process" for "every type of client" and "every type of program."
New Material Options & Additional Improvements For VR Design Reviews
As always, we're focused on providing VR experiences that are as comfortable and immersive as possible. With this in mind, we've also included several other in-VR upgrades with Prospect 2.5.
We now support physically-based materials introduced in Revit 2019 in VR, assuring a high level of fidelity to your original model.
In addition, we've added a toggle that allows you to turn off our automatic "teleport through glass" feature. This is helpful for navigating models with lots of glass surfaces.
Prospect 2.5 also includes support for SketchUp 2019, allowing you to bring your newest Sketchup models into VR.
And last - but not least! - we've improved our post-processing effects to make all in-VR experiences smoother than ever.