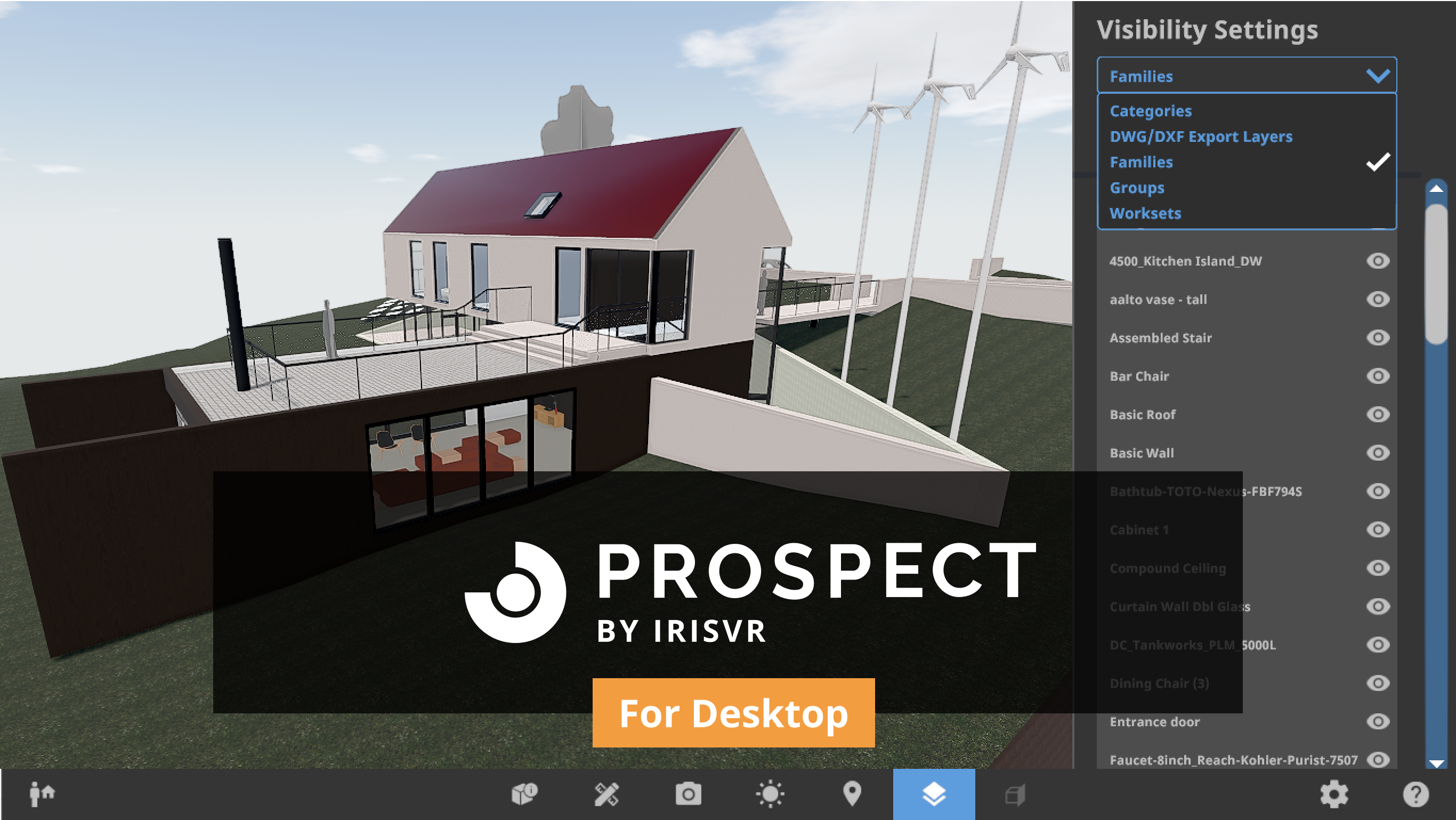 As a VR-first company, IrisVR prides itself on delivering reliable, scalable, and high-performing enterprise software that puts customers' security and comfort first. We build for the future, evolving and innovating with the technology needs of the built world. Our expert team proudly partners with innovative AEC companies around the world, serving as the bridge between AEC trends and VR technology. Today, IrisVR is proud to extend the power of enterprise VR to AEC, headset-free.
Announcing Prospect for Desktop, the first enterprise VR collaboration and coordination software solution that provides the power of VR beyond the headset.
'Prospect for Desktop' delivers headset-free VR tools to meet remote AEC teams' needs
Prospect for Desktop enables businesses to do more with less by working headset-free, with licensed users harnessing all the features of IrisVR's robust VR collaboration and coordination solution, Prospect, on a computer. In fact, this comes at no additional cost to Prospect users. The most powerful virtual reality solutions integrate VR software and hardware - yet, 2020 shows that investing in and implementing VR headsets quickly can be a challenge. The pandemic caused limited access to VR hardware for a number of reasons. Whether it was VR headset shortages, exacerbated by disrupted supply chains and manufacturing delays, or lack of access to VR equipment that was left in offices as people shifted to work from home, there have been unexpected challenges to leveraging VR headsets and the software that relies on them.
Prospect for Desktop helps AEC leaders innovate faster with enterprise VR solutions made simple and accessible, during the pandemic and beyond. It's the first step to VR-powered design review and coordination processes, making it easier to progress to fully immersive VR experiences with VR headsets.
Remote AEC teams win with better digital collaboration & coordination tools
Remote AEC teams need more than video conferencing and file sharing to collaborate on complex projects involving massive 3D files. Infrastructure projects - like tunnels, roads, and other complex building projects - have continued, while high-priority projects - like temporary medical facilities and manufacturing - have sprung up quickly, leaving dispersed AEC teams in immediate need of virtual, immersive solutions to collaborate and stay productive. The feature parity between IrisVR's headset-free VR software, Prospect for Desktop, and headset-enabled VR solution, Prospect, now empowers companies to innovate fast with VR software first.
Why enterprise AEC teams choose 'Prospect for Desktop'
Prospect for Desktop drives faster decisions and better collaboration by improving spatial understanding for stakeholders all over the world. VR for AEC helps projects stay on time and under budget, while reducing costly mistakes and time-intensive rework by catching errors earlier.

Applications of enterprise VR for remote work span industries - from Energy, Manufacturing, and Infrastructure to Healthcare & Institutional design - with other novel applications such 3D Animation, Stage design, and more. IrisVR helps companies across industries revolutionize their processes with immersive technology that brings complex 3D models to life in VR at 1:1 scale. The IrisVR team is full of dedicated professionals who have helped drive successful VR adoption in some of the largest companies and projects in the world.
"The ability to combine VR users - with headsets - and PC users - without headsets - has helped ensure there are no boundaries to team participation. This has been essential to productivity, especially while COVID has restricted in-person team meetings."
– Michael Black, BIM Coordinator, SNC-Lavalin
See how innovative AEC companies leveraging VR, like Suffolk Construction and KPF, have experienced the least amount of down time, continuing to drive productivity with a newly remote workforce - a trend that's here to stay.
Collaborating with 'Prospect for Desktop' is as easy as 1-2-3
VR collaboration has never been easier. To use Prospect for Desktop, simply:
Upload Revit, Rhino, Navisworks, SketchUp, OBJ, FBX, or IFC files to Prospect for Desktop.
Invite collaborators to a file or an entire project.
Collaborate in VR with specialized tools to measure, take notes, inspect elements, mark issues, and more - with or without a VR headset.
Efficiently manage coordination meetings or design pinup reviews in VR with confidence, knowing that all notes, pictures, and takeaways from these meetings are synced back to your desktop for visibility outside of VR, too.
The AEC industry is on the cusp of intense tech-driven innovation, and the barriers to entry have never been lower, nor has the need been higher than it is right now.
Level up with a complete VR technology stack
VR headsets add immense value by driving better spatial understanding with fully immersive VR experiences. It's true that desktop tools can't entirely replace VR headsets that allow stakeholders to walk through and interact with building projects in VR at 1:1 scale. However, Prospect for Desktop is the first step to easily equipping teams to work and collaborate better from anywhere. Prospect for Desktop offers intuitively and thoughtfully designed navigation tools, robust sectioning capabilities, 2D and 3D camera tools, seamless syncing, and crystal clear audio. AEC teams access all of these features and more in a real-time, collaborative environment that allows colleagues and stakeholders, using a broad range of supported headsets and computers, to work together better. Minimizing the constraints of dispersed and remote teams maximizes productivity across the board.
No longer are there barriers to innovation with VR. AEC teams accomplish more with fast access to productivity-driving VR tools in Prospect for Desktop, making it easy to drive even greater results by adding VR headsets and fully immersive technology.
Talk to an IrisVR enterprise VR specialist to learn more about how our VR collaboration solutions keep your team connected and productive - with or without VR headsets. Or, get a 14-day free trial to get started today.
--
Already know this is what you need? Read more on the basic requirements needed to tap into the power of VR with Prospect for Desktop.