This month, we're putting the spotlight on Sneha Keshav, our UI and Brand Designer. Sneha has been at IrisVR for a little over a year and shares her thoughts on how the company's grown, what a typical day looks like, and her summer reading list.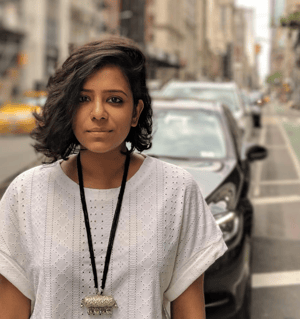 What initially drew you to IrisVR, and how has the company changed since then?
I wasn't a typical virtual reality enthusiast; I was curious about its potential but had yet to find an application of the tech that blew my mind. One day my roommate, a former architect, came home with an IrisVR branded cardboard and did an excellent job evangelizing VR for AEC. VR's ability to break the fourth wall seemed like an obvious solution for an industry that faces spatial challenges. Before I knew it I was a part of the design team at IrisVR! In my role, I'm tasked with unifying the look and feel of the brand across our actual products and marketing materials.
One of the biggest changes here would be the size of the team; with every new addition we're getting more streamlined with our processes. In the last year, we moved our office, updated our brand identity, and have tripled the options for breakfast cereal in the kitchen! All good things!
It is a mix of designing for more immediate marketing needs and planning for standardizing UI elements across our products. My days are often peppered with power naps and copious amounts of coffee!
That there are no precedents to what we are doing (which is also the scariest part!). Designing and communicating VR can be challenging as it is a nascent industry and we are all figuring it out as we build it. The most gratifying parts of my day are when I use my skills in graphic design and branding to illustrate and simplify concepts/workflows in VR.
What excites you the most about IrisVR?
Having had a background in 2D design, I have worked with a lot of visualization tools that help contextualize design (think business card mockups or prototyping tools for apps). With IrisVR, the fact that you can experience space in a 1:1 scale and in turn, better communicate spatial designs, is (insert exploding brain gif here) for me. Also, the fact that I get to work with a bunch of extremely talented, professional cool cats is a huge plus!
If you could enter any environment in VR, where would you go?
I would love to walk through Rivendell, Mordor, or Dr. Strange's gravity-defying universe.
What's your favorite building/space?
The South Bombay area back home. It is a quaint mix of charming Victorian architecture and vivid urban Indian elements.
What books are you reading this summer?
Life 3.0, Death's End, and What to Think About Machines That Think.