DeForest Architects (DA) is 12-person architecture firm known for creative, collaborative design that 'plays well with others.' Adventurous, design-savvy clients seek out the firm for its unique approach to making the design process accessible, engaging…and just plain fun. To do that, DA employs a wide range of low and high-tech tools, from wood blocks and sketch paper, to the latest BIM software and Prospect.
DA took the leap into VR a year and a half ago and now uses Prospect on virtually every project, from schematic design through construction. We spoke with John DeForest, Principal, about the firm's use of VR over the years and what's coming in the future.
What lead you to try Prospect for the first time?
Many of our clients are innovators and entrepreneurs, and several had urged us to try VR. When we had a chance to try an early version of Prospect, a big lightbulb went off. Rather than a high-tech gimmick, we saw VR's potential to make clients more empowered partners in the design process. Until now, they had to take a huge leap of faith in hoping that architectural drawings and models would somehow match up with what they pictured. Walking through a project in VR enables them to experience proportion, scale, and lighting in a naturally intuitive way.
How is your office set up for VR?
We have a small conference room that we call our VR Lab. We have a dedicated CPU, monitor, and HTC VIVE headset components set up on a little cart. There is a small seating area for other members of the team to interact with the person in VR. The room is a little on the small side, but I think clients need a sense of security and privacy. It can be disconcerting to take off the headset and realize that you've lost track of your surroundings.
How have you combined VR with other design tools?
In 2016, we lead a workshop called "Collaboration Next: From Hands-On to Holodeck" at the 2016 Bend Design Conference that explored the potential of combining what is local and remote, real and virtual, hands-on and high-tech. In the morning, groups brainstormed about design concepts for a Bike Support Shelter along one of the bike commuter routes in Old Bend. Throughout the day, our team, on-site and in Seattle, brought one of the designs to life as a 3-dimensional model. The result was that workshop participants were able to walk through the structure they created - the same day - in VR!
Who were your first clients to try VR?
One of our first clients to experience their project in VR were David and Sophia. They asked DA for a custom family home that would make the most of its lakefront site and be designed around informal entertaining, cozy family time and making art and music (site pictured below).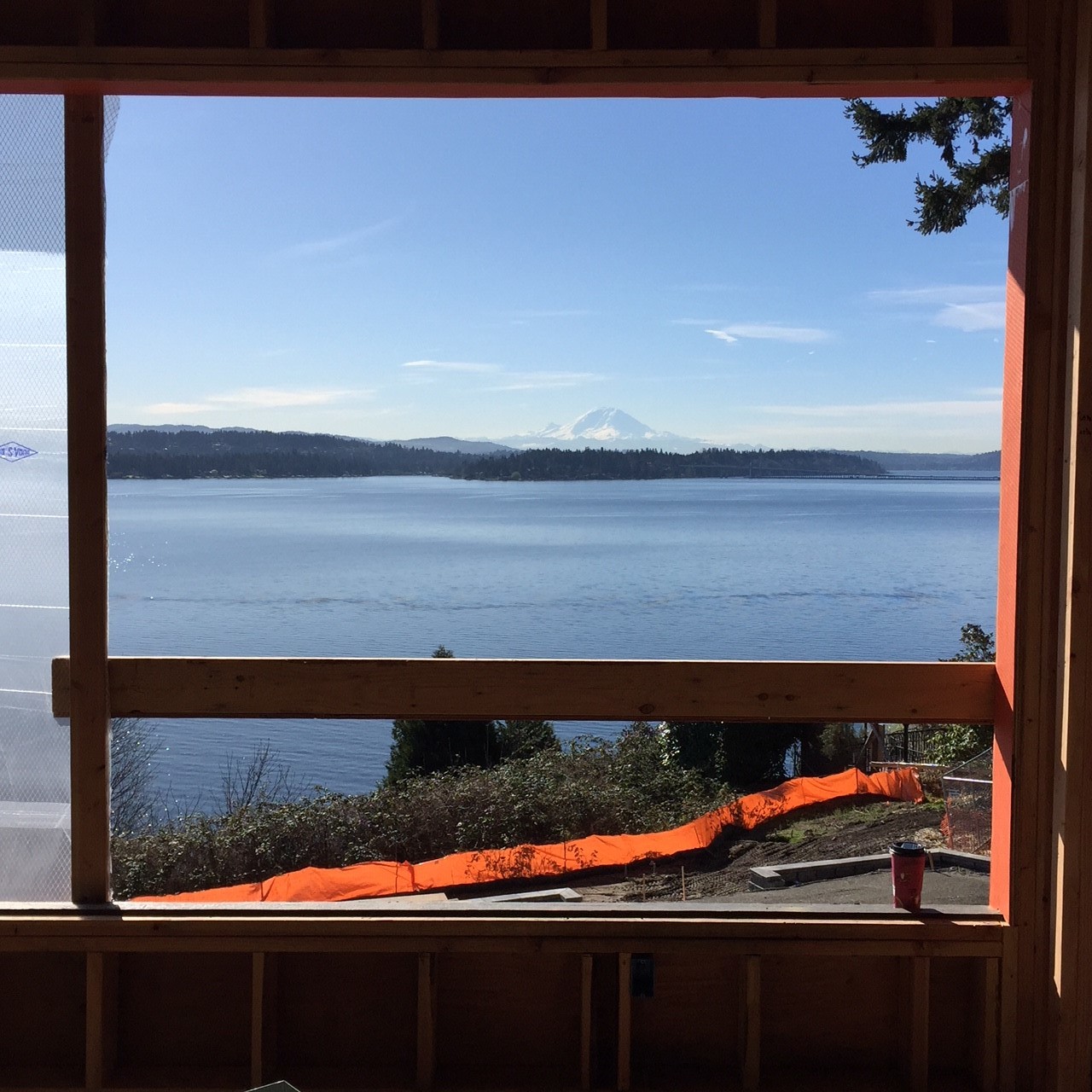 To make sure that the house was oriented just right, we integrated a panorama showing the lake and Mount Rainier into the model. This enabled all of us to walk through from room to room and make fine adjustments to the building's form and fenestration. The contractor recently emailed photos of Mount Rainier from the master bedroom and dining room with the caption "nailed it!". David and Sophia also used Prospect's Sun Settings feature to gauge how sun will fall over the course of the day and year from their patio.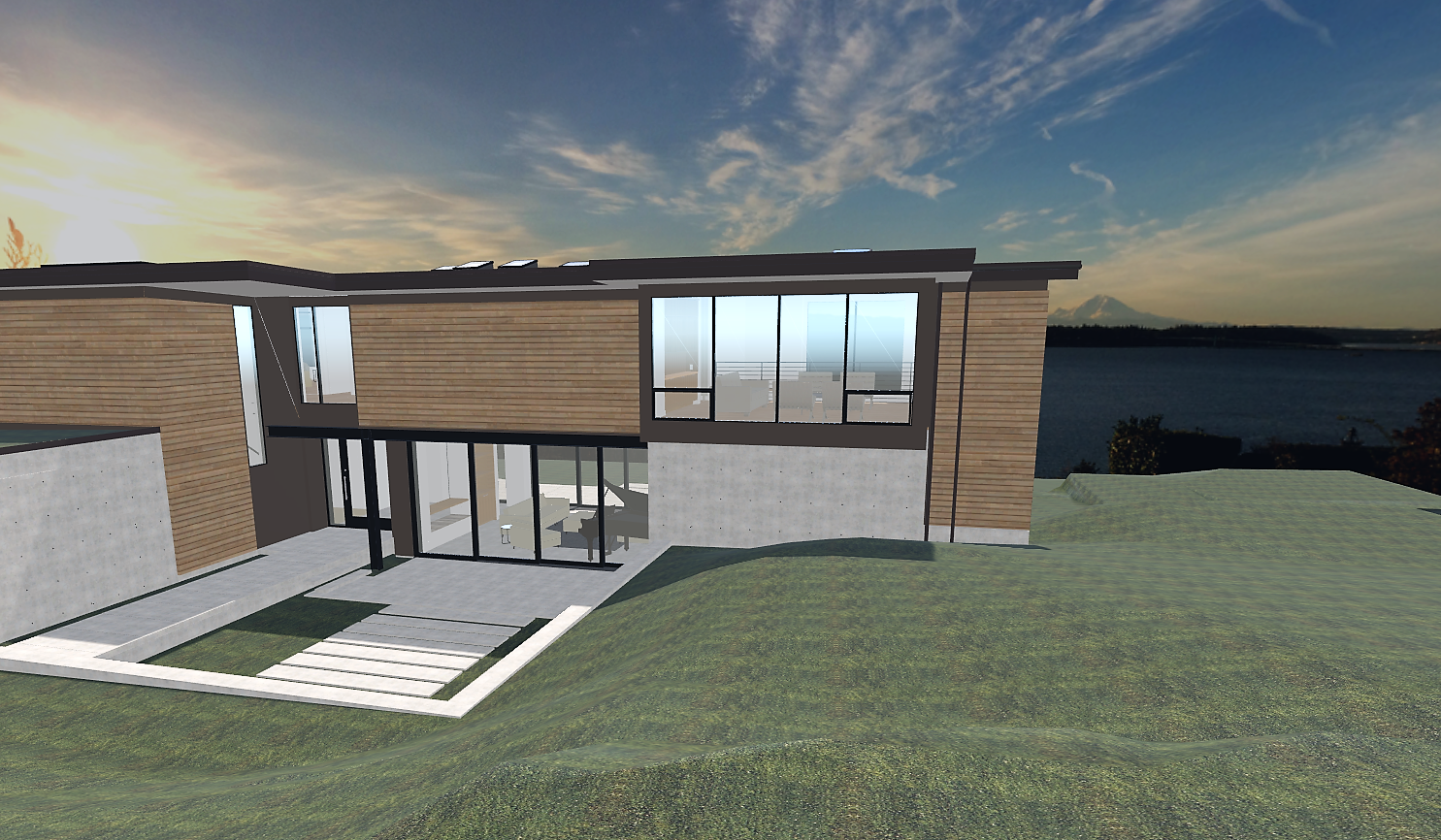 Finally, we used VR to collaborate with the interior and landscape designers on furniture layout and choreographing the entry sequence. Many of the contractors we work with appreciate how VR helps them visualize and plan for construction.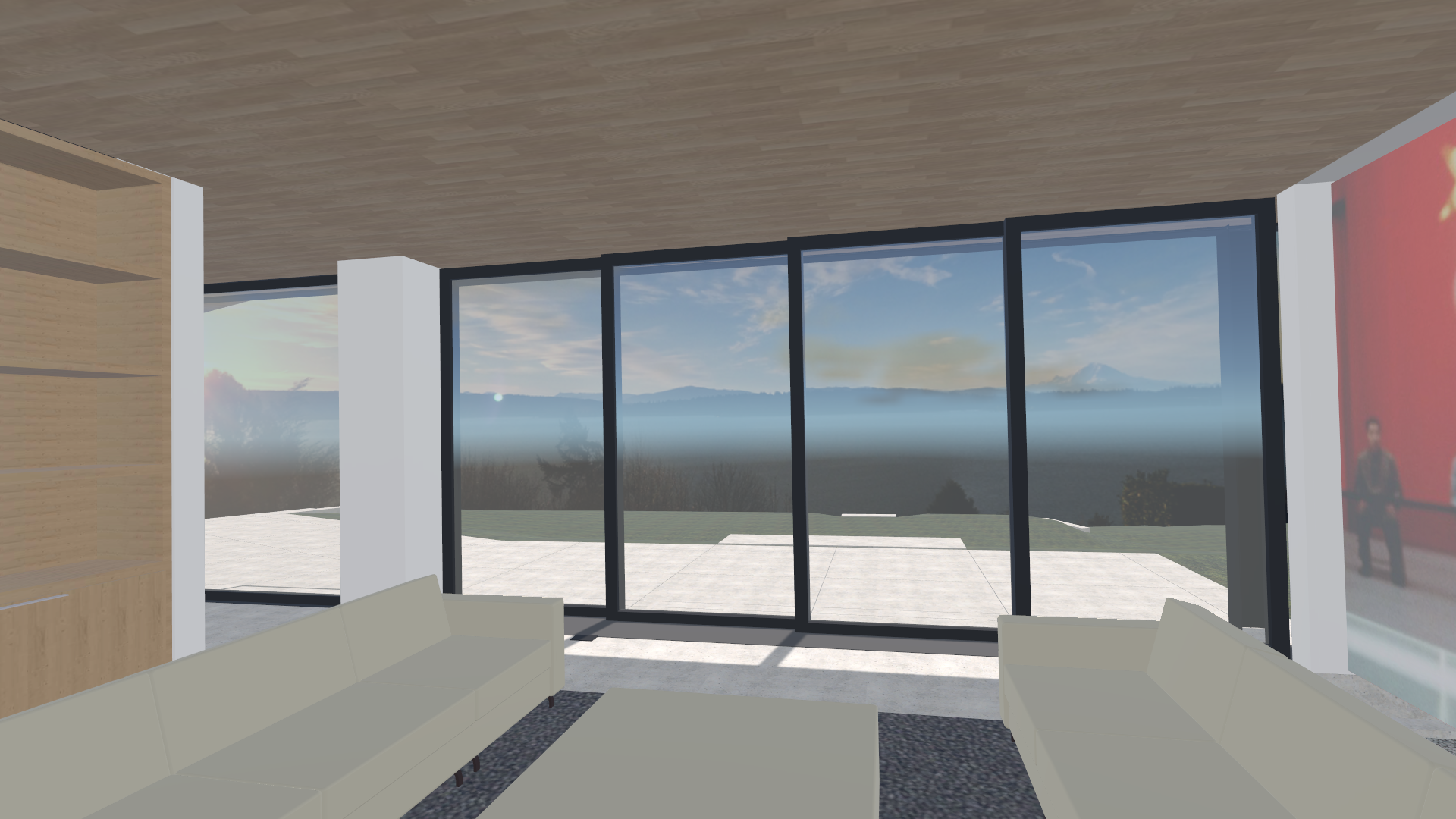 How have clients reacted to VR?
Most clients are…blown away. One client wrote after their first VR tour: "That was SO MUCH FUN doing the VR to go through the house design. What an incredibly practical and fun tool to get a feeling for the spaces. And the option to set the time of the sun was over the top. We so enjoyed being able to see the house this way. We told our kids about it and all they could say was "when do we get to come do that?!"
What projects do you have on the boards that will benefit from VR?
We are excited about the potential for VR to share the vision of two upcoming projects in California. One is a community cinema and theater in Truckee, California that will be the cornerstone of reclaiming a disused rail yard. The developers have a vision of a truly local 'art haus' that draws inspiration from the town's history as a crossroads for outdoor sports, craft brewing and the early film industry. Since the site is largely empty, we are planning to use VR to share the experience of walking down the street of the new district and attending a film performance.
North of Sonoma, we are working with a team that is developing an authentic links-style golf course and rustic retreat. VR will help investors visualize the complex of ranch-style buildings that we are designing and how they relate to the course.
How do you charge for VR and how has it paid off?
Early on, we decided not to charge a premium for VR. We consider it to be part of our collaboration toolkit rather than an "extra service." That may not make the most economic sense, but it has paid off in numerous other ways.
First of all, it helps clients and consultants be better partners in the design process. It lowers their stress level by reducing surprises and it helps maintain excitement through the process of design, permitting, etc.
When used in conjunction with other forms of representation, VR also helps us design better by engaging our sense of scale and proportion.
What's next?
With offices in Seattle and Tahoe, and projects all over country, DA is always looking for ways to bring our brand of close collaboration to clients near and far.
We are super excited about using Prospect's Multiuser Meetings feature with a client who is living in the UK while we design a home in the Pacific Northwest. Multiuser Meetings will enable us to meet him "on site" and walk through the design together as it develops. This is a development we have been eagerly awaiting as it will enable to offer our hands-on, immersive approach to working with great clients and projects anywhere.
Want to give VR a try today? Sign up for a free trial of Prospect now.