You use SketchUp to build 3D models of interiors, buildings, sets, and so much more. But what if you could step inside your SketchUp designs and review them in 1:1 scale?
Entering your SketchUp model isn't an unattainable dream — it's something you can do right now with virtual reality.
SketchUp pros around the world are stepping inside their designs through immersive VR walkthroughs with their HTC Vive and Oculus Rift headsets.
In this blog post, we'll outline the workflow to get from SketchUp into VR and tell you about how real designers are saving time and money with Prospect.
Architectural VR Walkthroughs with SketchUp
One of the most effective ways to review your SketchUp model is to step inside it using immersive VR.
All you need to perform an architectural VR walkthrough is the right VR headset, a computer capable of rendering immersive VR experiences, and our 3D-to-VR software, Prospect. We built Prospect to make walking through SketchUp models in VR as intuitive as possible.
This workflow is perfect for identifying design issues with your collaborators, communicating your design intent to your clients, and more.
Preparing your SketchUp Model for VR
There's a few things you can do before entering your 3D model to make your VR walkthrough as productive as possible.
First, you'll want to make sure that your SketchUp model has proper geolocation settings.
Geolocation in SketchUp makes your VR experience more immersive by accurately assessing glare and shadows cast from the natural light entering your space. Making sure these settings are right will also inform your ability to adjust Sun Settings in VR.
If you have different Scenes you'd like to view in your model — or would like to easily jump between different rooms or locations — don't forget to set these up in advance as well. Your Scenes will automatically convert into Viewpoints (camera views within your model).
Viewing your SketchUp Model in VR
Once Prospect is open and your VR headset is plugged in and ready to go, either drag and drop a SketchUp file into the dropzone or find and upload your file by clicking "Browse."
After the selecting the file, just click "View in VR" and put on your headset.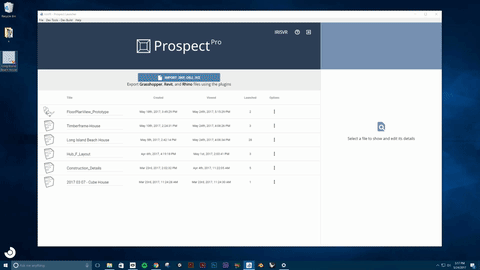 The first thing you'll see when you enter your SketchUp design is your model loaded right in front of you. This is Scale Model Mode, which allows you to rotate, scale, and section your model.
Think of Scale Model Mode as roughly equivalent to standing around a table and reviewing a physical model — with the added benefit of interactive, immersive features that are only possible in VR.
When you're ready to go inside the model at 1:1 scale, select "Navigate" on the menu to teleport yourself to any point on the model. You can now explore your model and begin your architectural VR walkthrough.
In-VR Tools for Immersive Review
Prospect has many tools to help you produce actionable next steps and valuable design insights from your time spent reviewing your model in VR.
Adjusting Sun Settings allows you to make informed decisions about windows, lighting, and shadows.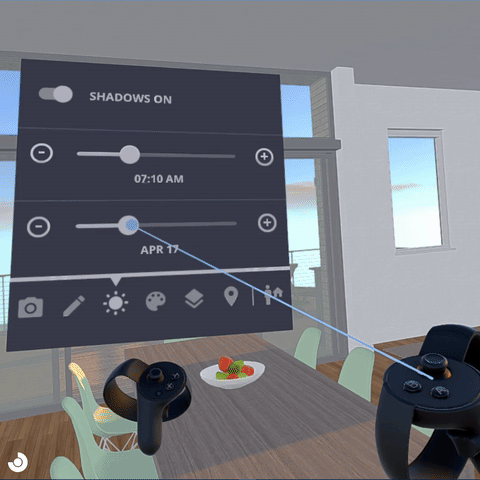 Using Viewpoints can help you create a solid narrative about your space, making them one of the best ways to walk a client or colleague through your model.
Prospect uses the Scenes you identified in SketchUp to create Viewpoints. You can navigate between Viewpoints both from Scale Model Mode and while inside your model.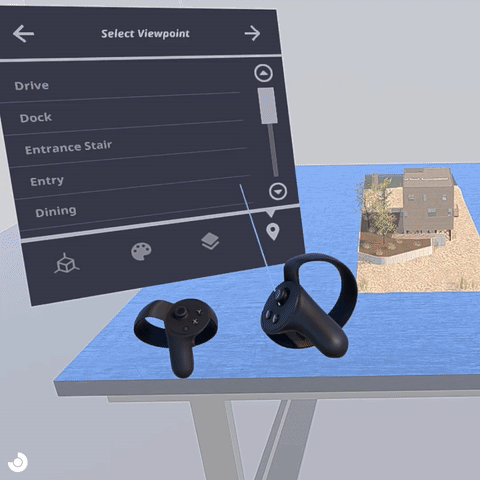 Layers can be leveraged to easily and effectively showcase different design options, material combinations, or even walk through entirely different layouts.
All layers are automatically pulled into Prospect from SketchUp, but make sure you've associated your layers with groups or components rather than entities.
We recommend turning off the visibility all but one design option while in SketchUp. Doing this will keep the layers off when you launch to Prospect — until you're ready to switch between the different design options with the layers menu, as demonstrated in the video.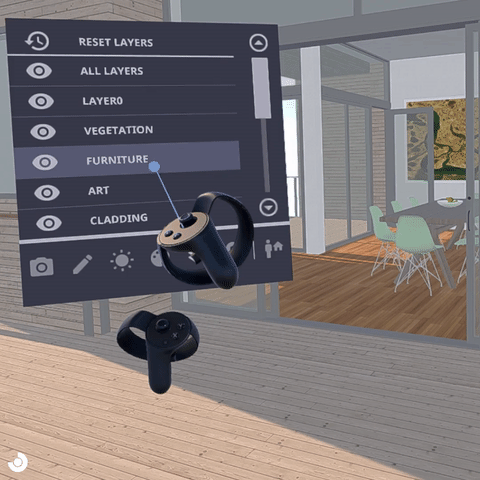 Prospect will also automatically create PDF Reports of flagged elements, screenshots, notes, and action items.
With Reports, you can be sure everyone will leave your VR architectural walkthrough on the same page and with concrete next steps.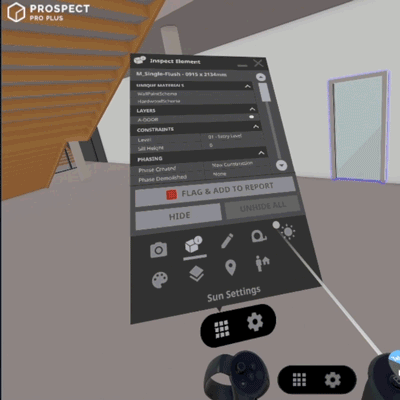 Design Firms Using SketchUp and VR Right Now
AEC professionals are already revolutionizing their SketchUp-based workflows with VR.
Reed Hilderbrand uses VR to collaboratively review SketchUp models. VR helps Reed Hilderbrand improve their understanding of a site's topography, planting, size in relation to adjacent buildings, and other important design assets.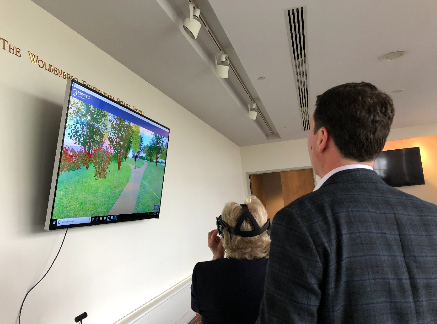 With Prospect, Reed Hilderbrand reviews and presents SketchUp models in immersive VR.
SCAPE uses VR to engage with the public. By walking community members through SketchUp models in VR, they allow these stakeholders to get a clear image of the project they're invested in.
ZEBRADOG is helping develop the future of Madison, WI's lakeshore. As this redevelopment has been through a number of stages before, ZEBRADOG found that allowing stakeholders to actually experience their SketchUp designs in VR made all the difference.