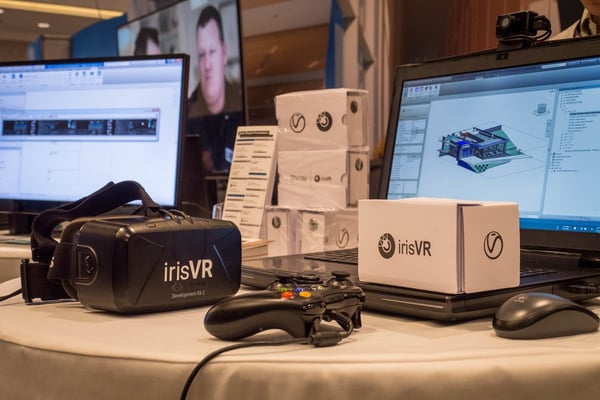 IrisVR just came back from the North American Revit Technology Conference (RTC) in Washington, DC. It was a great conference with 600 passionate BIM and Revit users, as well as developers. It was a pleasure showcasing and discussing our product solution and the use cases of virtual reality in AEC. The learning sessions and presentations at the conference were educational and practical. In this blog post, I'll highlight some of my favorite parts of the event.
Virtual Reality (VR) and Game Engines Integrating with Revit
There were two talks that gave an overview of the use of VR and game engines in AEC and available technologies. From the polls taken during the talks, most conference goers and AEC professionals have already dabbled in real-time technology. Many people have either directly used a game engine or used some visualization products that leverage gaming technologies. We've also observed that a large portion of attendees who visited our exhibit booth already own an Oculus Rift DK2, or at least have tried one at their firm. It's exciting to see that people are embracing game engine technology and leveraging VR as the next level of visualization in the industry. We are also excited to see that IrisVR was recommended in both of the talks as a promising alternative to the current long and technical BIM to VR conversion process.
Reality Capture, Modeling and Simulation of US Air Force Academy Cadet Chapel
Autodesk and US Air Force collaboratively conducted a case study on the renovation of the the USAFA Cadet Chapel. A suite of Autodesk products were used to capture reality, convert laser point cloud into BIM models and perform energy, lighting, structural and air flow analysis using the BIM model. The project team shared their lessons learned and recommended best practice with the various tools. This project highlights how digital models have penetrated deeply into the building process and transformed our way of design and construction. Here is a link that fills in more details on how the reality capture of the building was done.
BIM in Middle Earth
It is interesting to know that BIM is also used in film industry. Did you know that many buildings and structures in The Hobbit and Lord of the Rings series were designed in Rhino and Revit? (Sorry no picture was allowed or distributed by the presenter). In this talk, the presenter walked through the process of designing the Middle Earth buildings in BIM and the different issues and solutions in building models and transferring models between Rhino and Revit. Interoperability has long been a problem in the adoption and implementation of BIM. Things are much better with opensource exchange formats, such as .IFC, .Collada, and .obj, and they have become more robust in the past decade. Since VR has only started gaining popularity and momentum in recent years, BIM models does not yet interoperate well with VR tools. A key part of the development undergoing in IrisVR is to solve that problem by supporting a wide range of BIM formats in VR, as we believe the valuable time of AEC professionals should be spent in refining designs and verifying design in VR instead of the tedious process of converting a BIM model into VR.
Visualization with 3ds Max
3ds Max has been used widely in the AEC industry for design visualization. We are happy to see some of the new features in 3ds max 2016. The Revit importer is improved so now you can select which 3d views to import. Import settings, such as "Curved Objects Details", are shifted to more visible places to give more control on how your want Revit models to be handled. Another exciting improvement on the usability side is the new Design Workspace, which picks out the common features needed by design professionals and group them around design tasks and process. We think the new workspace makes a lot sense for building design professionals and makes 3ds max easier to use. The last feature, among the many great features, is a new placement tool that allows object to be dropped onto a surface, which will make tasks such as furniture placement a lot easier.
Keep Calm and Carry on
We are excited to see that AEC industry has been quickly embracing digital models and computational technologies, which have enabled AEC professionals to achieve more in less time. At IrisVR, we always hold firm believes on VR as a medium that will radically improve how AEC professionals iterate, present, and communicate their design and plans. With all the excitement on the future of VR, our IrisVR engineers are calmly and firmly improving our core technologies, hoping to deliver great experience in VR to AEC professionals.
Last but not least, IrisVR would like to thank RTC organizers and attendees for another amazing conference!