IrisVR just got back from a week in Las Vegas exhibiting at Autodesk University 2014. It was a wonderful conference this year; 9500 well-fed attendees sat in classes ranging from BIM implementation to CGI breakdowns. Below is my recap of conference highlights and a short discussion around some of the exciting tools coming down the pike for VR and ArchViz.
Opening Keynote Address
Carl Bass, their CEO, kicked off the event with a high-level, fairly ambitious vision of the future of Autodesk. He wants Autodesk users to focus on design intent. Today, we complete computational tasks by telling the computer what to do. Carl envisions a day where we instead tell the computer what to achieve, and it figures out the steps needed to reach this goal. This is analogous to biological evolution; technology needs to "mimic nature with generative design". I love this idea, but after using Grasshopper for a number of sleepless nights I find it hard to believe that deduction, way finding, and computer learning are going to work synchronously to solve my problems any time in the foreseeable future.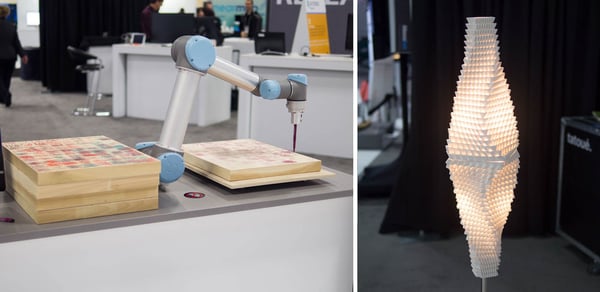 Additionally, the keynote introduced Spark and Ember for open source 3D printing and a new pricing structure similar to Adobe's Creative Cloud that will be rolled out in 2015.
A Retailer's Way Into 3D at IKEA
With Martin Enthed
OK, this talk was really cool. It has nothing to do with virtual reality, but I just couldn't shake the feeling that IKEA has reached rendering perfection. The team goes through an amazing amount of work to make truly photorealistic images:
Currently they have ~8600 high resolution textures scanned at the proper scale.
This results in a ~6500 item 3ds Max real-world material library.
Their team produces 15 models (with multiple LODs) per day.
Additionally, they make 100 white background renderings a day.
Oh, and 30 full room renderings per day.
IKEA hits this level of efficiency using custom tools designed for their workflow. Martin claimed these have made his team 4x as productive. Next time you see an IKEA image, reflect on the fact that it may very well be straight out of V-Ray.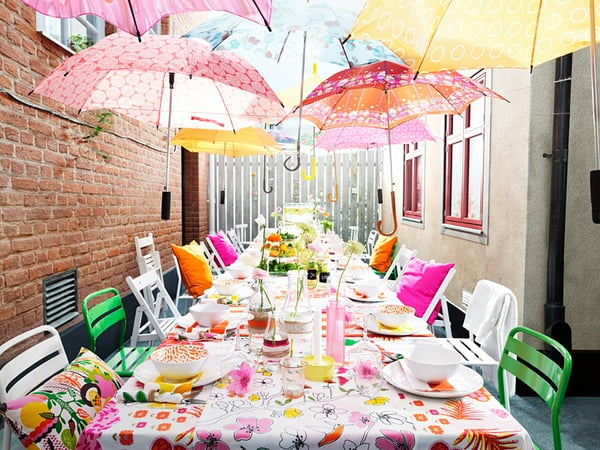 Image source and really great article.
Architectural & Product Visualization Production Pipeline with Unity
With Carl Callewaert - Lead Product Evangelist, Unity Technologies
Carl announced Unity Design, a future offering that will sit on top of Unity 5. Unity has reacted to the ArchViz market, and now has 12 employees in Singapore specifically working on architecture integration. This is great news for the gamification of AEC, and I'm eager to try out the features of Unity Design as they're rolled out next year (probably). Among the features of Unity 5 and Unity Design:
Physically based lighting
Enlighten engine for real-time lighting changes even after baking.
Reflection probes & light probes.
Integration with Iray
Direct export from SketchUp and Revit to Unity Engine
Support for procedural autodesk materials
I'm excited to see Unity contributing to our industry, and IrisVR is looking forward to trying out their new engine in our own workflow.
Real-Time Visualization and Simulation with 3ds Max Software and BitSquid
With Alex Horst - Product Specialist, Autodesk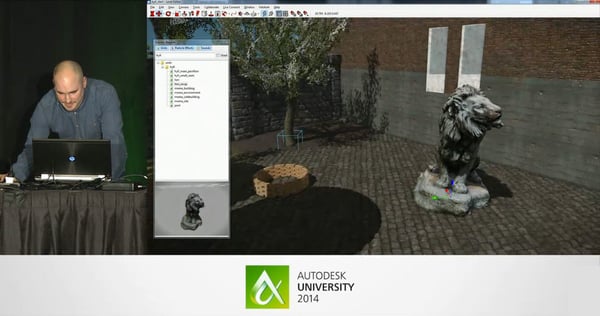 Alex walked us through a quick preview of BitSquid - a recently acquired game engine that promises integration with Max. BitSquid is tools-based engine, which means that it can evolve over time as elements of the engine are swapped out. However, a lot of mesh optimization still needs to be done in Max. For the meat of the presentation Alex demonstrated mind-blowing tricks to optimize a dense mesh efficiently. I highly recommend watching this entire video. It's inspiring to see such clean asset creation, and I have finally booted up Mudbox to play around as a result.
Yes, Alex hinted at VR integration as well.
Go to https://gamedev.autodesk.com/ to find out more.
Autodesk ReCap
This wasn't a class, but instead marks industry-wide progress made by Autodesk. Reality capture has come a long way in the last 5 years, and among the most impressive technology I saw was instantaneous mesh conversion, high fidelity consumer scanning, and even a full rig designed to accurately archive geometrically complex artifacts.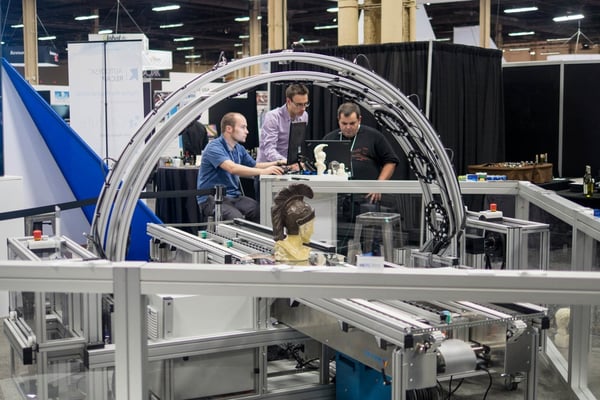 Virtual Reality
I was most surprised by the number of attendees at AU that either owned an Oculus Rift or had recently tried one on. VR has become widespread in Autodesk's verticals, and we had a lot of visitors at our booth that were tracking Oculus's development. Taylor Cupp from Mortenson Construction devoted a good portion of his talk at an Innovation Forum to the impact virtual reality will have on AEC, with a nice shout out to IrisVR, too.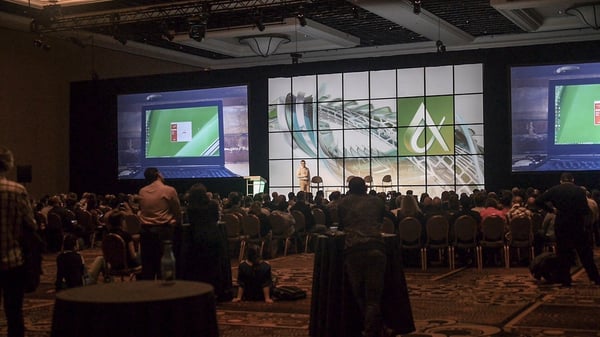 Back to Coding!
Autodesk assembled industry leaders at AU to contemplate the human interaction with physical and digital worlds. Whether we derive inspiration from nature or get lost in our basements quadrifying polygons, it's clear that new technology platforms are going to change our lives. At Iris, we've placed a bet on the far-reaching influence of virtual reality for 3D design, and in a surprisingly short amount of time our predictions are proving to be true.
A special thanks to Autodesk and attendees for a great conference, and we hope to see some of you at REAL 2015!