About TreeHouse
TreeHouse is a home upgrade company that focuses on making homes healthier, more sustainable, and more beautiful through projects that limit a home's impact on the planet. The company is expanding their brick-and-mortar presence, starting with their energy-positive Dallas flagship store. Virtual reality was used extensively in the store's development and design.
We spoke with Aaron Moulton, VP of Creative + Design, about why and how TreeHouse integrated VR into this particular project and their overall design workflow.
Why and How Treehouse Uses VR
What prompted you consider using virtual reality for the Dallas flagship store?
Building stores and prototyping departments is normally a wasteful process that uses physical mockups; we felt that this type of waste simply wasn't responsible for us to do or aligned with our company's core mission of safeguarding our planet by lessening human impact.
Additionally, it was important for us to have a nimble process. Our team was working with world-famous architecture firms, and although we cherished their conceptual minds and experience, we were frustrated with the pace of design changes and the tools being used. Architecture and interior design have historically executed work in 2D plan form, which requires a specialists mind's eye to interpret. VR had the promise of a faster, more democratic design process that fit our needs as an ambitious startup willing to experiment with new methods.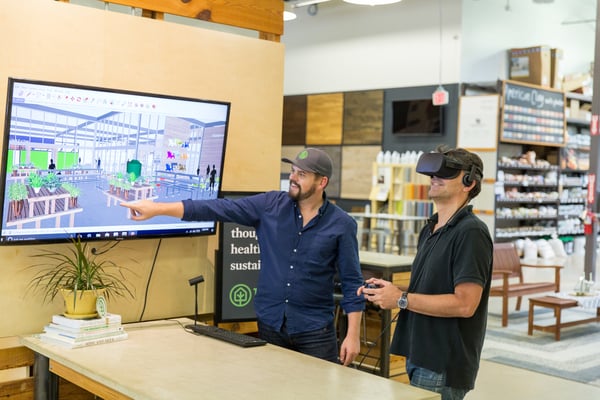 What steps did you take to produce VR content?
We originally used Unity to view our work in VR but ran into technical deficiencies so we switched to solely using SketchUp and viewing the models in Prospect. Our design team would make interior layout and experience tweaks in SketchUp, then publish a new model to Dropbox to be saved down onto the VR computer. People in our home office organically fired up the headset (which was left in plain sight), explored the new design, and emailed their feedback to the design team. This was then interpreted into new designs and republished so the cycle continued. Occasionally, customers or subject matter experts were looped into this review cycle for key decision moments, which allowed our team to 'get out of head' and see things freshly.
How do you have your VR station setup?
We set up a devoted VR desktop in the main meeting room in our home office for all to use. We have an ASUS computer with a powerful GPU connected to an Oculus Rift. This is all then hooked up to a large TV screen that allows people to watch what the person in the space is seeing. As new designs were explored in SketchUp day to day our design team was able to upload them into VR for staff to pick up the headset and experience the new space.
Results and Reactions
Did you experience any quantifiable gains from introducing VR to the project, such as saved time, money or travel?
We estimate that we saved in the region of $70k-$150k on the architectural changes we made and the interior fixture layouts. Specifically, we caught some walls and decorative design features that would have blocked light and made a bad experience for customers.
It also saved us money from the architectural design team needing to fly back and forth for meetings to review plans. We also found that this saved us a lot of time as it allowed our team to do multiple revision & review cycles in a week where in a traditional interior design process would take time to redraw and republish drawings. We saved time, money and sanity!
Our positive experience has subsequently made VR an integral part of our design teams toolkit and review cycle, so there have been gains beyond the flagship store project as well.
Did using virtual reality meet or exceed the goal you originally intended it for?
VR exceeded our expectations and created a massive buzz inside the company. It has helped us send a message to our internal teams that we are thinking innovatively and trying to reach beyond the horizon to bring this company into the world. It also has sent a message that we aren't a traditional home improvement company and that we are pushing the industry forward. The marketing articles and news that our VR approach has been a part of have opened new doors for our business from a real estate, strategic partnership, and investment standpoint.