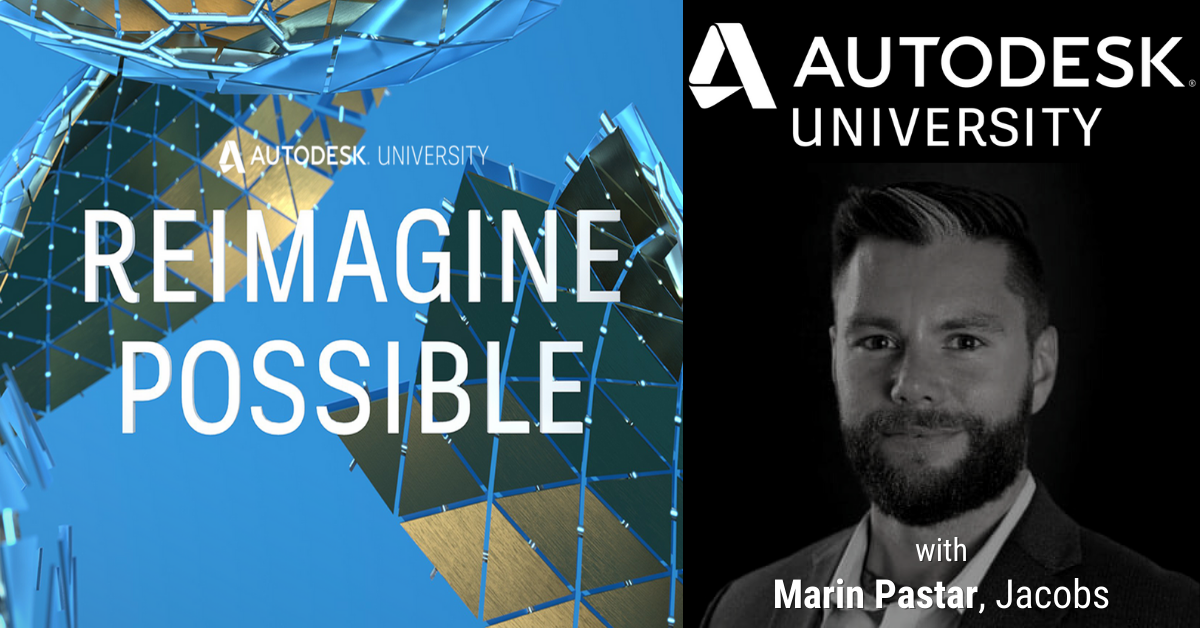 We've heard it time and again: the design-bid-build process is broken. The AEC industry is outgrowing and outpacing antiquated processes that once served it well. What was once the golden standard now is often characterized by duplicated work, increased risk, and disjointed workflows. Every year, AutoDesk University taps industry leaders to shed light on where the AEC industry is and, more importantly, where it's going. The 2020 AutoDesk University conference was no exception. One roundtable discussion that was particularly insightful explored project delivery methods for a modern built world, led by Marin Pastar, a Global Technology Leader at Jacobs and a strategic voice in the industry for over a decade.
Modern AEC challenges with traditional project delivery methods
One of the biggest challenges owners face today before a project even begins is choosing which project delivery method to implement. Whether it's design-bid-build (DBB), construction management at risk (CMAR), design-build (DB), integrated project delivery (IPD), or multi-prime (MP), there are challenges when applied to the demands of the more complex, sophisticated, and accelerated building projects of today. Marin lays out a synopsis for each, acknowledging the slow death of design-bid-build as it fails to meet needs of complicated projects. CMAR seems attractive, but it ultimately misses the mark on how actually AEC works. The design-build method has risen in popularity, yet many disgruntled owners feel like they're paying a premium in preselecting teams. Finally, the fact that most owners are unwilling to share risk but expect the benefits with IPD poses challenges as well.
If not Design-Bid-Build, then what?
AEC is ready to move forward. That's not to say that traditional project delivery methods won't work. But, many AEC organizations are reaching a breaking point that requires more modern tools and processes to realize productivity gains that are now possible. With newly remote workforces, an increasingly competitive industry, and more complex projects, some of which are on accelerated timelines, the built world has changed in 2020 and many of these changes will outlive the pandemic. What's more is that technological innovation has finally reached mainstream AEC and can support more efficient processes and more effective collaboration, despite pandemic-induced challenges.
In his presentation, Marin addresses this question: what's next for the built-environment industry and what new technology-driven innovations, processes, and delivery should organizations consider to stay ahead? With 15+ years in the industry, Marin can see the need for change and innovation. He recognizes an opportunity to build more integrated design processes by leveraging virtual design and construction technologies. He's seen firsthand how disjointed the design and construction industry is, which fueled his motivation to become an expert in technology and innovation for AEC. Today, technology built specifically for AEC - like the first enterprise-ready VR software for AEC, Prospect by IrisVR - has reached new heights.
Optimizing a tech-enabled design & construction process
Whether the AEC industry is ready for it or not, technology and other modern drivers for change are shifting the way design, engineering, and construction teams work. Many industry leaders have already adopted and integrated technology into their existing processes and are seeing impressive results, even in the midst of these 'unprecedented times'. Builders are also realizing that it doesn't take a 'technologist' to reap the rewards of modern AEC hardware and software. Technology partners, like IrisVR, are ready to guide organizations through process optimization, without disrupting the way teams work.
"Technology and innovation are changing the structures of project teams, risk, and responsibilities."

- Marin Pastar, Global Technology Leader, Jacobs
IrisVR's CEO and co-founder, Shane Scranton, spoke with industry leader and VDC Director, Rawle Sawh, about how Gilbane Building Company built pandemic-proof, tech-enabled VDC processes that have led to productivity gains during the pandemic. Taking decision timelines down from 15 days to 15 minutes and working more efficiently and effectively in some ways in 2020 than pre-pandemic has opened their eyes to what's possible with a tech-enabled project delivery method. His advice? See how technology can fit into and optimize existing processes. There's no need to upend the way everyone works - innovation is a long term play.
Learn how IrisVR equips teams with immersive technology that drives productivity, improves collaboration, and cuts costs by catching errors earlier. Join the AEC revolution and stay competitive with tech-enabled teams and processes.