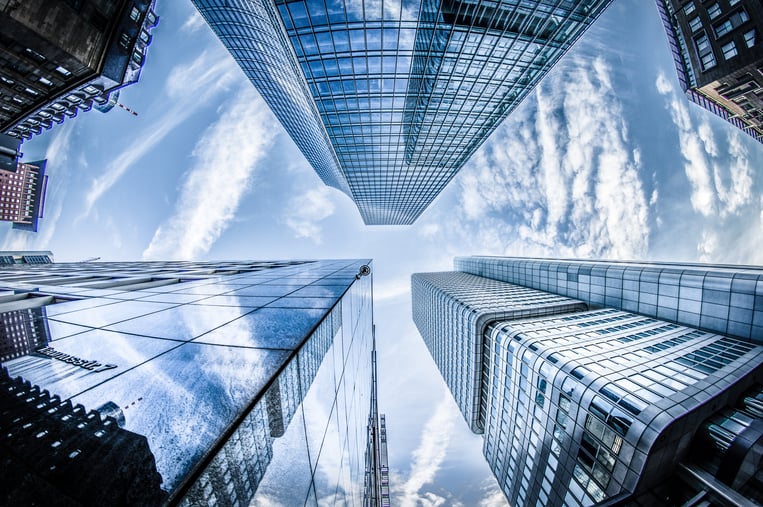 *Update as of 9/18/2019*: Wondering if these tech predictions came true? Read our new blog post, AEC Tech Predictions for 2019 - Did They Come True?, to find out what developments these thought leaders have seen over the past 8 months and how their predictions have panned out.
AEC has a reputation for lagging behind other industries in its adoption of emerging technologies. In fact, 46% of firms in the sector spent under 1% of their annual sales volume on IT in 2018 - that's 5 times less than companies in other industries!
And yet - as many AEC professionals have already found - smart investments in technology consistently result in higher ROI, improved workplace safety, clearer communication with clients, and so much more. Faster-growing businesses in the sector use software in their workflows 21% more often than their non-growing peers, demonstrating just how beneficial a forward-thinking technology adoption strategy can be in AEC. That's why four out of five firms plan to increase their investment in IT in 2019.
With the new year just beginning, it's a perfect time to assess what role technology has been playing in your workflow - and what you can do to improve in 2019.
With this in mind, we asked 16 thought leaders in the built world - coming not only from architecture, engineering, and construction, but also fields like education, app development, and manufacturing - what technologies they expect to define the year. Their answers were diverse, covering everything from digital twins and machine learning to augmented reality and the Internet of Things.
But one theme came through in nearly every answer: that tech developments are most important in how they can bring day-to-day AEC workflows to the next level. In the words of AMD's Global AEC Industry Lead, Jamie Gwilliam, "The one commonality in all these changes is they are firmly focused on streamlining and automating today's production and AEC industry tasks."
Read on to find out which technologies are poised to disrupt AEC in 2019 - and how your firm can maximize its potential by taking advantage of these innovations.
---
1. Smart Glasses in Architecture and Construction
"I think 2019 will bring more use of augmented reality to the practice of architecture and construction. At the most recent CES consumer tech show, a new company called

North

introduced a product called Focals - which are smart glasses that actually look good.
I see this space growing quickly. Imagine being able to see a mockup of a building overlayed over an empty lot, or to test interior design models in an unfinished house. We're just at the beginning, but I am confident augmented reality will revolutionize AEC. Watch this space."
Robin Mazumder, B.Sc, M.Sc OT, PhD (cand.), Vanier Canada Graduate Scholar
Visit Robin's website for his thoughts on urban environments, community building, and more.
---
2. Data-Driven Collaboration
"Some of the largest challenges large firms are faced with today have to do with distributed team project collaboration. Traditionally, there have been silos designed to keep information locked inside them, but we are now seeing many developments made that are all about connecting data streams and our teammates throughout the life of a project.
With the ability for data to be passed around in a much more fluent and accessible manner, architects are being freed up to use the best tools for the job and reduce waste and time spent remaking things along the way. I foresee even more of this in 2019 through the accelerated adoption of coding and scripting within AEC to further freely pass data between the apps we use and the people on our teams, ensuring better project outcomes."
Evan Troxel, Director of Digital Practice | Associate Principal | Architect at HMC Architects
Evan wrote a blog post on using data analytics in architecture to embrace communities in design for HMC. He also hosts the Archispeak podcast.
---
3. The End of Conventional 2D Drawings
"Here at SHoP, we've been leading the charge as proponents of advancing delivery methods in architecture for some time, with a goal of achieving an all-digital workflow from design through construction. Currently, VR helps us create and explore digital environments, eliminating a lot of paper in the design and coordination phases. We're hopeful that AR, although still in its infancy, will become a practical tool through which model-based information can be brought directly to the job site to direct fabrication and installation operations.
The new augmented reality headsets coming out this year will allow us at SHoP (and architects at other offices) to spatialize data and superimpose it on real-world conditions. We've developed the infrastructure in-house to walk through a space and leave three-dimensional mark-ups, visualize fabrication and assembly instructions, and overlay design models on the construction site, and companies like Fologram are making this tech more accessible to everyone. The real-time digitization capabilities of many AR headsets means that 3D scans of construction sites are automatically created, building up an archive of development over time.
All of these developments are pointing to a time, perhaps not that far in the future, when conventional drawings can be entirely eliminated from the process of imagining spaces, testing assumptions, refining a design, seeking approvals, and assembling our architectural ideas in the real world."
Geof Bell, Associate VDC at SHoP Architects
Read our case study with SHoP Architects to learn how they have implemented VR tools into everyday workflows.
---
4. Improved Productivity in Construction
"2019 is set to be a challenging year for the UK Construction sector. Whilst responding to the fallout of Brexit and the aftermath of the tragic Grenfell Tower Fire - and exacerbated by the collapse of the second largest contractor - the industry is also facing a withdrawal of investment leading to financial instability across the supply chain. We've continued to deliver amazing projects despite the circumstances and due to the impact of stalled projects, including two major hospitals. The government and society recognizes the value of construction to both the UK economy and our local communities.
The UK Construction sector wants, and needs, to Improve its Business Performance, Increase its Productivity and Recruit, Train and Retain the Talent - quite simply it needs to transform the way it does business.
The ambition is for greater use of technology as more collaborative and centralised programming tools - increased use of iPads, apps, and digital programmes are seen on site. There is still a way to go to reach a tipping point where a smart solution is the preferred choice and viewed as mainstream.
There continues to be a drive for more offsite production and I do believe that will increase. However, this will only accelerate at pace with more certainty and confidence in both the economy and the construction pipeline. There are pioneers in this space and support from the UK Government in the form of funding for more collaborative research, which is leading to progress being made – unfortunately, the drivers are not yet sufficiently aligned and strong enough to realize the step change required."
Suzannah Nichol, MBE | Chief Executive, Build UK
---
5. Digital Twins
"I expect we will be hearing even more about 'Digital Twins' [in 2019]. The term has grown in popularity in the past couple of years, as the industry has started to look beyond BIM as purely a design and construction process and started to look at how data relating to built assets can be (re)used across the lifecycle.
Importantly, this is not just data about built assets, but also data created by the built assets, and by the people and business operations reliant on those built assets. Potentially, owner-operators and their built asset partners can gain detailed business insights into the value delivered by these assets, and so improve future investment decision-making. The 'Gemini Principles' from UK's Centre for Digital Built Britain also show that digital twin capability needs to continually evolve to support interconnected systems of built assets: national Digital Twins."
Paul Wilkinson, Editor, ExtranetEvolution.com
---
6. IoT Sensor Networks & Prefabrication
"I think that data platforms will gain popularity in 2019. In addition to proprietary solutions, open platforms will emerge. Digital twins coupled with IoT [Internet of Things] sensor networks will bridge the gap between construction and operations/maintenance phases. We'll also see practical artificial intelligence and machine learning solutions.
Timber construction will combine prefabrication, robotic production and digital technologies as a modern way to build sustainably in cities."
Aarni Heiskanen, Construction Innovation Agent | Partner at AE Partners Oy
Aarni writes about topics like machine learning and sustainability at his blog, AEC Business.
---
7. Sustainable Giga-Projects
"If I got to choose I would definitely say ROBOTS! However, I don't think we will get to see them used in a wide range of projects quite yet! But I do think we will get to see some great giga-projects being developed this year - stretching the limits of what we thought was possible in terms of size, time, and sustainability. This is because we have learned a lot about the inefficiencies of our industry in the past couple of years, and more and more projects are being delivered with an integrated approach among the stakeholders. Combined with new materials and technology, this allows for some cool things to happen...Can't wait!"
Jacqueline Rohrmann, B.Sc.
Jacqueline vlogs about BIM on her YouTube channel, That BIM Girl.
---
8. Reality Capture
"While the core of my business is around authoring applications like Revit in the Architecture space, I am very interested in and see a lot of movement [in 2019] in the various types of 'reality,' specifically: reality capture, virtual reality, and augmented reality.
Architectural projects start in reality, go through a whole process of invention, exploration, and design, and - if successful - end in reality. Current reality capture technologies are still quite expensive and produce very large files that require specialized processing to output and share. I am watching potential solutions to these challenges (both hardware and software) very closely and am particularly interested in tools that bring the results of reality capture into the worlds of authoring software (like Revit) - and especially sharing and collaboration tools powered by AR and VR."
Paul F. Aubin, AEC consultant and author
Paul has written books such as The Aubin Academy: Revit Architecture and BIM Collaboration with Autodesk Navisworks. He also blogs about BIM and related subjects on his website.
---
9. Urban Farming & Drone-Based Delivery
"I believe that in 2019 we will see a convergence of many technologies. The primary one we'll see is that physical and digital robots will merge. New forms of building management will be derived from creating the digital twin by combining software and hardware; it will enable better predictive and preventative maintenance in all areas around AEC.
Next to that the increasing demand for creating a circular economy will fuel more capital inflow into next-level building materials - and the re-use of old materials in a smarter, more energy efficient way. We will continue to see experiments in urban farming and we will see the first cities to experiment with drone-based delivery at scale, reinventing the use of roofs.
Now, this stuff is not new. [Rather,] we are reaching a point in the market where we need to capitalize on certain innovations and disruptions of the past - and not only focus on new cool stuff, but start doing more with some of the already invented things.
Last but not least, we will see the human being come back into the play: learning by using AR, being creative in ways a machine could not be. 2019 is poised to be exciting and will certainly bring new things. I hope it will, most of all, capitalize and implement at scale."
Arjen van Berkum, COO, Another Monday

---
10. Using Data in Construction to Reduce Risk and Increase Margins
"In 2019, we are going to see contractors start taking action around their data. Companies have been collecting data for years through point solutions, project management software, and their modeling processes, as well as in their fab shops. It is now time to step back analyze that data and start making improvements in their processes. We will ultimately see this data lead to reduce risk and increase margins."
Josh Bone, Construction Technology Specialist, DEWALT
Josh formerly co-hosted - and continues to contribute to - the ConTechCrew podcast.
---
11. AR for Construction and Manufacturing
"We have heard about augmented reality, but I think the [real] hype around AR has not started yet. With new goggles coming to the market, we are going to get more applications of AR in construction. In addition, design for manufacturing will get more attention this year. Lots of construction firms and manufacturers have realized the benefits of this process and will try to adopt design for manufacture and assembly processes to reduce the overall time and cost of projects.
The digital disruption we have seen in the past few years has been just the warm-up act for what's to come."
Mohammad Sakikhales, Doctoral Researcher and Lecturer at University of Greenwich School of Design
---
12. The Rise of Big Data
"The megatrends of rapid urbanization, rapid innovation, and rapid changes in workforce demographics, as well as rapid changes to workforce mobility, will continue to shape the global AEC industry throughout 2019. These changes bring local challenges for you, but also hardware manufacturers like AMD.
Ultimately, all of these trends mean the rise of 'Big Data,' with the fight being focused on how we use it effectively - whether this is the rise of sensor intelligence to existing buildings, the exploration of design options and validation, or the huge amounts of data created by techniques like scanning. In 2019 we will be creating, assessing, comparing, and needing to rapidly understand more data than ever before. Particular innovations like generative design fall under this - and, in my personal opinion, will start to gain momentum, But, despite the great efficiencies [these innovations] bring, they will continue to require a high level of expertise, and as such may not have a wider, mainstream effect until 2020+.
The areas that will immediately affect your daily life are the expectations around simplified VR, and - more importantly - AR, fueled by your end clients' expectations rising, despite budgets remaining stagnant. As such we are consistently looking at how to rapidly improve performance for less financial overhead, be it multi-cored processors for machine learning, rendering, automation and analysis, bringing new software advancements to market, or new, industry-leading production techniques to improve graphics card performance, energy efficiencies, and security.
The one commonality in all these changes is they are firmly focused on streamlining and automating today's production and AEC industry tasks. This is how technology can help. All our partners within the AEC industry are looking to how hardware and software can move from being a somewhat unintelligent servant to a significant design partner."
Jamie Gwilliam, Global AEC Industry Lead, AMD
---
13. Digitizing Building Plans and Maintenance Records
"Many building managers are still using paper-based maintenance records, and this means that the industry is losing out on many exciting applications for data. Digitizing ongoing maintenance records - combined with the original building plans from architects, construction firms and engineers - remains one of the most exciting ways software can change the game for building professionals in 2019."
Robbie Steinbock, Co-Founder and Chief Technology Officer at AkitaBox
---
14. Data Overlay on Models with MR/XR
"Based on the current trends, I expect to see large tech companies continue to partner or acquire niche tech companies, specifically construction-related ones.
In the field of VR/AR/MR/XR, I am anticipating a key breakthrough in terms of data-overlay on models, providing teams the ability to see the effects of their decisions. This may include an AI overlay capable of offering potential solutions as well.
Lastly, in terms of computational design, I imagine we will see more mature adoption within the industry like we witnessed in 2018 at the Advancing Computational Building Design Conference - where IrisVR was a key sponsor.­­"
Ryan Cameron, AIA, LEEDAP, EDAC, NCARB | Senior Associate/Research Architect, DLR Group
Ryan wrote this blog post on artificial intelligence in building design.

---
15. Immersive Design Communication
"This year I anticipate an explosion in immersive design communication using virtual and augmented reality thanks to software, like IrisVR, and GPU advancements. The use of generative design and deep learning should also grain traction by high tech design firms in the AEC space. Reality capture, sensors (IoT), and Post Occupancy Evaluations (POE) will help to better inform design - resulting in safer, more efficient and more comfortable buildings!"
Dan Stine, Author, Blogger, Educator, BIM Administrator
Dan blogs about Revit, VR for AEC, and more at BIM Chapters.
---
16. Cloud-Hosted Data
"I feel that 2019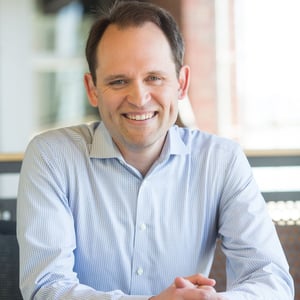 will be the tipping point where we get a majority of design teams embracing working with each other over the web. And then like dominoes, the types of services and tools that we will see that can leverage that cloud-hosted data is going to explode. There has certainly been a lot of cracks in this, and many forward thinking firms and teams are already leveraging the power of server farms in "far-off" lands, but I think by the end of 2019 this will be the norm and not the cutting edge."
Jason Kunkel, Senior Practice Manager, Architecture and Engineering at CADD Microsystems
Jason writes blog posts about Revit for CADD Microsystems, and about building industry technology at RVIT.
---
Have your own AEC tech predictions for 2019? Let us know in the comment section below!